Creamy cup of cozy! This easy and delicious crockpot meal is perfect for a Fall and Winter family meal. These Crockpot Chicken and Dumplings with Biscuits will become a new family favorite!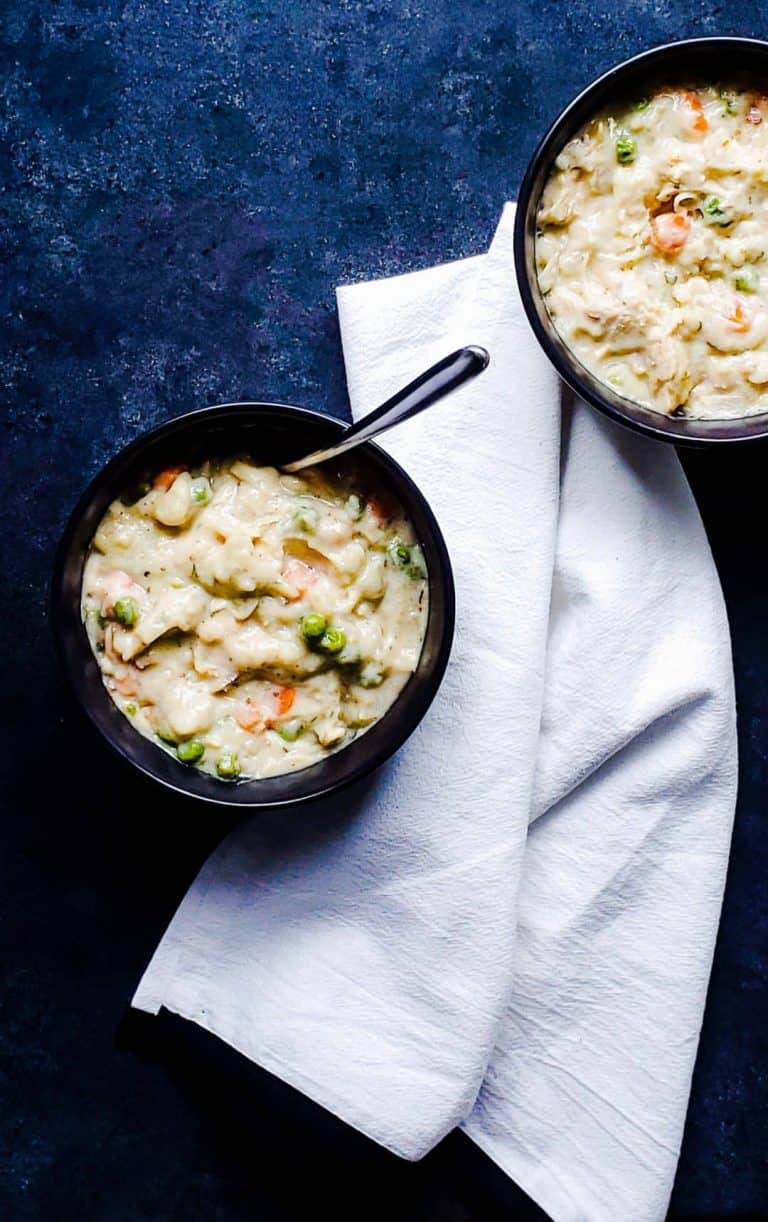 Fall is officially in full swing! Here in Wisconsin it went from cool to cold basically overnight. My family and I have broke out the long sleeves, boots, and my favorite, the crockpot! Once the leaves start falling and the air turns crisp I immediately start craving hearty soups, stews and all the warm comfort foods.
One of our favorite of those foods is this Crockpot Chicken and Dumplings with Biscuits. I love how quick and easy, filling, and tasty it is. This makes a perfect weeknight meal with little prep work, and the best part is that the crockpot does most of the work. Get yourself a big blanket and curl up on the couch and enjoy a big bowl of creamy deliciousness!
Kitchen Tools
A Crockpot: A Large 7 or 8 quart slow cooker will work well.

A Knife and Cutting Board

Measuring Cups and Spoons
Ingredients
Chicken Breasts:

Chicken thighs can be subbed in as well.

Cream of Chicken Soup

Milk and Butter

Chicken Broth

Spices:

I use a combination of sea salt, pepper, ground thyme, oregano, crushed rosemary and crushed red pepper to give this recipe lots of flavor.

Peas and Carrots:

Frozen or fresh veggies work best, but canned can also work in a pinch.

An Onion

Canned Grands Biscuits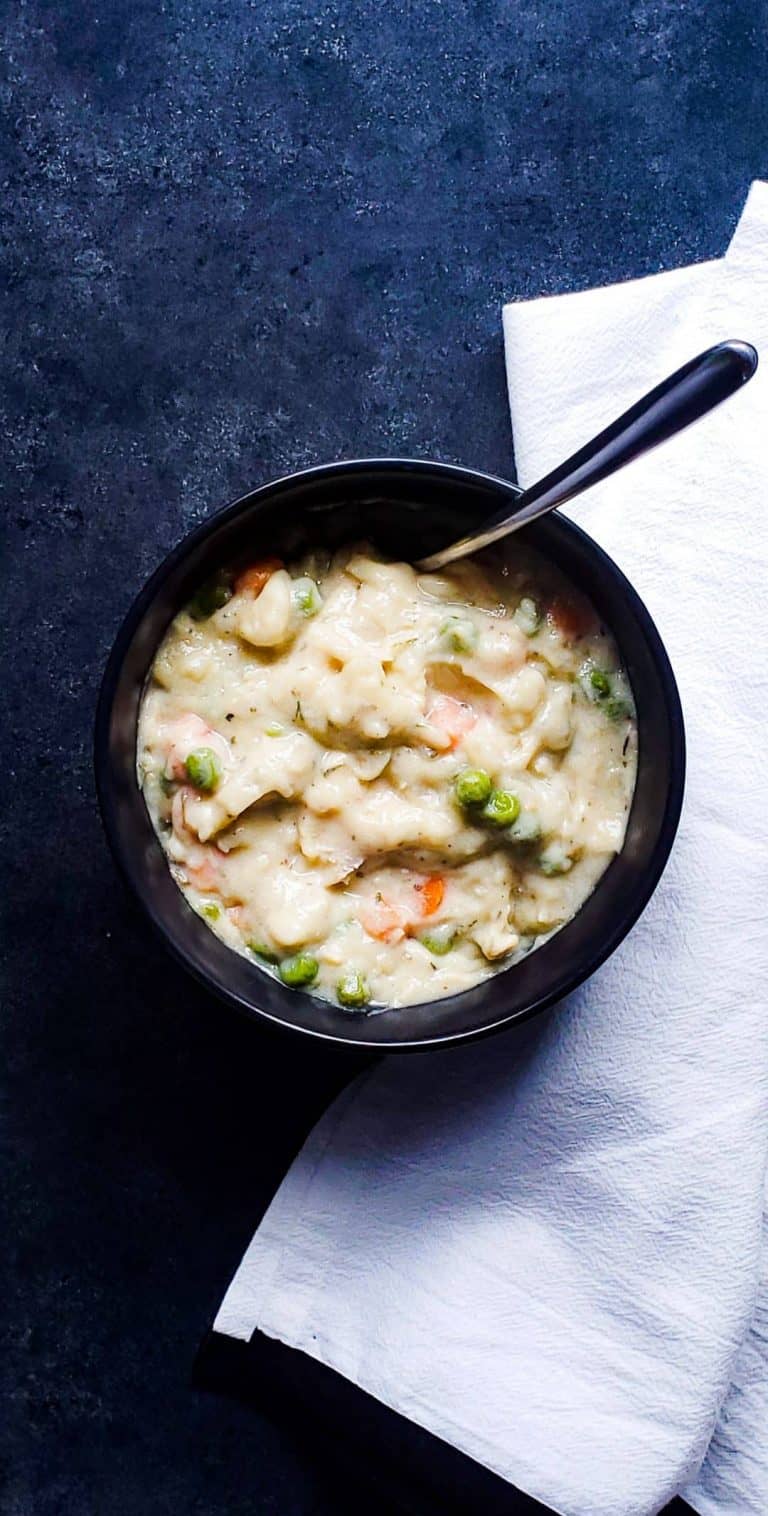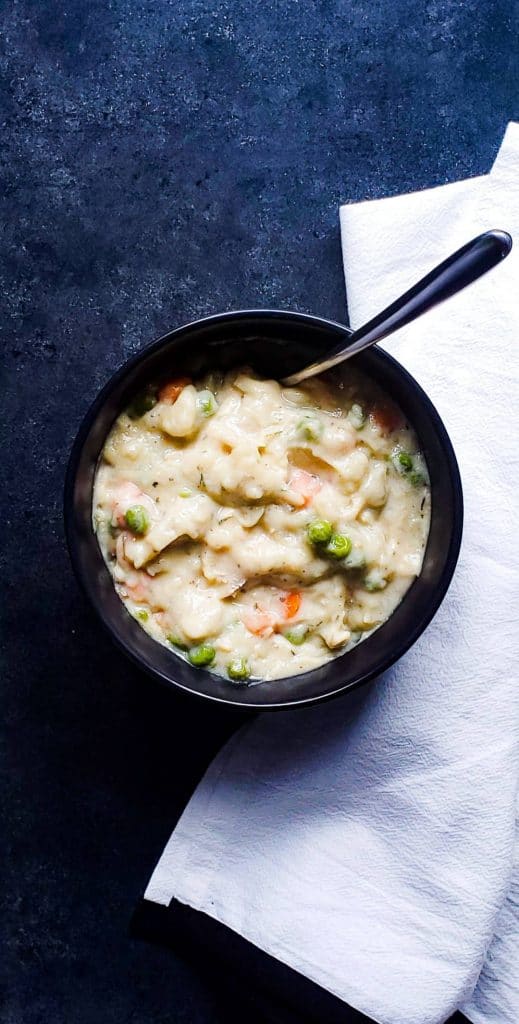 How to Make Chicken and Dumplings
Combine all ingredients (expect the biscuits and milk) into a large 6-9 quart crockpot.

Cover and cook on HIGH for 4 hours or 6 hours on LOW.

Once cooked, remove the chicken breasts and shred or cube them. Then return it to the slow cooker.

Cut or tear biscuits into small pieces (about 1 inch chunks) and add to the crockpot over the top, then a

dd the milk.

Cover and cook on HIGH in the slow cooker for 1 hour, stirring halfway through.

Stir the chicken and dumplings with biscuits before serving warm.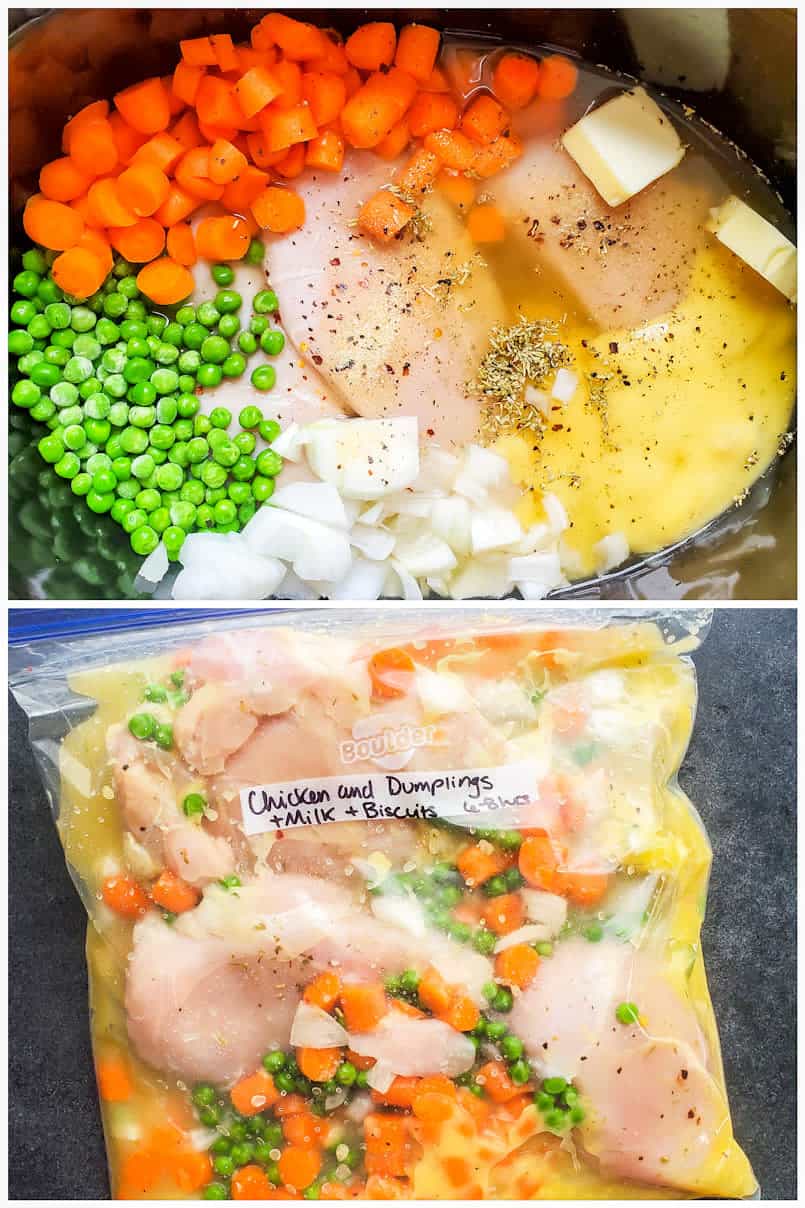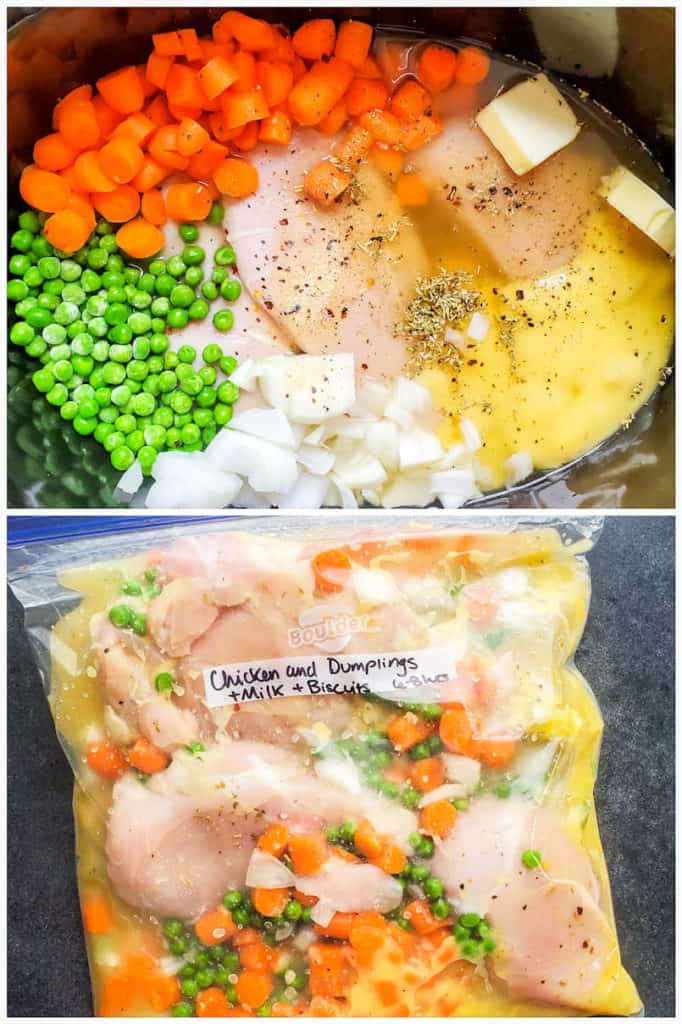 Tips and Tricks
Forget the Homemade Dumplings
I use Grands Biscuits for this crock pot chicken and dumplings with biscuits recipe. It doesn't matter if they are off brand or name brand just make sure they are the big guys. I love using biscuits as the dumplings because it saves so much time and prep work. I have a great appreciation for making things from scratch, but in this case I like the shortcut better.
The flavor is buttery and the texture is creamy. Honestly, it tastes like you had spent hours homemaking them. When in reality you saved a ton of time without having to lose out on flavor. I have made this recipe for multiple members of my family and they all agree that the biscuits are a genius hack! If you are looking for a from scratch biscuit, give Grandma's Classic Southern Biscuits and Sausage Gravy a try. No corners cut there!
Season it up!
I love the combination of spices that are happening in this easy crock pot chicken and dumplings. The main notes coming through are thyme and rosemary. These two blend for a perfect combo and give this easy chicken and dumplings a punch of flavor. My issue with a lot of other recipes I have tried is that they are bland and under-seasoned.
Therefore, years ago when I set out to make my own chicken and dumplings recipe I wanted to be sure that it didn't blend in or fall flat. The other spice that I love in this recipe is the red pepper flakes. This is an odd one for most I am sure, but the subtle spice it gives really brings the whole thing together. Don't worry, this is not melt your face spicy!
Thick and Creamy
The texture of this recipe is so rich and creamy. One of the biggest sins I see people doing is making slow cooker chicken and dumplings watery, like a soup. That is why I use milk, and butter in this recipe. I use five cups of liquid total which I feel yields the perfect consistency.
If you like your chicken and dumplings more runny, then add another half to full cup of water or chicken broth to the chicken & dumplings. The biscuits will also thicken the recipe up after they are added. So don't panic if it looks runny after the chicken is cooked through.
Pro Tip: Just make sure not to add the milk at the beginning of the cook time, or the milk to get too hot and begin to curdle.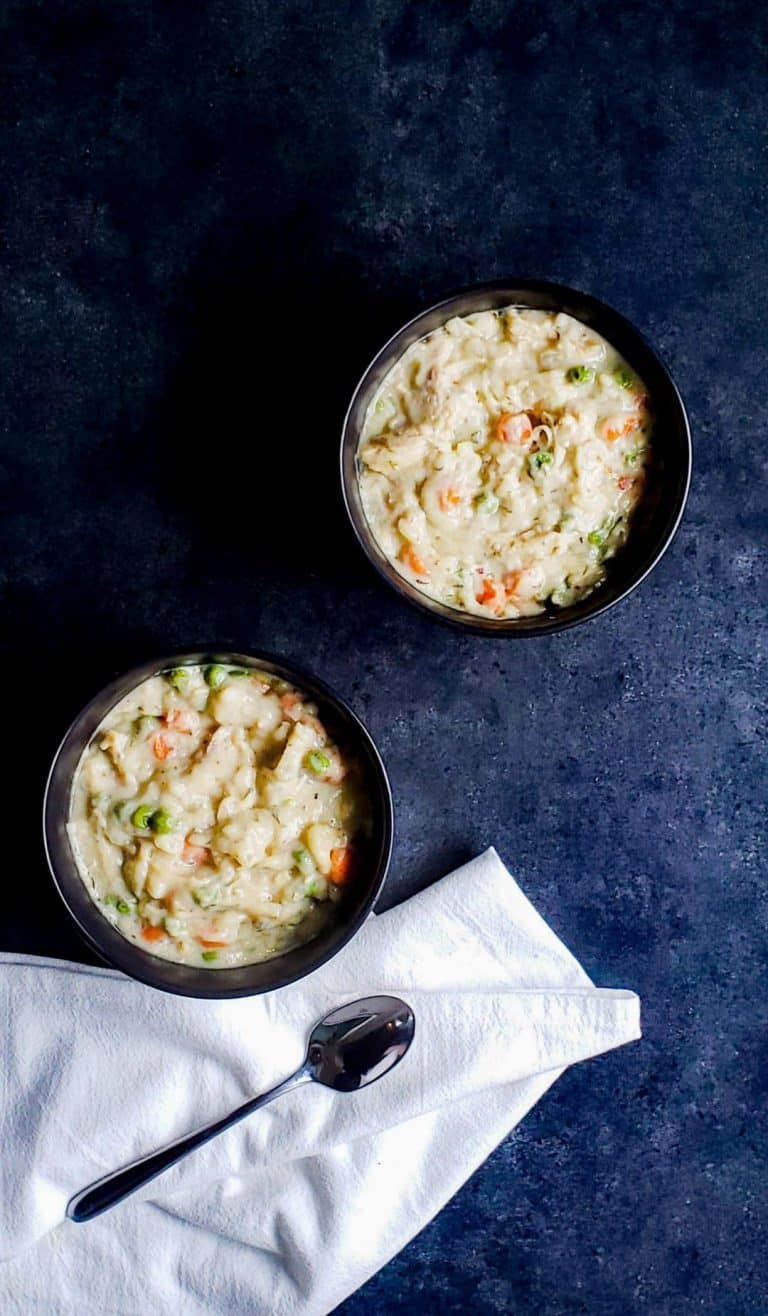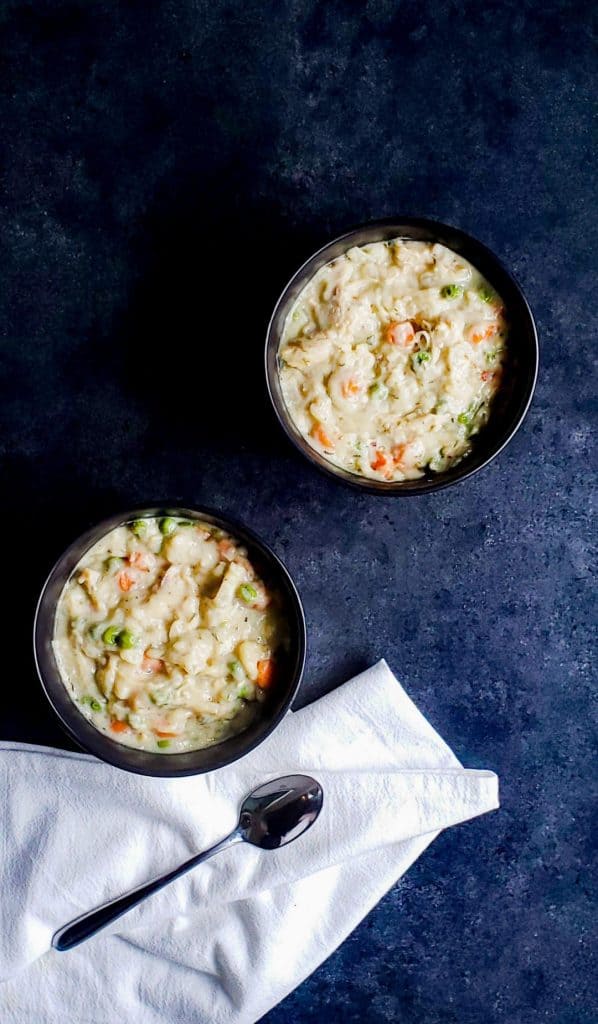 More Comforting Main Dishes
Classic Baked Mostaccioli
Grandma's Southern Biscuits and Gravy
Crockpot Beef Short Ribs
Spicy Vegan Black Bean Soup
Chili Mac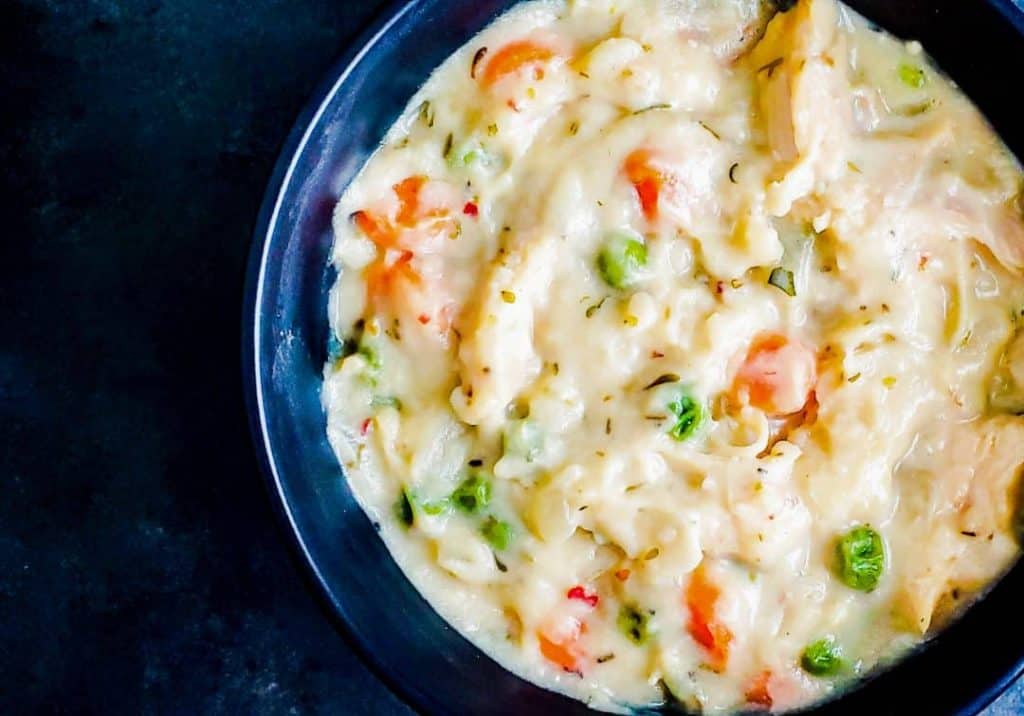 Common Questions
Can this recipe be made ahead of time?
Yes, you can combine all ingredients (except the biscuits and milk) and store the chicken and dumplings with grands biscuits the fridge for up the 24 hours. When ready to cook follow recipe instructions.
Can Chicken and Dumplings be frozen?
Yes, the chicken and dumplings can be frozen.

Cooked Slow Cooker Chicken and Dumplings: To freeze place cooked leftovers in a freezer bag and store flat. The chicken and dumplings will stay fresh for up to 2 months. To re-heat let defrost in the fridge overnight and warm in the microwave, or place in crockpot on WARM until ready to serve.

Un-cooked Chicken and Dumplings: Place all ingredients in a large freezer bag EXCEPT THE MILK AND BISCUITS and store flat in the freezer for up to 2 months. When ready to cook, defrost overnight in the fridge. Add milk and freezer bag contents to a large crockpot and follow recipe instructions.
How long do leftovers last?
When stored in the fridge in an airtight container this recipe will stay fresh for up to 4 days. Re-heat leftovers in the microwave (2-3 minutes) until warm, stirring halfway to make sure everything warms evenly.
Additional Ideas
No Vegetables: I like the veggies in there and it is a way I can get my son to eat some, but they are no required if you prefer to leave them out. Another swap you could do is leave out the onion and use onion powder instead.
Mix it Up: If peas and carrots aren't your thing you can swap them out. Some alternative options are small baby potatoes, corn, and celery. Note that any swaps and substitutions you make will change the overall flavor of the slow cooker chicken and dumplings with biscuits.
Happy Eating!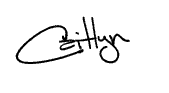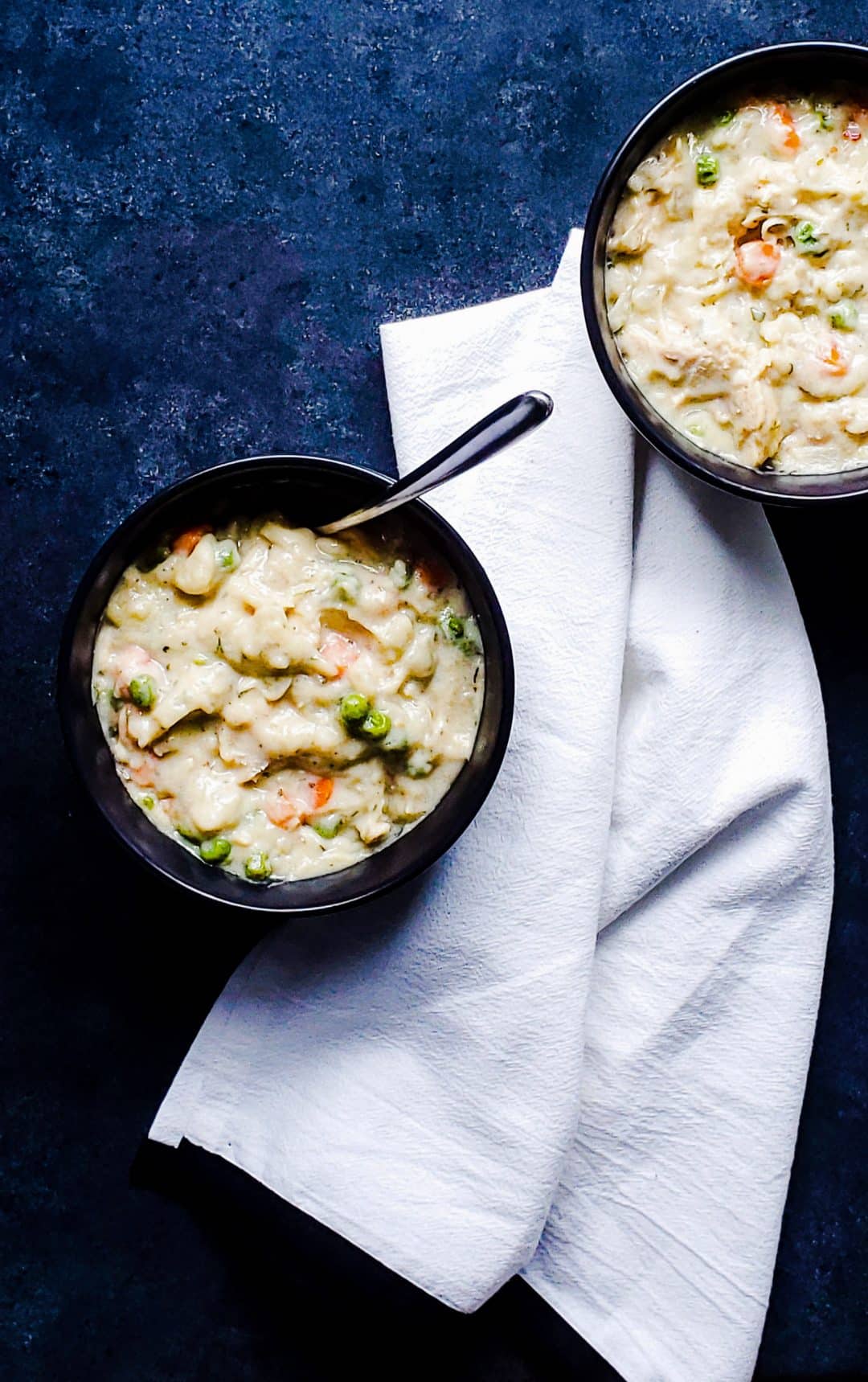 Crockpot Chicken and Dumplings with Biscuits
This is the best and simplest weeknight crockpot meal! This chicken and dumplings recipe uses biscuits to cut down on prep time and work without sacrificing flavor! The combo of peas, carrots, chicken, and milk all cook together for a creamy finish!
Ingredients
2

Large

Chicken Breasts

1

Medium

White Onion

Diced

1

Cup

Carrots

Chopped

1

Cup

Frozen Peas

1 ½

Tsp

Garlic Powder

1

Tsp

Thyme

½

Tsp

Crushed Rosemary

½

Tsp

Oregano

½

Tsp

Crushed Red Pepper Flakes

Optional

¼

Tsp

Salt

1

Tsp

Ground Black Pepper

1

10 Oz Can

Cream of Chicken Soup

2

Tbsp

Unsalted Butter

2

Cups

Milk

3

Cups

Low Sodium Chicken Broth

1

Can

Grands Biscuits
Instructions
Combine all ingredients, except the Grands Biscuits and milk, into a large crockpot and stir to combine. Cover and cook for 4 hours on HIGH of 6 hours on LOW.

Once cooked remove the chicken and shred. Then return the shredded chicken to the crockpot and stir.

Tear or slice the Grands biscuits into small pieces (about 5 per biscuits) and add them to the crockpot along with the milk. Stir to combine. Cover and cook for another 1 hour on HIGH or until biscuits are cooked through.

Stir before serving warm. Enjoy!
Notes
Leftover Storage: Store leftovers in an airtight container and store in the fridge for up to 4 days.
Rewarming Instructions: Warm leftovers in a microwave safe bowl for 2-3 minutes in the microwave stirring halfway through. Depending on the size of your bowl you may need to warm the chicken and dumplings for a longer or shorter period of time.
Freezer Option: Place all ingredients (except biscuits and milk) in a freezer bag and store for up to 2 months. When ready to cook let de-thaw in the fridge overnight, add milk and follow recipe instructions.
Nutrition
Calories:
501
kcal
Carbohydrates:
48.4
g
Protein:
25.7
g
Fat:
22.7
g
Saturated Fat:
9.2
g
Cholesterol:
62
mg
Sodium:
1400
mg
Potassium:
321
mg
Fiber:
3.5
g
Sugar:
12.4
g
Calcium:
130
mg
Iron:
4.1
mg
See What We Are Pinning!
Follow erhardtseat1 to see all the food!
Sharing is Caring!