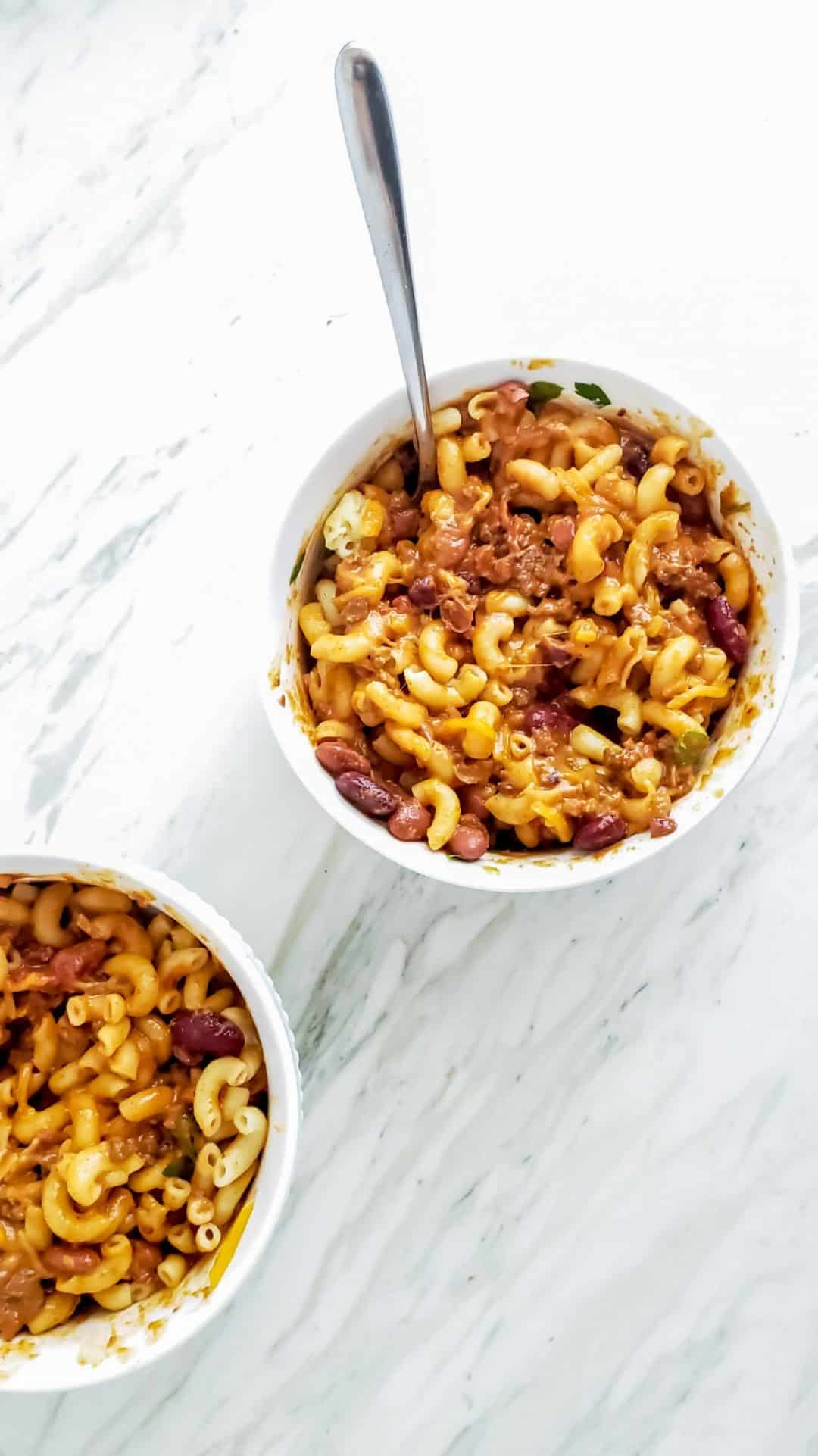 Growing up in the Midwest chili was a cold weather staple in my home. One of the most requested meals from my brother and I when snow was on the ground was mom's chili. My brother and I would spend hours out in the cold building snowmen, injuring ourselves on sleds, and attempting to build igloos. My absolute favorite part of those chilly, pun intended, days was coming inside and smelling my mom's chili on the stove simmering away. We would impatiently wait until dinner time when we could get our cold hands on the warm bowl of chili and chow down. Now, many years later, my mom's chili recipe has evolved into the best Sweet and Spicy Chili Mac and Cheese! Some of the ingredients have changed but the soul of this chili is still the same.
The Ultimate Comfort Food Combo
First, I would like to say that I am all about living in that balance between healthy and indulgence. This Sweet and Spicy Chili Mac recipe sways all the way over to the comfort food level, and that is perfectly fine with me! My favorite comfort food of all time is macaroni and cheese. My favorite meal growing up was my mom's chili. So this recipe is taking two comforts I love and creating the ultimate comfort food. This chili mac and cheese hits the spot for me every single time I make it! The chili is not too sweet and not too spicy and is hearty and filling with the meat and beans. Add in the mac and cheese and the result is a gooey, cheesy masterpiece.
My family and I now live in Wisconsin where it is horribly cold. I absolutely love making this chili mac on cool fall and winter nights and having tons of leftovers for days. Speaking of leftovers, this chili mac is the bomb the next day. One could argue that it is actually better the next day! Either way this recipe is perfect for a get-together with friends and family, or to enjoy for days on end. My mom would always make a huge batch of chili and my brother and I would love eating it the next day. Now, I still make a big batch and enjoy eating it for days and am so sad when it's gone! This recipe looks slightly different from when my mom would make it (and still makes it), but I have kept some of her main ingredients and tips the same.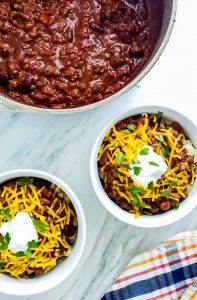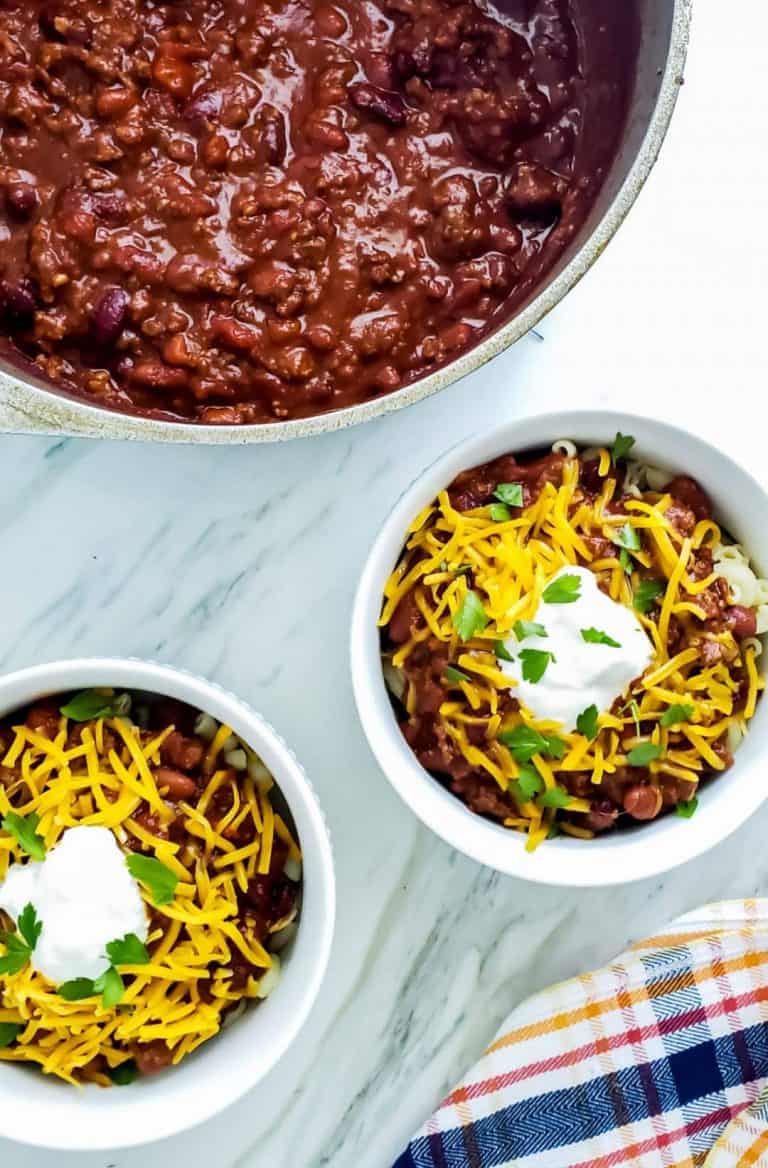 How To Make The Perfect Chili?
My mother has so many amazing recipes that she creates, but I think her chili is one of her best. My mom has always been a picky eater so for her simple is best. She has a few things that she adds to her chili that makes it stand out from others, which I still incorporate into my Sweet and Spicy Chili Mac. My mom is a lover of all things spicy, so she always wanted her chili to be hot. At the time though, us kids did not want it super spicy, so she tweaked some things.
~Tips From Mom~
-1-
First, my mom adds brown sugar to her chili. For a very long time I thought the addition of brown sugar to chili was something every one did. It wasn't until I got married and cooked chili for my husband for the first time that I learned I was mistaken.
I had made a comment about how my chili was the best and asked if he wanted me to make it. He replied that no, he did not because his dad's chili was the best (as if). At this point I had to make my chili because I need to prove to him that my chili was indeed the best. When I went to add in the brown sugar he looked at me, confused, and asked what I was doing. It was this moment that I realized that brown sugar in chili was not a household thing. To me this absolutely makes it! The brown sugar gives just the right amount of sweetness without over-powering the chili flavor.
-2-
Second, my mom will only use Brooks Chili Beans. I remember a time when my mom was getting ready to make a pot of her chili and asked my dad to run out and grab her some chili beans, because they had run out. What he returned with was a generic brand that my mom refused to use and my dad had to make a return trip to the store. I never really understood the reason for only using this brand of chili bean until I didn't have access to it.
When my husband and I lived in Japan Brooks Chili Beans where nowhere to be found. Therefore, I had to use a different brand. Doing this resulted in what I consider my worst pot of chili to date. I honestly have no clue why Brooks Chili Beans are so amazing, but they are. If you have access to them definitely give them a try!
-3-
Third, my mom lets her chili simmer for a long time. This is not a groundbreaking tip, but my mom starts her chili no later than 2 o'clock in the afternoon. She lets the chili simmer and come to a boil multiple times. She also tastes and adjusts her spices multiple times throughout. I have also stuck with this idea of simmering my chili for as long as possible. While it is not always realistic to simmer the chili all afternoon, I always let it go at least 1-2 hours.
Another important thing to remember is to taste as you go. The recipe below is the base that I start off with. After simmering sometimes I will add more brown sugar, more heat, or more chili powder. Adjust to whatever your personal tastes are!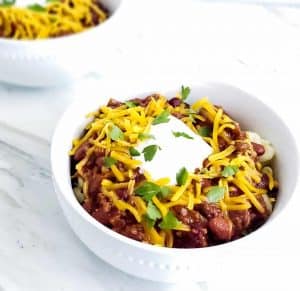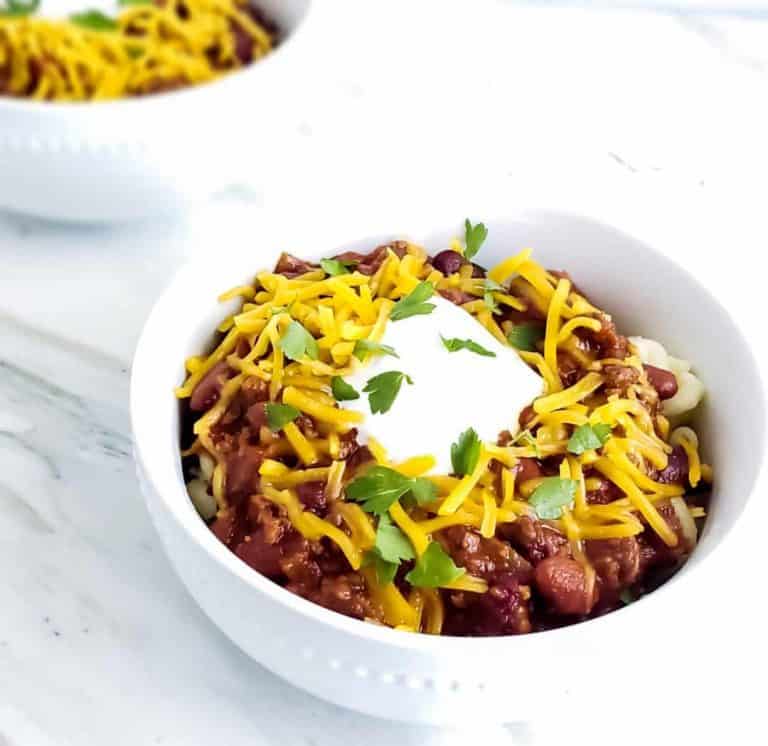 My Take On The Classic Chili
Now that I have covered some of my mom's tips for making this chili amazing, I am going to share how I made her recipe my own. My mom's chili is wonderful and the base that inspired this Sweet and Spicy Chili Mac and Cheese recipe. Through the years as I have gotten older some of my tastes have evolved. Therefore, I began to add and subtract things from my mom's chili recipe to make it more of my own. I have added in a few spices like cumin and oregano. Swapped out a chili bean for a kidney bean, but the major alterations I have made are the addition of some key ingredients.
~Small Changes, Big Impact~
-1-
First, I add diced tomatoes and diced onion to my chili. My mom is a picky eater and is not a big fan of vegetables. Therefore, she never put any veggies in her chili. Instead  she would just use tomato paste and onion powder. I on the other hand love vegetables, so one of the first changes I made was the addition of a couple. I like to cook down the diced onion with the meat so it melds with the chili, and you aren't getting hunks of onion in each bite. Tomatoes are one of my favorite foods and I love the extra tomato flavor that the diced tomatoes bring to this chili.
-2-
Second, I use a mix of ground beef and ground pork sausage for my chili recipe. My mom only ever used ground beef in her chili. I started doing this because one day when I was going to make this recipe I only had a small amount of ground beef in the house. I also had some leftover ground pork sausage from another meal I had made previously. Therefore, to avoid making an extra trip to the grocery store I decided to just use half ground beef and half ground pork sausage. Since then I haven't made my chili any other way. The flavor the ground pork gives this chili is amazing. It compliments the other ingredients like the brown sugar and tomatoes perfectly.
-3-
Third, I made this chili into a chili mac. Whenever my mom would make this chili when I was younger she would serve it with a side of cornbread. This is a very common side for chili, but I have never and still do not like cornbread. Therefore I chose to pair this chili with my other favorite food as a child, mac and cheese. From the first bite I knew I had found my favorite way to eat chili. For the cheese, I like to use shredded cheddar cheese. This cheese is mild and gives a great flavor without competing with the chili. The shredded cheddar cheese also melts very easily and is great to just stir right into the warm chili. And thus my Sweet and Spicy Chili Mac and Cheese Recipe became what it is today.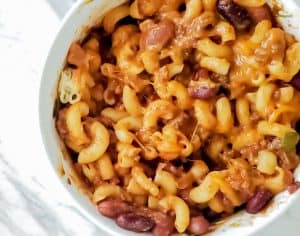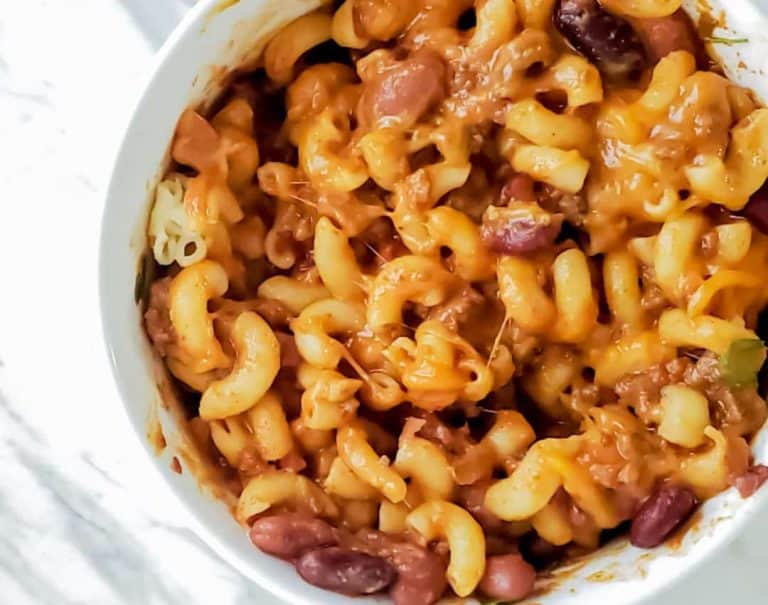 Stir It Up!
The last thing I will say about this sweet and spicy chili mac and cheese it to stir it up! My preference for this recipe is to let each person make their own bowl of chili mac the way they like it. So I have the chili, cooked macaroni and extras all separated. Then everyone can just get a bowl and customize their own chili. Once I get all my favorite toppings on I stir it all up so that it turns into something sorta ugly, but delicious! Some of my family's favorite toppings besides macaroni and cheese are sour cream (or plain Greek yogurt), diced avocados, green onions, more cheese, and oyster crackers! Alternatively you could combine the cooked macaroni, chili, and cheese into a large pot and stir it all together! Either way this chili saves well and makes amazing leftovers.
My family absolutely adores this recipe and recently when we were visiting my family my mom admitted this sweet and spicy chili mac was better than her own chili. But, hey, I learned from her so she still gets credit! I also love seeing my son, Theo, dig into this chili! He isn't a fan of spicy food, but with the brown sugar and mac and cheese this cools it down for him! Every time I make this I think back to me eating this as a kid and love passing on the family favorites to him! I hope your friends and family love this recipe as much as we do!
Happy Eating!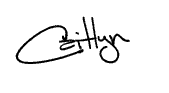 Looking for another recipe using ground pork sausage? Try my Grandma's Classic Southern Biscuit and Sausage Gravy Recipe!
Shop This Recipe:

*I make a commission for purchases made through the links on this page.
Sweet and Spicy Chili Mac and Cheese Recipe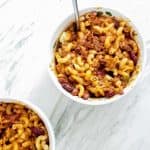 Print Recipe
Sweet and Spicy Chili Mac and Cheese
My family's favorite Sweet and Spicy Chili Mac! My mother started this recipe and over the years it has evolved into a classic family favorite. The brown sugary sweetness hits first followed by the perfect amount of heat! I hope you and your family love this cool weather favorite!
Ingredients
1

Medium

White Onion

Diced

1/2

Pound

Ground Beef

1/2

Pound

Ground Pork Sausage

3

Tsp

Minced Garlic

1/4

Tsp

Salt

1/2

Tsp

Ground Black Pepper

2

Tbsp

Chili Powder

1

Tbsp

Paprika

1/2

Tbsp

Cumin

1

Tsp

Oregano

1

Tsp

Garlic Powder

1

Tsp

Cayenne Pepper

1/2

Tbsp

Red Pepper Flakes

3/4

Cup

Brown Sugar

1

Can

Mild Chili Beans

1

Can

Kidney Beans

Rinsed

1

Can

Diced Tomatoes

6

Oz

Tomato Paste

1/4

Cup

Chili Sauce

1

Cup

Water

16

Oz

Dried Macaroni

2

Cups

Cheddar Cheese

Shredded
Optional Toppings
Additional Cheese

Sour Cream (or Plain Greek Yogurt)

Green Onions

Avocado

Diced

Oyster Crackers
Instructions
In a large pot add olive oil and bring to medium heat. Once oil is warm add in the diced white onion and saute until translucent. Add the ground beef and ground pork sausage and break into small chunks. Add in the minced garlic, salt, and pepper to the meat and cook until no more pink remains, about 7 minutes. Once meat is cooked through drain the excess fat.

Once meat is drained add in the chili powder, paprika, cumin, oregano, garlic powder, cayenne pepper, red pepper flakes, and the brown sugar and stir the combine.

Once combined, add the chili beans, kidney beans, diced tomatoes, tomato paste, chili sauce, and water and stir until combined. Once combined bring to a boil. Once boiling, reduce heat to low and simmer covered for 1-2 hours.* Stir occasionally and adjust spices as needed.

Right before serving, follow macaroni package instructions and cook until al dente. To serve combine macaroni, chili, sour cream and cheese in a personal sized bowl and mix everything together*. Enjoy!
Notes
*I like to let my chili simmer for at least an hour, but it is better the longer you can let it simmer. I adjust my spices usually once or twice adding in more brown sugar if it is too spicy, or more cayenne if it is too sweet. Add small amounts at a time so you do not over spice the chili.  *I like letting everyone put together their own chili mac in their own bowl. This lets everyone customize it to their own liking. Alternatively, you could combine together the cheese, chili, and macaroni in a large bowl and serve it that way. 
Nutrition Facts
Sweet and Spicy Chili Mac and Cheese
Amount Per Serving
Calories 631
Calories from Fat 338
% Daily Value*
Total Fat 37.5g 58%
Cholesterol 131mg 44%
Sodium 1590mg 66%
Potassium 800mg 23%
Total Carbohydrates 32.2g 11%
Protein 42.6g 85%
* Percent Daily Values are based on a 2000 calorie diet.
Nutrition
Calories:
631
kcal
|
Carbohydrates:
32.2
g
|
Protein:
42.6
g
|
Fat:
37.5
g
|
Saturated Fat:
20.8
g
|
Cholesterol:
131
mg
|
Sodium:
1590
mg
|
Potassium:
800
mg
|
Fiber:
9.4
g
|
Sugar:
7.2
g
|
Calcium:
54
%
|
Iron:
52
%