The absolute BEST Sweet and Spicy Chili Mac! Amazing combo of sweet and spice makes this one tasty dinner or tailgating game day fave.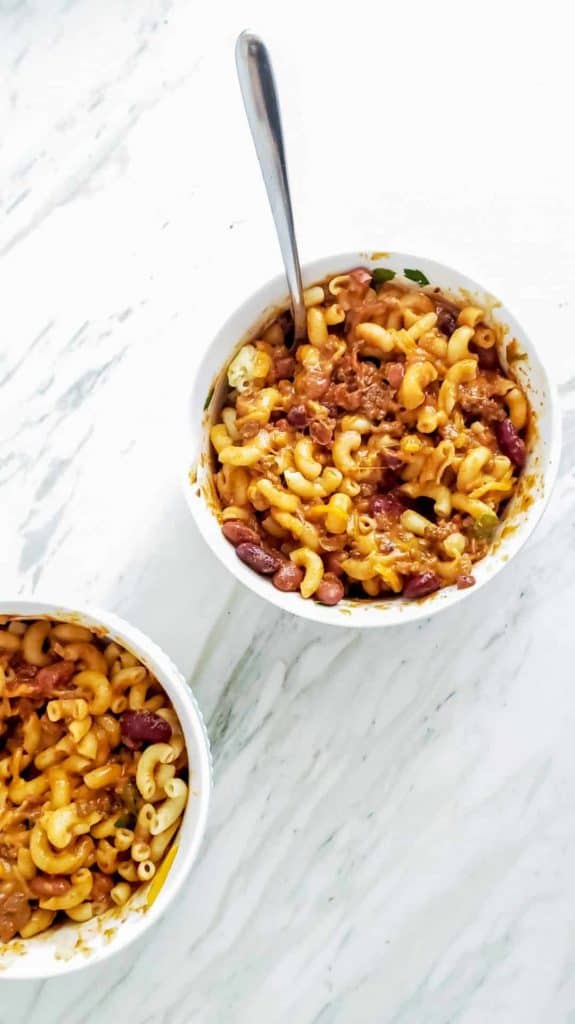 Growing up in the Midwest chili was a cold weather staple in my home. One of the most requested meals from my brother and I when snow was on the ground was mom's chili. My brother and I would spend hours out in the cold building snowmen, injuring ourselves on sleds, and attempting to build igloos. My absolute favorite part of those chilly (pun intended) days was coming inside and smelling my mom's sweet and spicy chili on the stove simmering away.
Now, many years later, my mom's chili recipe has evolved into the best Sweet and Spicy Chili Mac and Cheese. The chili featured brown sugar, two types of meat, an array of herbs and spices and of course beans and cheese. This recipe has stood the test of time and is still a winter favorite in our house.
Kitchen Tools
A Large Pot with a Lid- I love to use my dutch oven, but any large pot will do.
Measuring Cups and Spoons- Gotta get the balance of sweet and spicy rights!
A Can Opener- There are lots of cans to open for this chili recipe, you need this for sure.
A Pairing Knife and Cutting Board- This is to dice the onion.
Ingredients
Ground Beef and Ground Sausage- I love using both to develop an incredible flavor. If you wish you could just use ground beef for this sweet and spicy chili recipe, but I highly suggest using the combination.

Chili Beans and Kidney Beans

A Large White Onion- You could use a yellow or red onion as well.

Chili Sauce

Tomato Paste

Diced Tomatoes

Brown Sugar-

This is super important for this chili mac recipe. The brown sugar is what gives the chili its sweet flavor.

A Boat Load of Spices-

Yes, I know there is a lot of spices for this chili recipe, but sometimes perfection requires a lot of stuff. This is one of those cases.

Water

Dried Macaroni

Shredded Cheese- I like to use shredded cheddar cheese.

Sour Cream or Plain Non-Fat Greek Yogurt

Optional Additional Toppers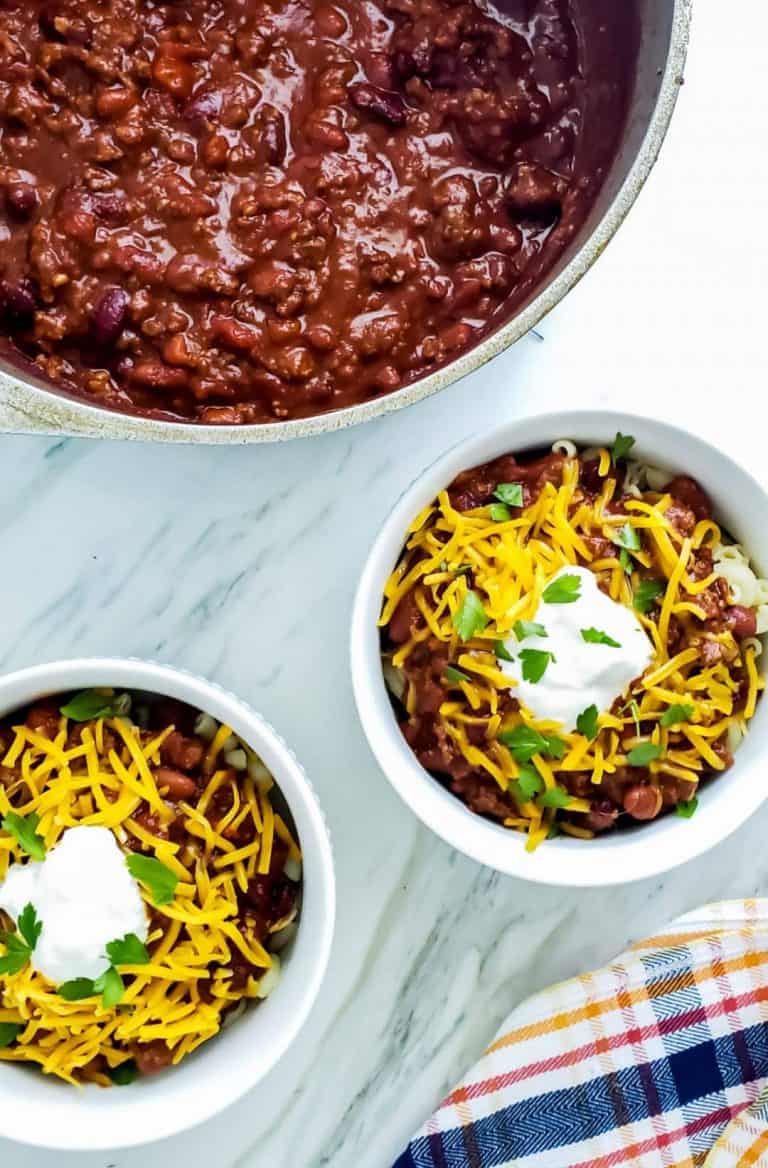 How to Make Sweet and Spicy Chili
In a large pot add diced onion and olive oil and saute for 5 minutes or until the onion is translucent. Add the ground beef, ground sausage, salt and pepper and minced garlic to the pot.

Cook the meat until no pink remains, about 7-10 minutes. Once the meat is cooked through, drain the excess liquid from the pot.

Add all of you dried spices to the large pot and stir until meat is coated.

Next, add in all the remaining ingredients (except the macaroni and cheese) to the pot and give the chili a good stir to combine all the ingredients.

Bring the sweet and spicy chili to a boil, then reduce heat to low and cover letting the chili simmer for a minimum of 20 minutes to let the flavors develop. Taste chili and adjust spices as needed while it is simmering.

While the chili is simmering, prepare the dried macaroni per package instructions.

Once the chili is finished simmering and the macaroni is cooked it is time to prepare the chili mac.

In your personal chili bowl add a large scoop of macaroni, then top with sweet and spicy chili, cheese, then sour cream. Stir everything together for the perfect sweet and spicy chili mac and cheese!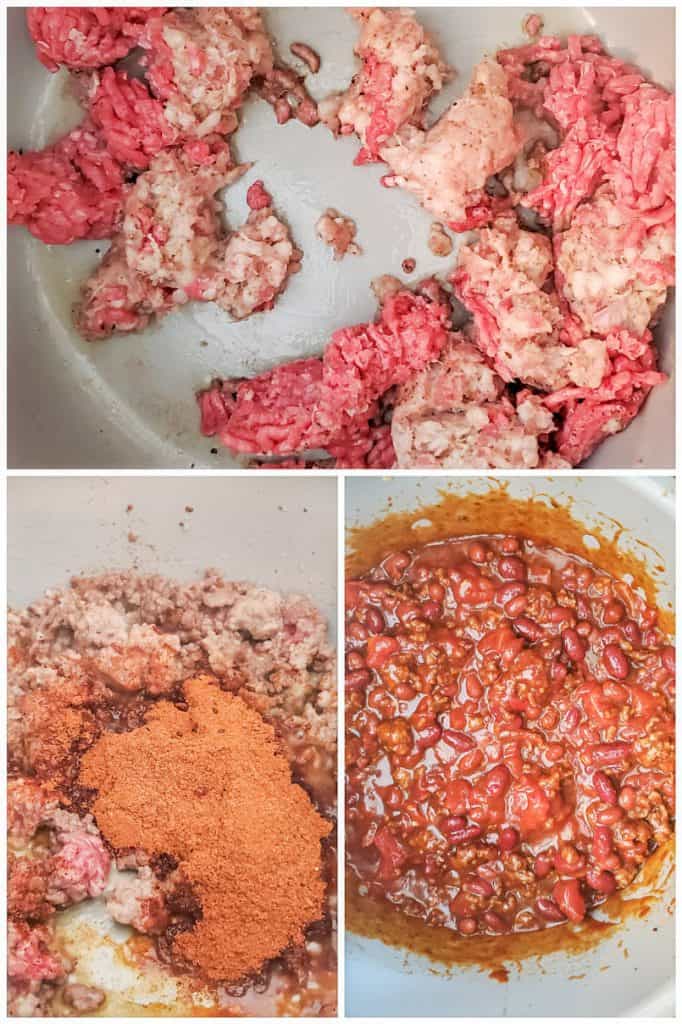 Slow Cooker Instructions
If you want to make this chili mac in a crockpot instead of on the stove top you absolutely can. Letting the chili simmer in the crockpot all day helps it build a ton of flavor. I love the crockpot option for game days or tailgating where this chili would be served at a party or gathering. Please note, that you will still need to make the macaroni on the stove top. DO NOT add it to the crockpot with the chili. That would not sure out well.
Combine all ingredients (except the macaroni and shredded cheese) to a large crockpot, and stir to combine everything.

Cover and cook on HIGH for 4-5 hours or LOW for 6-7 hours.

When you are ready to eat the chili, prepare the dried macaroni per package instructions.

Give the sweet and spicy chili a good stir before serving with cooked macaroni, shredded cheese, and sour cream.
Note: I like to brown the meat before adding it to the crockpot, but this is not required. Just make sure to break the meat up when you add it to the crockpot with the rest of the chili ingredients.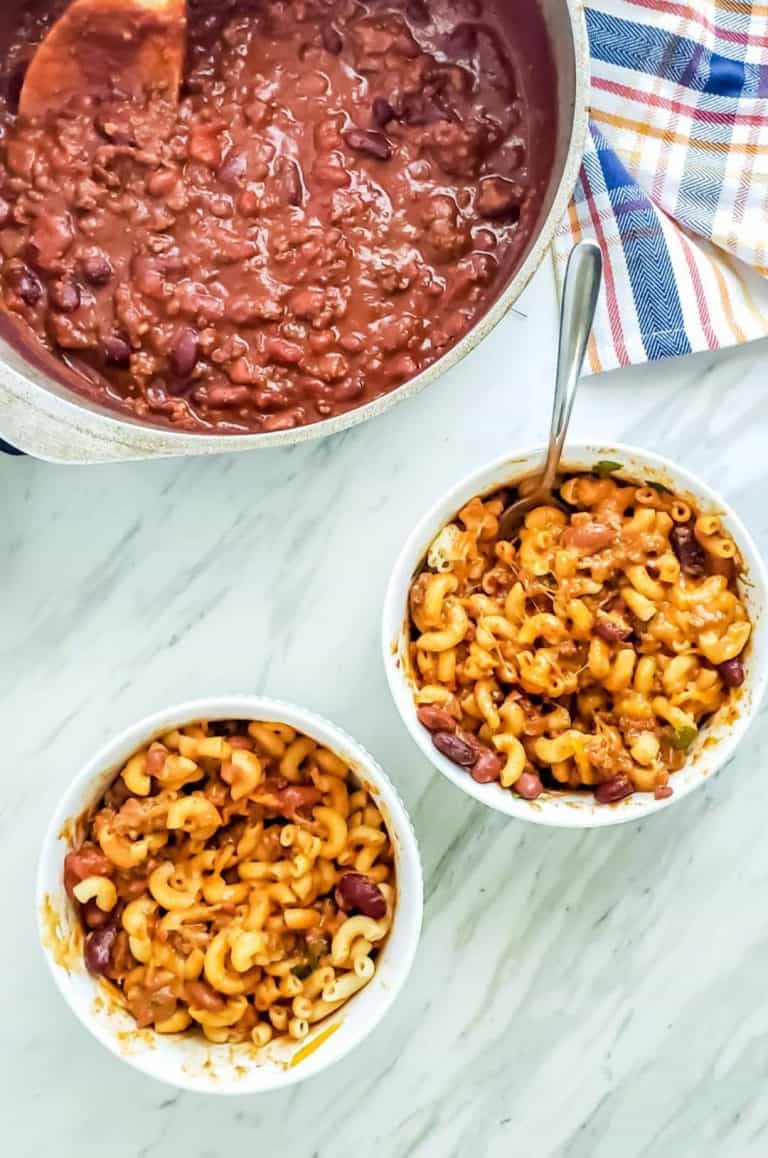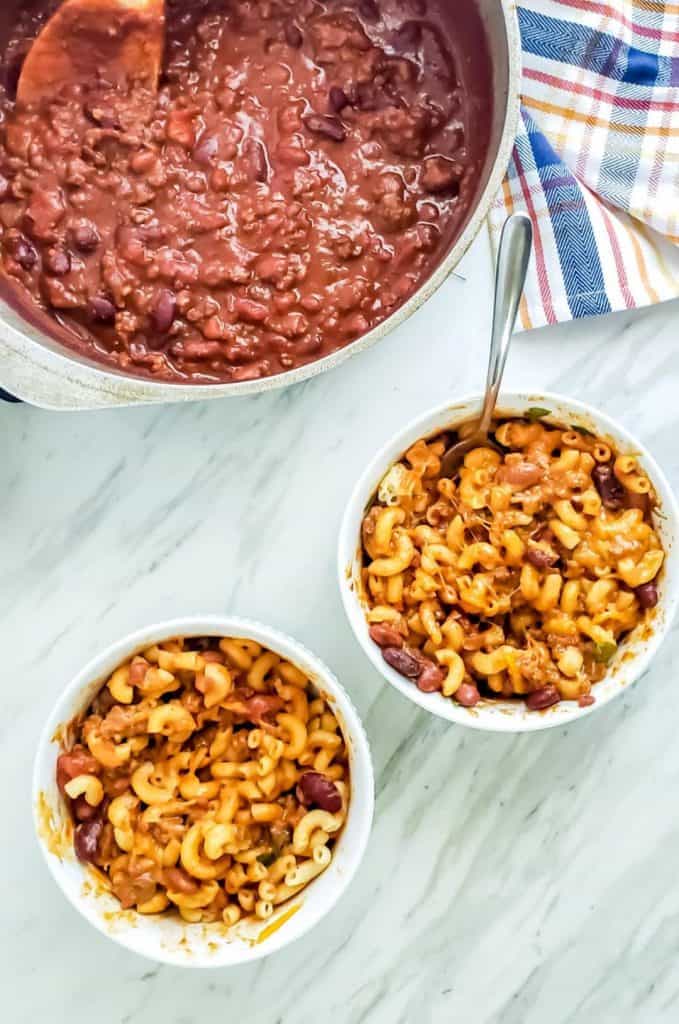 Pro Tips
Make the Chili Sweet
First, my mom taught me to adds brown sugar chili. For a very long time I thought the addition of brown sugar to chili was something every one did. It wasn't until I got married and cooked chili for my husband for the first time that I learned I was mistaken.
I had made a comment about how my chili was the best and asked if he wanted me to make it. He replied that no, he did not because his dad's chili was the best (as if). At this point I had to make my chili because I need to prove to him that my chili was indeed the best.
When I went to add in the brown sugar he looked at me, confused, and asked what I was doing. It was this moment that I realized that brown sugar in chili was not a household thing. To me this absolutely makes it! The brown sugar gives just the right amount of sweetness without over-powering the chili flavor.
The Perfect Meat Combo
Second, I use a mix of ground beef and ground pork sausage for this sweet and spicy chili recipe.
I started doing this because one day when I was going to make this recipe I only had a small amount of ground beef in the house. I also had some leftover ground pork sausage from another meal I had made previously. The combo was incredible and I have have done it this way ever since.
Let the Chili Simmer
Try and let the sweet and spicy chili simmer and come to a boil multiple times. During this time I taste and adjust the spices multiple times throughout. While it is not always realistic to simmer the chili all afternoon, I always let it go AT LEAST 20 minutes. Ideally at least an hour.
Another important thing to remember is to taste as you go. The chili recipe below is the base that I start off with. After simmering sometimes I will add more brown sugar, more heat, or more chili powder. Adjust to whatever your personal tastes are.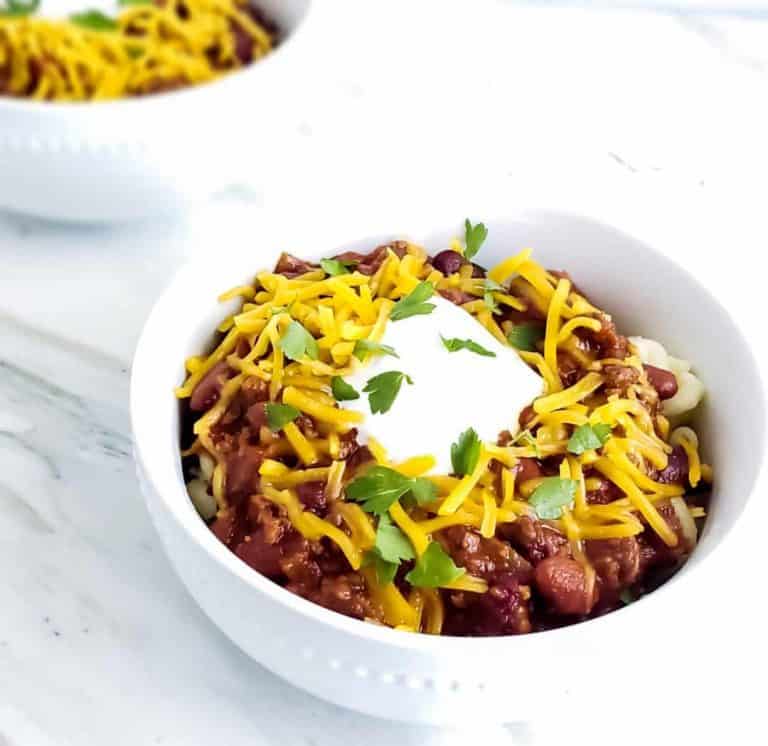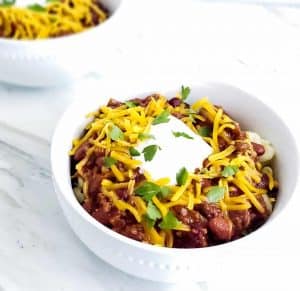 More Comfort Foods
Crockpot Beef Short Ribs
Southern Biscuits and Gravy Recipe
Grandma's Classic Mostaccioli Recipe
Jalapeno Popper Dip with Bacon
Chicken and Dumplings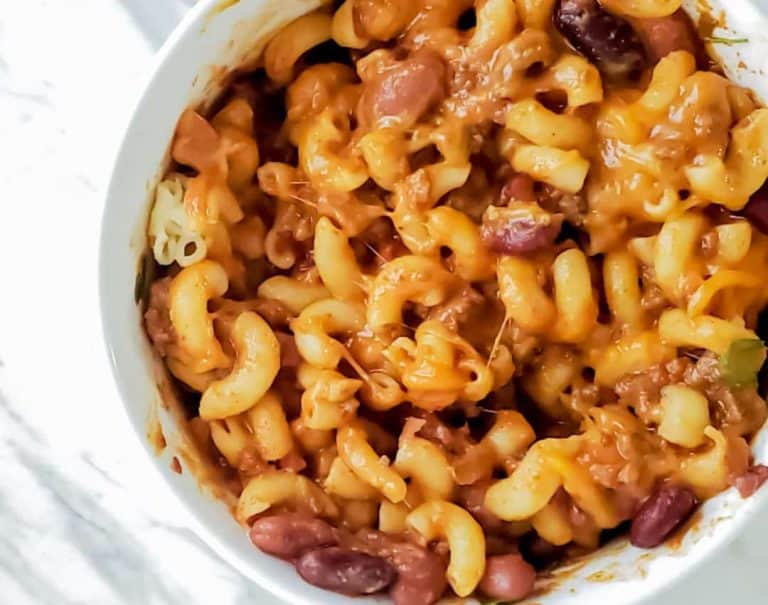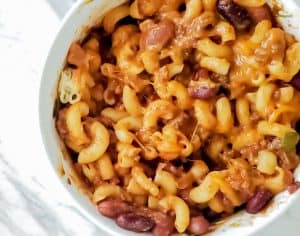 Common Questions
How should leftover chili be stored?
Store leftover chili mac and cheese in an airtight storage container in the fridge for up to 4 days. Personally, I like to store the macaroni and sweet and spicy chili separate in the fridge, but you could store them together if you wish. To re-warm the chili place the chili in a bowl, cover and warm for 2 minutes stirring halfway through.
Can homemade chili be frozen?
To freeze leftover chili play in a large freezer bag and store flat. Personally, I like to double bag the chili to be sure it won't leak. When you are ready to serve the chili defrost the chili in the fridge overnight and re-heat in the microwave, on the stove top, or in a slow cooker.
Can chili be made ahead of time?
Yes, you can make the chili and macaroni up to a day ahead of time and store them in separate containers in the fridge. The chili is even better the next day once the flavors have blended together, so if you need to make everything ahead of time even better.
My family absolutely adores this recipe and recently when we were visiting my family my mom admitted this sweet and spicy chili mac was better than her own chili. But, hey, I learned from her so she still gets credit! I hope your friends and family love this recipe as much as we do.
Happy Eating!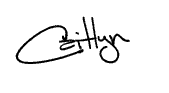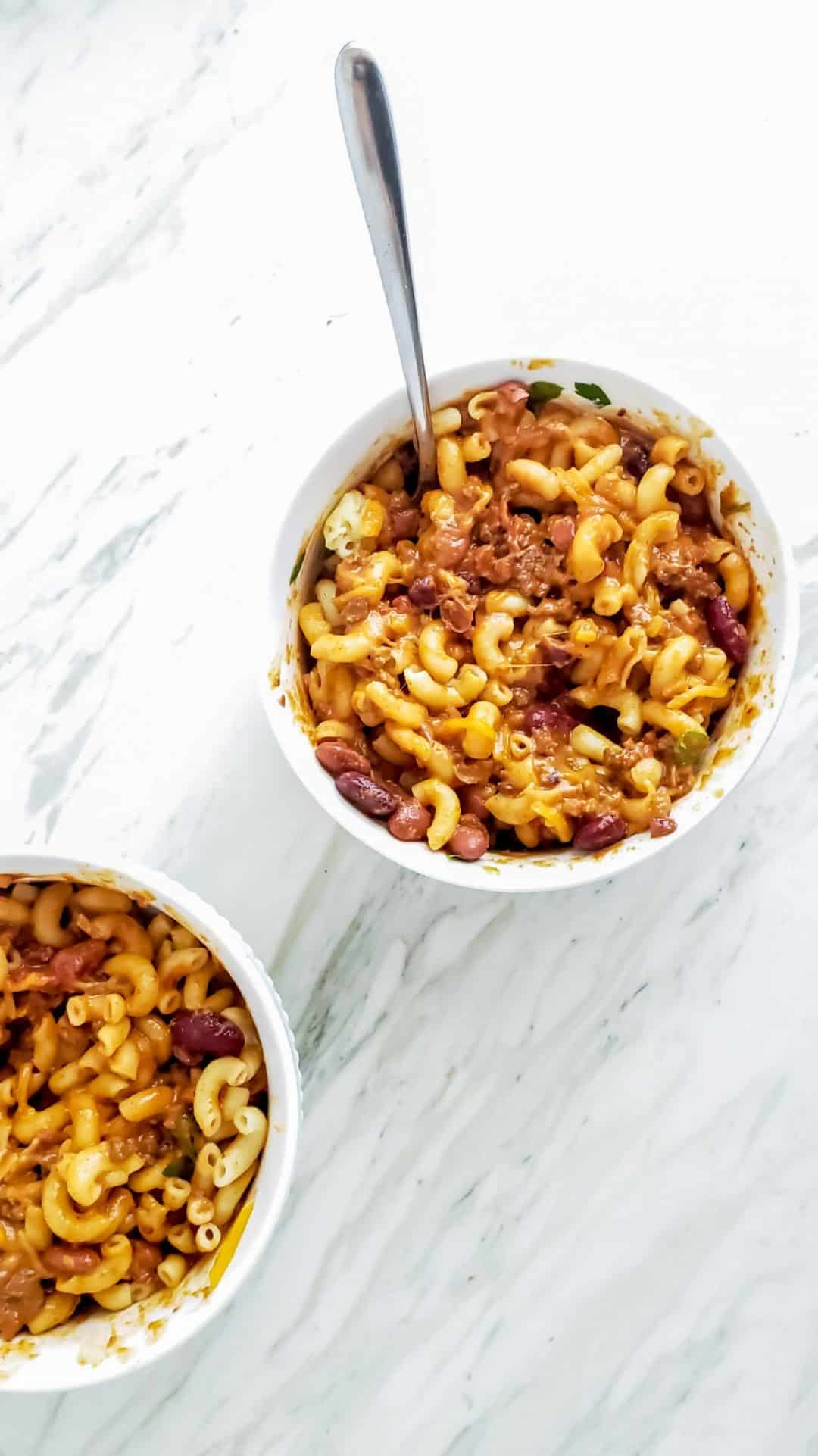 Sweet and Spicy Chili Mac and Cheese
My family's favorite Sweet and Spicy Chili Mac! My mother started this recipe and over the years it has evolved into a classic family favorite. The brown sugary sweetness hits first followed by the perfect amount of heat! I hope you and your family love this cool weather favorite!
Ingredients
Optional Toppings
Additional Cheese

Sour Cream (or Plain Greek Yogurt)

Green Onions

Avocado

Diced

Oyster Crackers
Instructions
In a large pot add olive oil and bring to medium heat. Once oil is warm add in the diced white onion and saute until translucent. Add the ground beef and ground pork sausage and break into small chunks. Add in the minced garlic, salt, and pepper to the meat and cook until no more pink remains, about 7 minutes. Once meat is cooked through drain the excess fat.

Once meat is drained add in the chili powder, paprika, cumin, oregano, garlic powder, cayenne pepper, red pepper flakes, and the brown sugar and stir the combine.

Once combined, add the chili beans, kidney beans, diced tomatoes, tomato paste, chili sauce, and water and stir until combined. Once combined bring to a boil. Once boiling, reduce heat to low and simmer covered for at least 20 minutes* Stir occasionally and adjust spices as needed.

Right before serving, follow macaroni package instructions and cook until al dente. To serve combine macaroni, chili, sour cream and cheese in a personal sized bowl and mix everything together*. Enjoy!
Notes
*I like to let my chili simmer for at least 20 minutes, but it is better the longer you can let it simmer. I adjust my spices usually once or twice adding in more brown sugar if it is too spicy, or more cayenne if it is too sweet. Add small amounts at a time so you do not over spice the chili.
*I like letting everyone put together their own chili mac in their own bowl. This lets everyone customize it to their own liking. Alternatively, you could combine together the cheese, chili, and macaroni in a large bowl and serve it that way.
Nutrition
Calories:
631
kcal
Carbohydrates:
32.2
g
Protein:
42.6
g
Fat:
37.5
g
Saturated Fat:
20.8
g
Cholesterol:
131
mg
Sodium:
1590
mg
Potassium:
800
mg
Fiber:
9.4
g
Sugar:
7.2
g
Calcium:
540
mg
Iron:
9.4
mg
See What We Are Pinning!
Follow erhardtseat1 to see all the food!