Out of all the meals throughout the day breakfast/brunch is my favorite. I love it so much that I will eat the foods for any meal at any time of the day. One of my family's favorite breakfasts is this crispy french toast recipe! It is very simple, requires no special kitchen tools, and it is loved by both kids and adults. I also love that this is a classic recipe with with a classic flavor profile, but has a few changes to make it special and unique. Finally, the prep work is simple and this recipe is ready in under thirty minutes making this a perfect fast and simple go-to breakfast recipe!
How Do You Make French Toast?
French toast is a classic breakfast and brunch staple. Why? Because it is rather simple to make and absolutely delicious! Making french toast is pretty easy and requires only a few steps. For this recipe I will go over the basics and some alternative options, so that you can make it your own!
-1-
First, you need to pick a bread. For this crispy french toast recipe I like to use finger rolls. Finger rolls are a very soft and thick white bread that comes in a loaf. You can pull each piece off individually and each piece comes off flaky and perfect. I usually find this in the fresh baked goods section of my local grocery store. If you can't find finger rolls then pick a thick pillowy white bread, like Texas Toast. Save the healthy oat bread for another recipe, you will want some fluffy white bread for this!
-2-
Second, you will need to pick a liquid to coat your bread in. the standard being eggs. You could use just eggs, a combination of eggs and your your favorite milk. Something like cow's milk or almond milk. For this recipe I chose to use buttermilk. I love using buttermilk in recipes, especially for breakfast and dessert recipes. The finish is thick and creamy and gives the french toast and sweet taste. If you want that same effect and can't find buttermilk I would use heavy cream.
Once you have chosen your liquid it is time to pick your add-ins. The common ones used are vanilla extract, and cinnamon. I stick to a pretty classic combo for this recipe with the addition of nutmeg. I do like a lot of cinnamon in my french toast, so if you want more of a subtle flavor I would cut the recipe recommendation down a bit. You will then add in your chosen spices to your egg and liquid combination and whisk it up!
-3-
Now it is time to prepare the bread slices. You will take one slice of bread, dip it into the liquid mixture first. Once it is thoroughly coated you will then place it in a heated skillet with butter or Pam. Then you will cook the french toast until golden on both sides. That is the standard practice when it comes to the creation of french toast. For this recipe we are taking it one step further and adding in some crunchy crispiness: Corn Flakes.

That Extra Something
Who doesn't love a good twist on a classic?! This french toast recipe without the additional crunchy step is absolutely wonderful. If I do not have any corn flakes in the house I just do the classic french toast and it comes out amazing. That being said, I love the additional crunchy texture! When paired with toppings like maple syrup and whipped cream french toast can get a bit soggy sometimes. I love that this crispy french toast recipe combats that soggy syndrome and keeps it shape far better.
Also, I love using Corn Flakes because they have a neutral flavor. Therefore, you have the same classic flavor profile of french toast with a little extra crispy. If you are looking for some other variations to try that are a little more adventurous try using Rice Krispies, Cocoa Pebbles, or even Fruity Pebbles. The colored cereal gives a lot more flavor, but still keeps the crunch! Also, kids LOVE the colorful french toast! So if you are looking for a cool parent award I highly recommend the fruity pebbles version!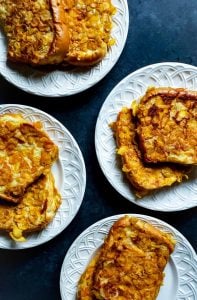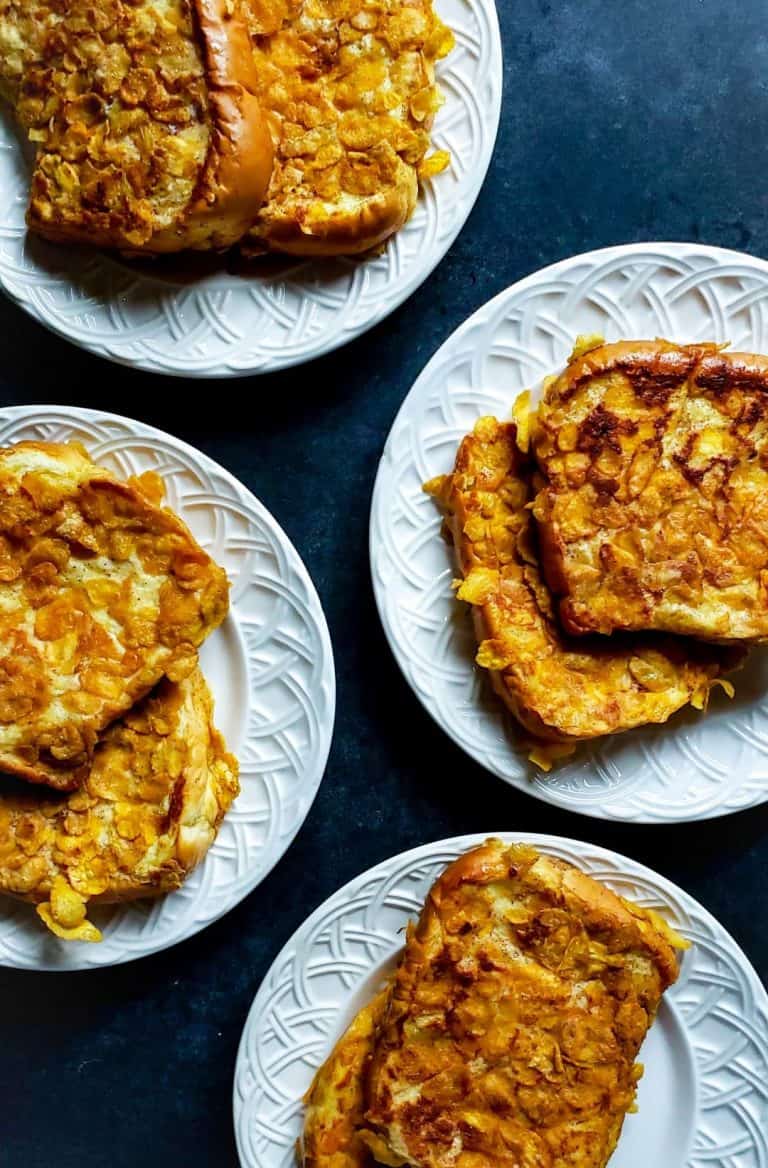 What Do I Need To Make This Crispy French Toast Recipe?
I love this crispy french toast recipe, because it requires no special kitchen equipment. Most households will have these things in there home already, because they are staples in the kitchen. Recipes like this are some of my favorite to create, because I do not like to make people feel like they have to have something special or fancy to make my food.
Growing up I was very lucky to live with family who cooked. This meant that my mother's kitchen was well stocked. Now, I realize that for a lot of people that is not the case. Be it limited space, funds or both but having tons of fancy kitchen appliances and tools is not the norm. I learned very quickly when I got married that kitchen gadgets are expensive! My husband and I couldn't afford to have a stocked kitchen and we had very limited space while living in Japan. Now that we have been married for many years I have slowly accumulated all the kitchen tools I need and some extras. This crispy french toast recipes requires only a medium to large skillet, bowls and a spatula. Even the spatula could be optional because I often use my fingers and a fork to flip these!
So do not stress about fancy kitchen equipment here, you only need a few things to make this delicious breakfast recipe! If you are wanting to use the best of the best, a big skillet or griddle makes things easier. Also, a small flexible spatula to easily flip each slice of french toast. I also find that wide bowls work great because you won't have to bend the bread with you dip it in. These things make prep and cooking easier, but are not needed or required!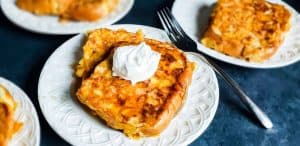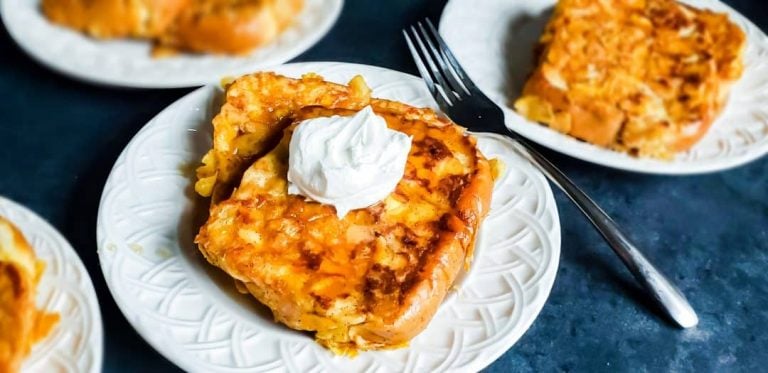 Ultimate Family Brunch
Now it is finally time to eat! This recipe takes about twenty minutes from start to finish if you are using a large skillet or griddle. If you are using a smaller pan and working in batches it will take you an extra ten to fifthteen  minutes. Even with the added extra time this recipe is a pretty quick and perfect for a family or friends weekend brunch.
This is one of my son Theo's favorites! He has eaten classic french toast loads of times, but now that he is getting some more teeth it was finally time to introduce him to this crispy french toast recipe! I had no doubt that he would love it because he is a big cereal fan and already was an avid french toast enthusiast. My hunch was correct and he ate an entire piece all on his own! Pretty impressive for a tiny-tummied one year old! I love getting to watch my son love and try new foods. It is so fun getting to see his little face light up when he sees his plate. Also, I love creating another brunch lover! They really are the best sort of people. I hope you and your family and friends have a wonderful brunch enjoying this recipe!
Happy Eating!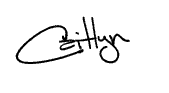 Looking for another delicious brunch recipe? Try Grandma's Classic Southern Biscuits and Sausage Gravy next!
Shop This Recipe: 
*I make a commission for purchases made through the links on this page.
Crispy French Toast Recipe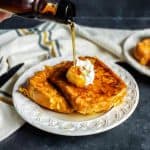 Print Recipe
Crispy Buttermilk French Toast
The BEST French Toast recipe! The perfect combination of corn flakes, buttermilk, spices and finger rolls! Get ready for the ultimate brunch/breakfast food!
Ingredients
1

Loaf

Finger Rolls*

4

Cups

Corn Flakes

1/2

Tsp

Cinnamon

1/4

Tsp

Nutmeg

1/4

Tsp

Salt

4

Large

Eggs

2

Tsp

Vanilla Extract

1 1/2

Cups

Buttermilk

Unsalted Butter

For The Skillet
Optional Toppings
Maple Syrup

Sliced Fruit

Whipped Cream

Powdered Sugar
Instructions
In a wide bowl add the corn flakes and set aside. In a separate bowl combine the eggs, buttermilk, vanilla extract, cinnamon, salt and nutmeg and whisk to combine.

One at a time, take one finger roll (or thick white bread) and dip it in the egg mixture letting the excess drain off. Then dip the bread in the corn flakes completely coating both sides. Set aside and repeat until all slices are coated.

Heat a large skillet and add butter. When butter is melted and bubbling add prepared bread slices and cook until golden brown, about 3-5 minutes. Flip and repeat on the other side. Repeat this until all french toast slices are golden and crispy.

Serve warm with your favorite toppings, and enjoy!
Video
Notes
*I find Finger Rolls in the bakery section of my local grocery store. If you can't find them use a thick, pillowy white bread. 
Nutrition Facts
Crispy Buttermilk French Toast
Amount Per Serving
Calories 327
Calories from Fat 90
% Daily Value*
Total Fat 10g 15%
Cholesterol 106mg 35%
Sodium 701mg 29%
Potassium 153mg 4%
Total Carbohydrates 49.9g 17%
Protein 10.5g 21%
* Percent Daily Values are based on a 2000 calorie diet.
Nutrition
Calories:
327
kcal
|
Carbohydrates:
49.9
g
|
Protein:
10.5
g
|
Fat:
10
g
|
Saturated Fat:
3.6
g
|
Cholesterol:
106
mg
|
Sodium:
701
mg
|
Potassium:
153
mg
|
Fiber:
1.1
g
|
Sugar:
12.6
g
|
Calcium:
10
%
|
Iron:
31
%