Homemade soft pretzels and cheese sauce are the perfect party combo! This recipe works perfect as an appetizer for game days, holiday parties, and get-togethers with friends and family. This pretzel recipe is easier than you think and paired with simple and diverse cheese sauces ensures everyone will find something they love. All you will need is a little prep work and patience and you are well on your way to that perfectly salty and soft pretzel we all know and love. I hope you enjoy the best Homemade Soft Pretzels and Cheese Sauce!
How Do You Make Homemade Soft Pretzels?
In my experience, when I ask people if they have ever made homemade soft pretzels their answer is usually, no. The reasoning being that they are too difficult. Making pretzels is no more difficult than making bread. The dough is similar, and there is only a couple extra steps involved. Those being boiling in baking soda, and forming the dough into a classic pretzel shape.
-1-
First, you will need to make the dough. Making the dough can seem intimidating, but in reality it is actually simple. Starting off you will want to let the active dry yeast stand in the water mix for at least five minutes. Ideally, until it begins to foam. This helps the pretzel rise and saves you from having super dense, tough pretzels. Next, you will want to add your remaining ingredients and mix using the hook attachment on your stand mixer. When adding the flour you may need a bit more or less than the recipe calls for. This is always an approximation and you will want to go off of feel. You want the pretzel dough not to be sticky and pull away from the sides of the bowl.
Once this happens, it is time to let the dough rise. I let mine go for at least an hour in a warm place. A trick I like to use when getting dough to rise is placing it in a warm oven. I turn my oven on the lowest setting, and once it hits about 145 degrees I turn it off. This ensures that the oven is warm, but not hot enough to cook the dough. I place the dough covered in an oiled bowl and within the hour it has doubled its size. I like using this method because my home is rather cool, and finding a warm place can be challenging. This ensures that my pretzel dough will rise every time!
-2-
Once the dough rises, it is time to separate the dough into equal parts and roll it into shape. For this recipe I always have good luck getting 16 equal pieces. If you get a few more, or less don't sweat it, they will still roll out and work perfectly. Next, you will want to shape your pretzels. I like doing the twist shape I show here, but you could also do a traditional pretzel as well! Once you have all your homemade soft pretzels into their shapes it is time to get cookin'!
-3-
Finally, you will need to give these guys a baking soda bath. This is the step that a lot of people seem intimidated by for some reason. I know it is an extra step that traditional bread does not require, but it really only takes about five or so extra minutes. First, you will bring a large pot of water and baking soda to a boil. Then you will drop each pretzel into the boiling water for about 30 seconds. After the 30 seconds, remove the pretzel with a slotted spoon and repeat until all the pretzels are bathed. This step gives the pretzels that golden to deep brown crisp outside that makes a pretzel, well a pretzel! Finally, you are ready to get the pretzels in the oven!
That's it! Now you have to patiently wait for them to bake and be ready to eat. This, to me, is the hardest part!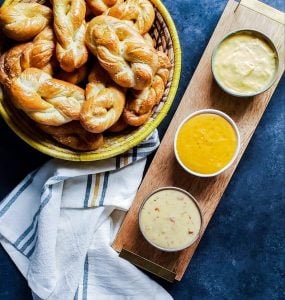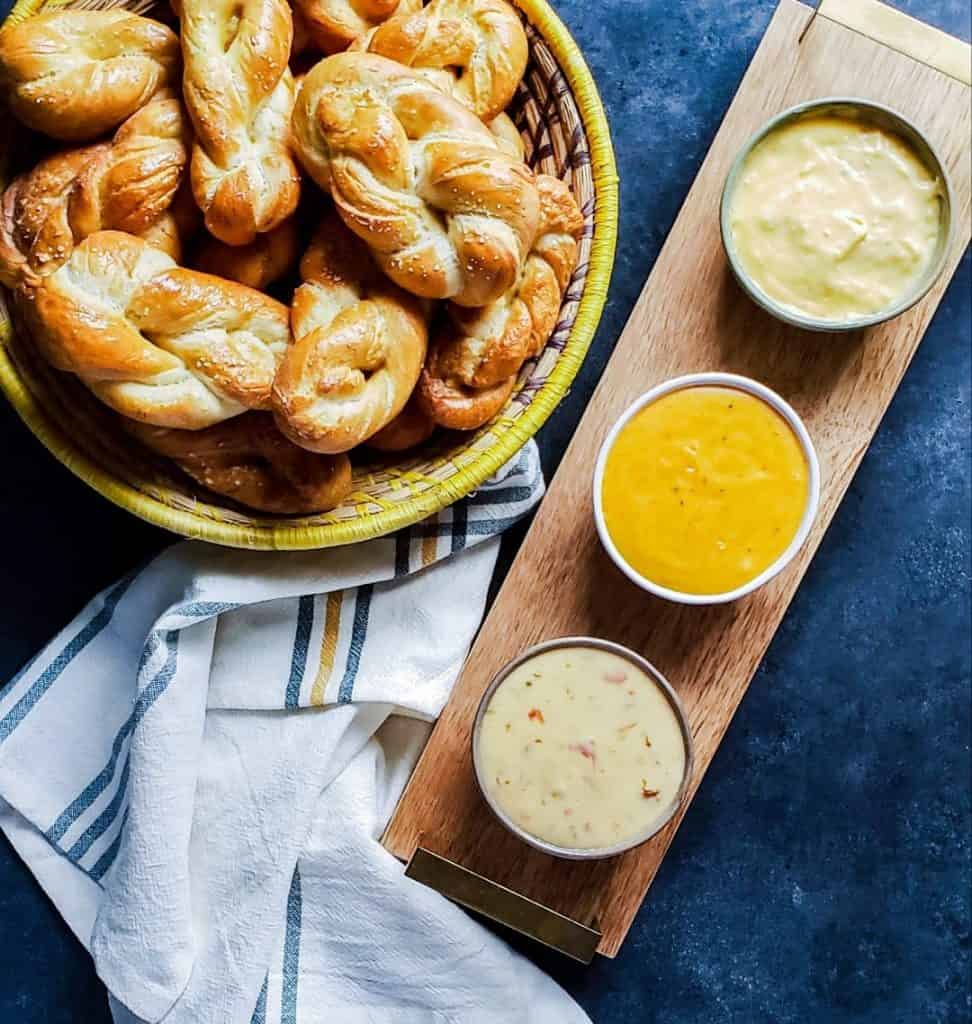 Do The Twist
Creating the pretzel twist requires a few simple steps. Your first twist will probably look a bit rough, but you will have it down pretty fast! First, you will need to roll out your dough. Take one of you balls of dough and roll it out into a long rope on a flat, clean surface. I like to use the palms of my hand and roll in and in and out motion. DO NOT flour the counter, or table before doing this. The dough wont get enough traction and it will be a pain to get it rolled out and it wont stick to the rest of the dough to form the twist. I like to roll my dough around 18-20 inches in length.
Next, you will take the two ends of the dough and pinch them together. While holding the pinched end with one hand, twist the two sides over and under each other to form a twisted rope. Finally, take the pinch end and bring it to meet the other end crossing once in the middle. You will want to then pinch the two ends together once more to ensure the homemade soft pretzels hold their shape. I like to tuck the pinched end into the looped end to made sure it does not come apart. See the Recipe Video below for a step by step on how to achieve the perfect twist!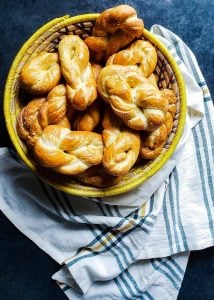 Perfect Party Pair
Now that you have the homemade soft pretzels down, it's time to party! This appetizer is perfect for holidays, game days, or just a game night with friends and family! I love putting a big basket of these out along with my pretzel cheese sauce trio and watching everyone dig in! The cheese trio pairs perfectly with these pretzels and ensures that every one will find something they love. Whenever I host any get together there is usually a diverse group of people. Some kids, picky eaters, and some that are looking to try every option. Pretzels are a classic and I honestly have never met anyone of doesn't like them. Pair them with three different types of cheese and you are sure to have zero leftovers. This can be a good or bad thing depending on how you look at it!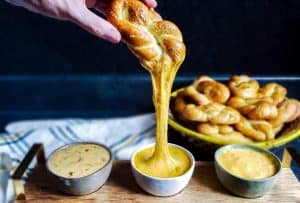 Get Ready To Snack
Now that you have all the essentials down you are ready to enjoy! The homemade soft pretzels are best served warm along with pretzel cheese sauce trio. This recipe only take about 15 minutes to bake in the oven, so pop them in right before you are ready to eat. That way they won't get cold! I also like to place the cheese sauce in small crockpots to keep them warm as well. You could also leave them in the sauce pans and let everyone serve themselves. My family loves these and my son will eat all of his (and some of mine too). I hope your family and friends love these and they are a hit at you next party! Enjoy
Happy Eating!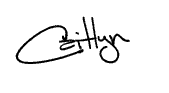 Still Hungry? Try this Vegetarian Flatbread Pizza with Fresh Rosemary!
Need Another Appetizer? Try these Crockpot Hawaiian BBQ Chicken Sliders!
Shop This Recipe: 
*I make a commission for purchases made through the links on this page.
Homemade Soft Pretzels Recipe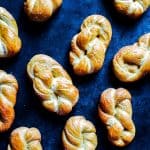 Print Recipe
Homemade Soft Pretzels With a Twist
These Homemade Soft Pretzels are the best and pair perfectly with cheese sauce! Perfect as an appetizer to share with family and friends for holidays, game days and parties! Enjoy!
Ingredients
Homemade Soft Pretzels
1 1/2

Cups

Warm Water

1 Tbsp + 1 Tsp

White Granulated Sugar

1

Tsp

Salt

plus more for the top

1/4

Oz

Active Dry Yeast

3

Tbsp

Unsalted Butter

Melted

4 1/2

Cups

All Purpose Flour

2

Tbsp

Vegetable Oil

1

Egg + 1 Tbsp Water

10

Cups

Water

1/3

Cup

Baking Soda

Cheese Sauce Trio
Instructions
Place warm water, sugar, salt and active dry in the bowl of a stand mixer and let stand for 5 minuets, until it begins to foam.

Attach the hook attachment to the stand mixer. Add melted butter and flour and mix on low until combined, about 2 minutes. Switch the mixer to medium and mix until the dough begins to separate from the sides of the bowl, about 5 minutes. You may need to add more flour if it is too sticky.

Remove dough and oil the same bowl. Place dough back into the bowl, cover and let rise in a warm place for 1 hour, or until doubled in size.

Once dough has risen, cut dough into 16 equal parts. Take one piece of dough and roll into a rope about 18- 20 inches long on a clean surface. Take the two ends of the rope and pinch them together. Then twist the dough over and under each other until you reach the end. Then, take the two ends and pinch them together crossing once in the middle. *See recipe video for demo

Once all pretzels are twisted, bring 10 cups of water and baking soda to a boil in a large pot. One at a time, add the pretzels to the boiling water and leave in for about 30 seconds. Remove with slotted spoon and place on a parchment paper lined baking sheet. Repeat until all pretzels are finished.

Preheat oven to 450 degrees. Combine egg and water in a small bowl and whisk together. Brush the egg mixture over each pretzel and then top with course kosher salt.

Bake in oven for 12-15 minutes (rotating the baking sheets halfway through) or until the tops are golden brown. Serve warm with Cheese Sauce Trio! Enjoy!
Video
Notes
Nutrition Facts
Homemade Soft Pretzels With a Twist
Amount Per Serving
Calories 166
Calories from Fat 39
% Daily Value*
Total Fat 4.3g 7%
Cholesterol 8mg 3%
Sodium 35mg 1%
Potassium 48mg 1%
Total Carbohydrates 27.3g 9%
Protein 4.2g 8%
* Percent Daily Values are based on a 2000 calorie diet.
Nutrition
Calories:
166
kcal
|
Carbohydrates:
27.3
g
|
Protein:
4.2
g
|
Fat:
4.3
g
|
Saturated Fat:
1.8
g
|
Cholesterol:
8
mg
|
Sodium:
35
mg
|
Potassium:
48
mg
|
Fiber:
1
g
|
Sugar:
0.4
g
|
Calcium:
1
%
|
Iron:
10
%