The best chocolate glazed donut recipe! These homemade donuts are fluffy and make the perfect weekend treat of Christmas morning breakfast. Simple and ready in only 15 minutes these will be your new go to snack.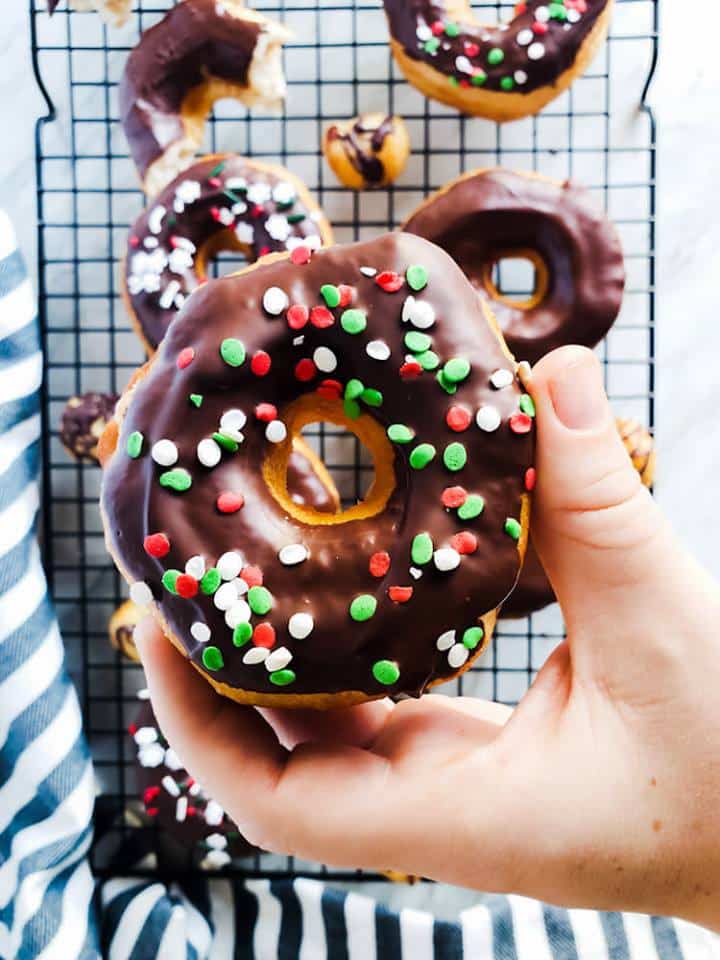 I know, another holiday sweets recipe. I can't help it I am loving this time of year and want to just bake all the time. This Chocolate Glazed Donut Recipe has been a Christmas tradition in my family for years. The donuts are very simple, tasty and perfect for a fun holiday treat.
These donuts are light and fluffy in the middle and topped with dark chocolate and sprinkles. This recipe uses canned biscuit dough for the perfect shortcut without sacrificing that fried to perfection donut flavor. I hope you love this fast, minimal ingredient 15 minute holiday donut recipe!
This chocolate glazed donut recipe is extremely simple and requires only a few ingredients. This makes these donuts perfect for a fast and fun treat for both kids and adults. My favorite time to have these biscuit donuts are around the holidays, specifically Christmas morning.
Ingredients
1 Can of Pillsbury Grands Flaky Biscuits

Dark Chocolate (or a different kind if you prefer)

Sprinkles (Optional)

Vegetable Oil for Frying (Yeah these are fried and not baked get over it and put the kale down)
Kitchen Tools
A Large Deep Skillet or Pan

A Slotted Spoon (or a fork: just be careful of hot oil it is unforgiving)

A Candy Thermometer (not required, but highly recommended so you can get the oil to the perfect temperature)

A Cooling Rack and/or Paper Towels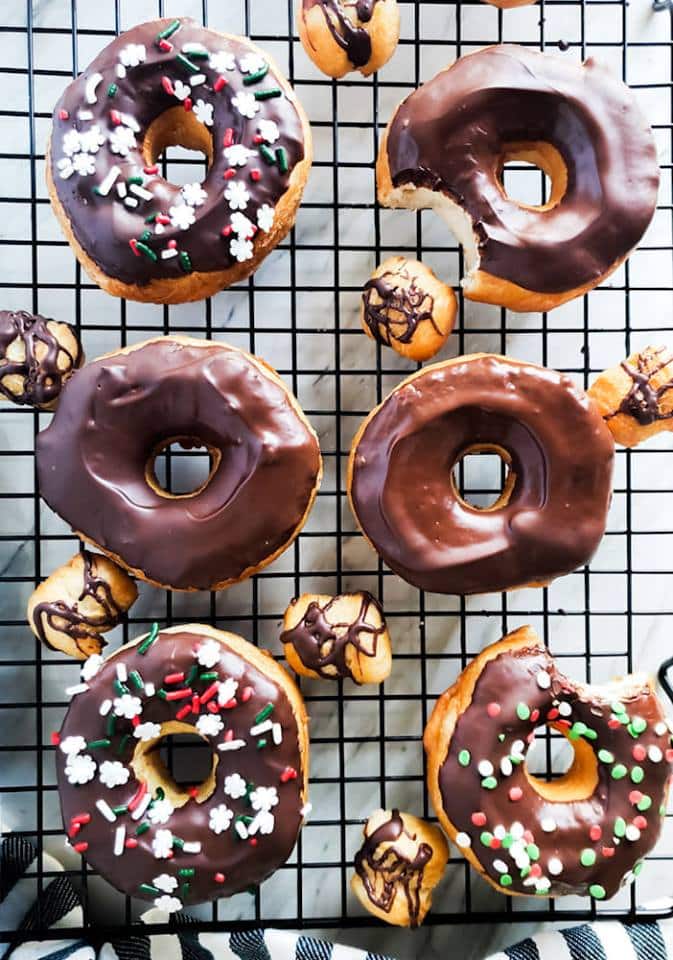 How to Make Donuts Using Biscuits
First, you need to make your biscuits into donuts. I love using biscuit dough for this chocolate glazed donut recipe because it saves tons of time. I find that Pillsbury Grands Flaky Biscuits work best for this recipe. After removing your biscuits from their can lay them out flat on a cutting board. Use either a small, round cookie cutter or a bottle cap to cut a hole in the center of each piece of dough. I just center it up and push strait down hard and pull the center out. DO NOT discard the dough, because you can use it to make donut holes! If you are in a pinch you can also use a small, sharp knife to cut the holes out. Once you have all the holes cut you can move on to frying them.

Second, you will need to fry your donuts. To fry them heat vegetable oil in a large, deep skillet or pan. The one I have is 4 quarts and it works perfectly. I fill it about halfway with vegetable oil. You need the oil to be at least an inch deep so the entire donut can fry and not just the bottoms. Heat your oil over medium heat until it reaches 375 degrees.

Once you have your oil to the correct temperature add the donuts and cook for 30 seconds, flip and cook for another 20-30 seconds on the other side. Once they are finished carefully remove them and place them on a cooling rack or paper towels. Repeat until all the donuts and holes are fried. I usually do 3 donuts at a time.

Finally, you will add your topping. I used dark chocolate because it is my favorite, but you could swap it out for milk chocolate, semi-sweet, or even white chocolate. Whichever you use, melt the chocolate in the microwave in 20 second increments until it is melted. Next, take a donut and dip it strait down into the melted chocolate. Wiggle it back and forth, then lift is strait up and let the excess drip off. Place on a plate and smooth with a butter knife if desired.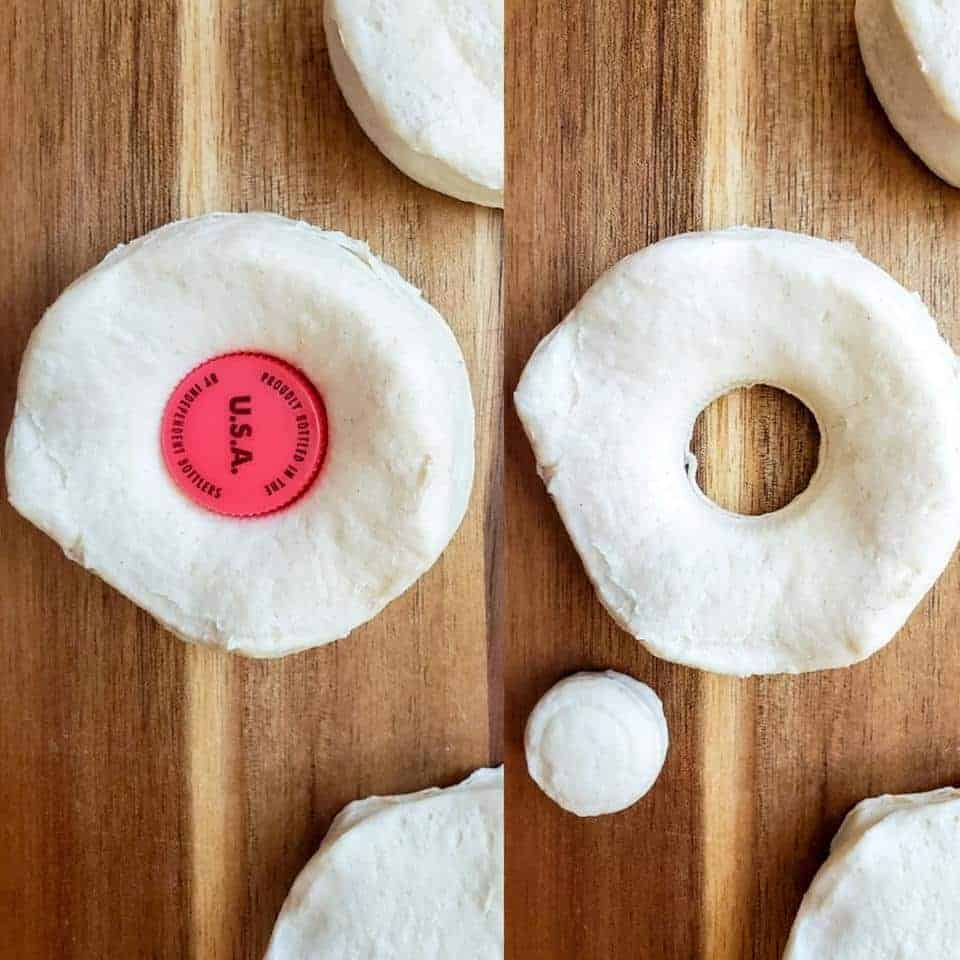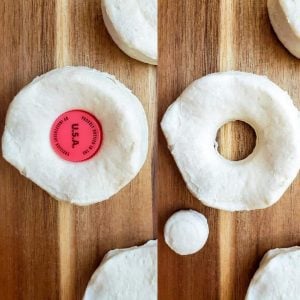 Pro Tips
Test your oil
I highly suggest using a candy thermometer to check the temperature of your oil. If it isn't hot enough the biscuit dough won't brown and they will be a soggy mess. If it is too hot then they will brown too fast and the center will be raw.
Another option for this chocolate glazed donut recipe is to test the oil by dropping in one of the donut holes. Drop it in and it should begin to bubble immediately and start to get some color. If you drop it in and it just sits there soaking up oil it is too cold. Alternatively, if you drop it in and it turns brown and burns right away then it is too hot.
Caution HOT!
Please be careful while frying these chocolate glazed donuts. The oil can pop and it is best that any kids are not helping during the frying portion.
Size Matters
Use a shallow wide bowl for the melted chocolate. It makes dipping the homemade donuts in much easier!
Let The Donuts Chill
Let the chocolate glazed donuts cool for at least 5 minutes before dipping them in chocolate. This makes the chocolate stick better and helps it not just run off.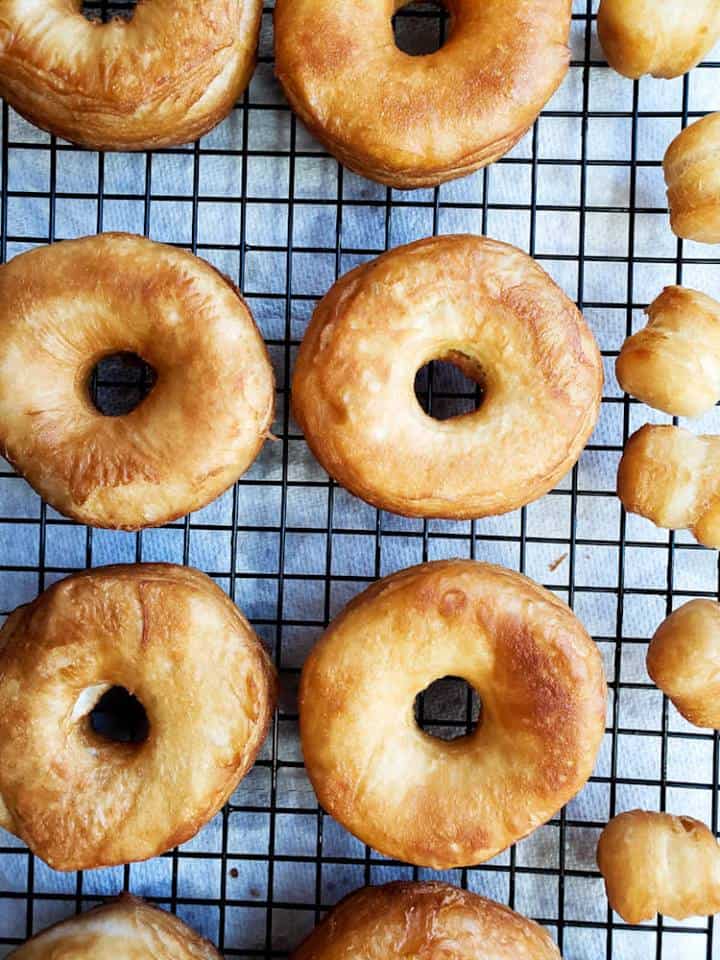 Common Questions
How should homemade donuts be stored?
Store leftover chocolate glazed donuts in an airtight container at room temperature for up to 4 days. You can eat the cold, or warm them in the microwave for about 10 seconds to soften them up.
Can donuts be frozen?
Yes, you can wrap the chocolate donuts in foil then place them in a freezer bag for up to 2 months. Re-warm the donuts in the microwave or let thaw at room temperature and enjoy.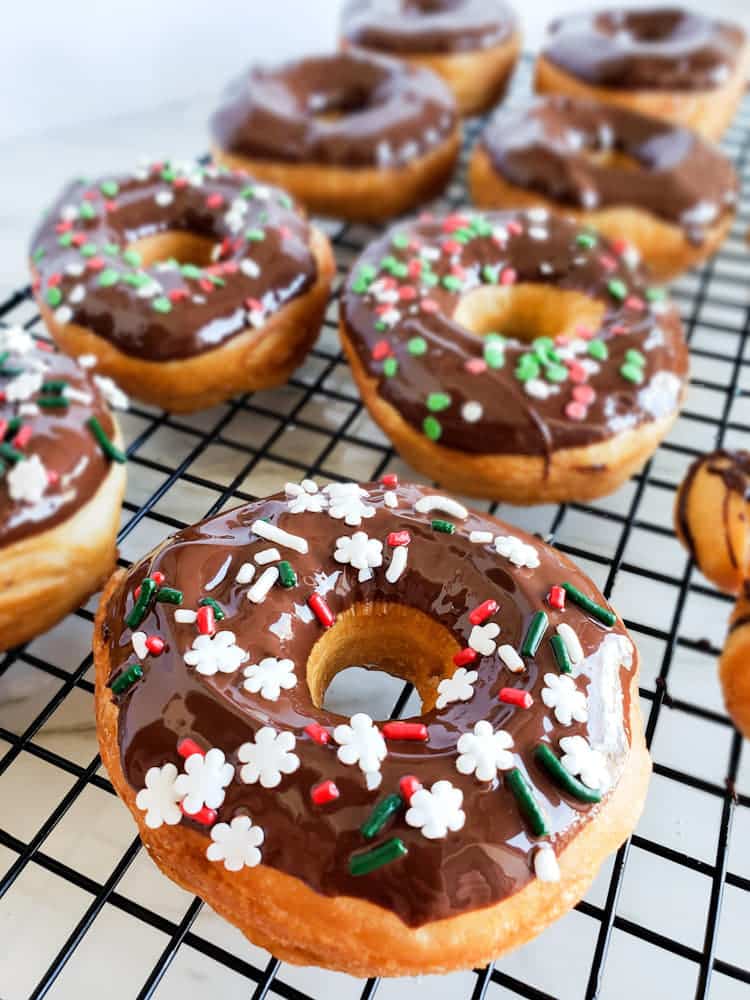 More Holiday Sweets
Chocolate Cake Cookies with Peppermint Sprinkle
Edible Cookie Dough
Gooey Butter Cookies Recipe
Christmas Bark
Christmas Crunch Popcorn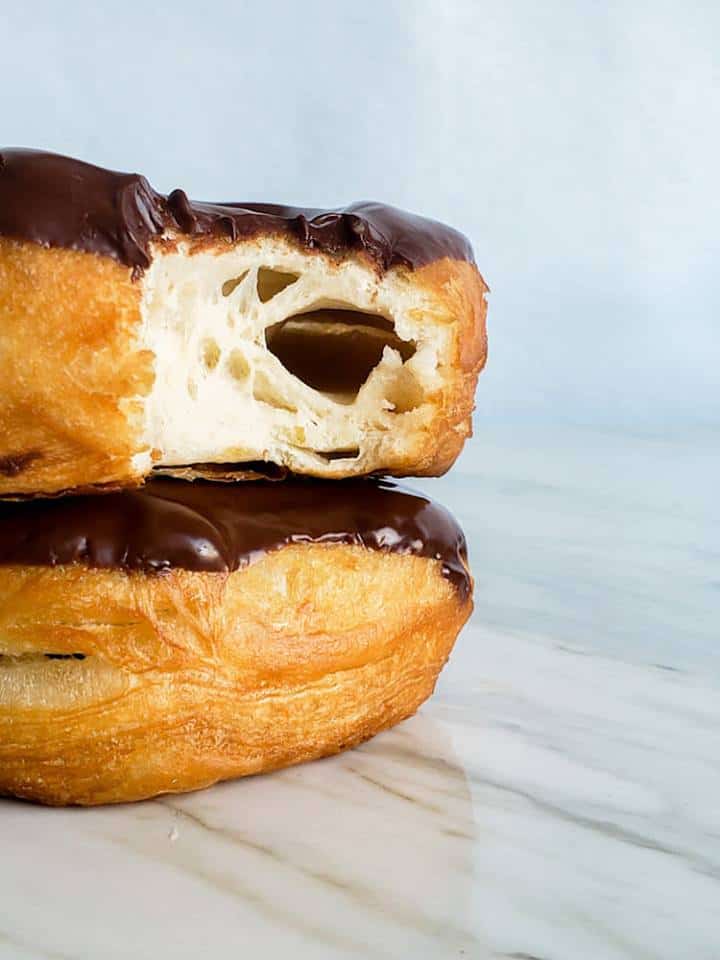 Christmas Tradition
Each year my mom would make these chocolate glazed donuts for my brother and I on either Christmas Morning or Christmas Eve. It was so fun and I loved getting to eat a homemade chocolate donut while opening my presents. Looking back I thought my mom was some kind of superhero for whipping up donuts that early, but now I know her secret.
I love that this chocolate glazed donut recipe is simple, fast and can be thrown together quickly. This is perfect for anyone who just wants to have fun opening presents and playing Christmas morning, instead of worrying about a big breakfast. Plus, they are super fun and I know I loved them as a kid. I still do and make them every year for my family. I hope you and your family have a wonderful holiday!
Happy Eating!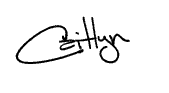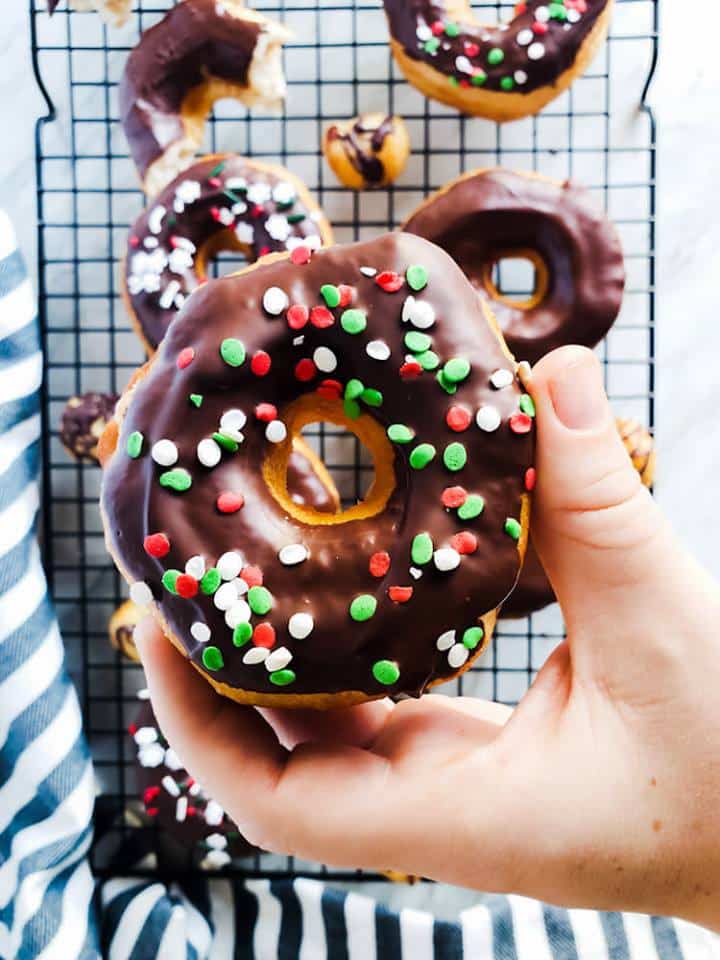 Chocolate Glazed Donut Recipe
The perfect weekend or holiday treat! Great for brunch or as a snack for both kids and adults.
Ingredients
1

16.3 Oz Can

Pillsbury Grands Flaky Biscuits

3

Oz

Dark Chocolate

Melted

Sprinkles

Optional

7

Cups

Vegetable Oil*

For Frying
Instructions
Pour vegetable oil into a large deep skillet and heat on a large burner. You want the oil to get to 375 degrees.

While the oil is heating up, use a bottle cap or small round cookie cutter to cut a whole in the middle of the dough. Repeat this process until all the dough is cut.

Once the oil is heated add donuts 2-3 at a time to the pan. Fry for 30 seconds then flip and fry on the other side for 20-30 seconds. Carefully remove from oil using a slotted spoon and place on paper towels. Repeat until all donuts are fried.

Heat dark chocolate in the microwave in 20 second increments until melted. When donuts are cooled dip the donut top down into the bowl (a shallow one works best) of chocolate and remove and set aside. Repeat until all donuts are coated with chocolate. Add sprinkles if desired and enjoy!
Notes
*You want the oil to be at least an inch deep. Depending on the pan you use you may need more or less than the recipe suggests.
Leftover Storage: Store leftovers at room temperature for up to 4 days.
Freezer Option: Store leftover donuts in a freezer bag for up to 2 months. Re-warm in the microwave until de-thawed.
Nutrition
Calories:
305
kcal
Carbohydrates:
31
g
Protein:
4.5
g
Fat:
18.8
g
Saturated Fat:
9.8
g
Cholesterol:
0
mg
Sodium:
583
mg
Potassium:
46
mg
Fiber:
1.7
g
Sugar:
8.1
g
Calcium:
0
mg
Iron:
1.8
mg
See What We Are Pinning!
Follow erhardtseat1 to see all the food!