This post is sponsored by Mission Foods, all opinions are my own.
Dinner is served! These delicious and Healthy Chicken Wraps are super simple to prepare and ready in only 20 minutes! Bonus, these wraps save great and are perfect for work week lunches.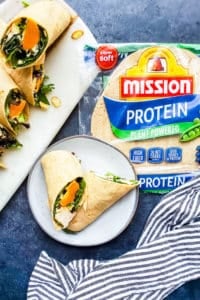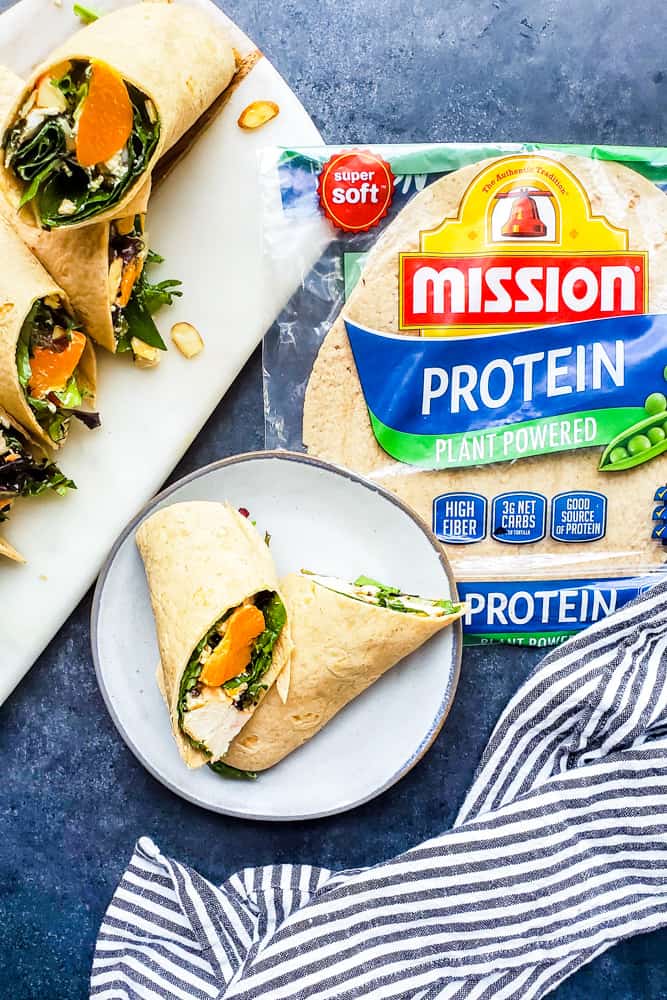 I am obsessed with wrap recipes for my family for both meal prep lunches and easy weeknight dinners. These Mission® Protein Tortilla Wraps make family meal time a breeze and are packed with plant-based protein that helps maintain a more balanced diet. I loved creating this Healthy Chicken Salad Wrap recipe and incorporating fresh, healthy ingredients that both kids and adults will go wild for.
As a busy mom, I am always trying to find great meals that come together quickly that are high in protein and fiber, low in carbs, and that don't skimp on flavor. These chicken wraps fit the flavor bill and come together in just 20 minutes, which will make family dinner that much easier. Also, an added bonus the Mission® Protein Tortilla Wraps are get their protein power from plants making the great for vegetarians and meat eaters alike. I hope you and your family love these simple and healthy Chicken Wraps!
Kitchen Tools
A Large Skillet- This is for cooking your chicken and if you choose to toast your chicken salad wraps. I prefer them cold, but you can toast them if you wish. Also, to save on time you can cook your chicken ahead of time or use a store-bought rotisserie chicken.
A Large Bowl- Just for mixing up your healthy chicken wrap ingredients. Just make sure it is large enough to toss the salad or you could have some ingredients fall overboard.
A Sharp Knife and Cutting Board- This is for slicing the cooked chicken and other fresh ingredients. A paring knife or chef's knife will work fine.

Measuring Cups and Spoons

Salad Tossing Utensils (Optional)- You can use an utensils you prefer, just make sure all your ingredients are distributed well, so your healthy chicken salad wraps have a good mix in each.
A Colander (Optional)- This is to wash your fresh greens. You could use a salad spinner,or your preferred fresh veggie cleaning method.
Ingredients
A Large Apple- Any will do, but my favorite apple variety to include in this healthy chicken wrap is Fuji.
Fresh Mandarin Oranges- I recommend using fresh and not canned for this chicken wrap recipe. If you use canned there will be more liquid and make the chicken wraps a bit soggy.
Sliced Almonds- You could use a different variety of but like pecans or walnuts if you do not like almonds. Make sure they are crushed or sliced so they do not overpower the chicken wraps.
Goat Cheese
Greens- I used a mix of fresh spinach and a spring mix. You could use this combo or use other fresh greens like kale, iceberg lettuce, or romaine lettuce.
Chicken Breasts- I recommend using thin sliced chicken breasts for this chicken wrap recipe, so the chicken will not take too long to cook.
Spices
Honey Dijon Vinaigrette Dressing- I love my homemade version (it is so simple and delicious), but you could use store-bought dressing for these healthy chicken wraps if you wish.
Mission® Protein Tortilla Wraps
Making a Protein Packed Wrap
Place a large skillet on your stove-top add a small amount of oil. Season your chicken breast with salt, pepper and additional seasonings and add to skillet and cook over medium heat. Cook the chicken for 5 minutes on each side, or until the internal temperature reads 165 degrees with a meat thermometer.

While the chicken is cooking, wash and prepare your ingredients. Make sure your greens are washed, then dried, mandarin oranges are peeled and sectioned, the apple chopped and your remaining ingredients are measured out.

Once your chicken is fully cooked, remove from the pan and slice on a cutting board.

Add all ingredients (except the Mission® Protein Tortilla Wraps) to a large bowl and toss together until everything is well distributed.

Wrap the Mission® Protein Tortilla Wraps in several damp paper towels in the microwave for 15 seconds. This makes rolling your chicken wraps way easier.

Scoop a heaping cup of salad filling into one of the Mission® Protein Tortilla Wraps and roll it securely so none of the goodies escape. You could fold the sides in like a burrito, or just roll the chicken wrap, either works!

Repeat the filling process until all your healthy chicken wraps are rolled. Once you have them rolled you can enjoy them cold (my preference) or warm them in a large skillet just until browned.
Quick Tip
When selecting your chicken breasts for this chicken wrap recipe make sure they are massive big boys, or they will take awhile to cook. I suggest using smaller/thinner chicken breasts to save on cook time and get these healthy wraps on the table faster.
If you can only find large and in charge chicken breasts you can slice them in half to make them thinner. Also, if you are really trying to save on time you could use rotisserie chicken breast meat for these healthy chicken wraps and skip the chicken prep and cooking altogether.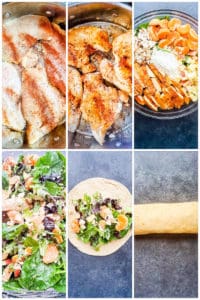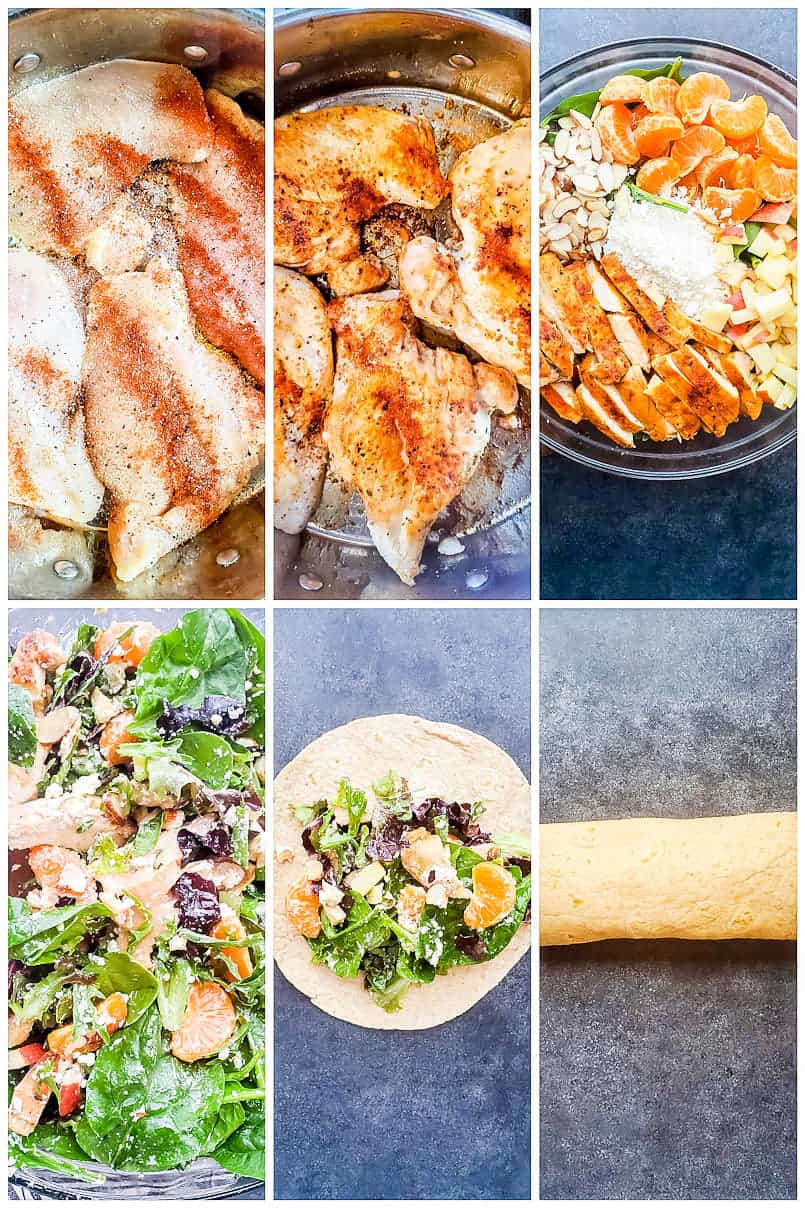 More Simple & Healthy Recipes
Vegetarian Freezer Burritos
Baked Coconut Crusted Fish Tacos
15 Minute Easy Margherita Pizza
Healthy Quesadilla Recipe
Pesto Pasta Recipe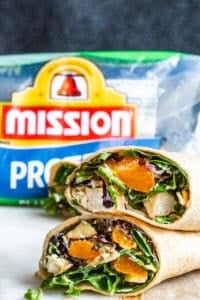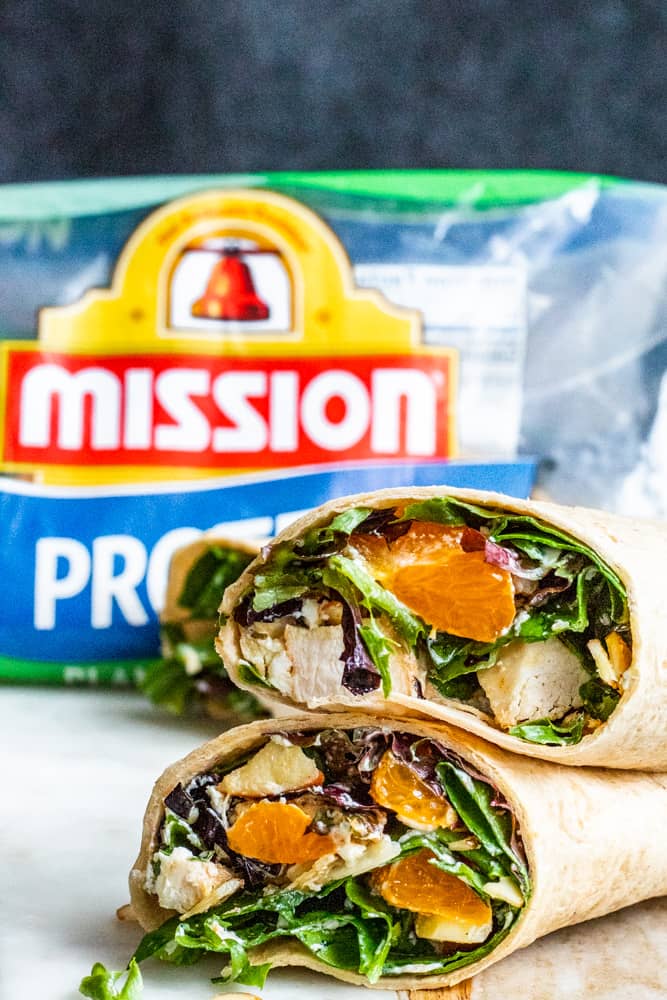 Leftover Instructions
Recipes that save great and can be enjoyed for lunches during the week hold a special place in my heart.These healthy chicken wraps can be kept in an airtight container in the fridge for up to 4 days. When ready to enjoy you can heat the wrap in the microwave until warm, warm on a grill pan OR enjoy cold!
Personally, I love eating these healthy chicken wraps cold and not fussing with warming them up. This makes this recipe perfect for meal prep for your work week or to send in the kiddo's lunch box for a healthy protein filled lunch.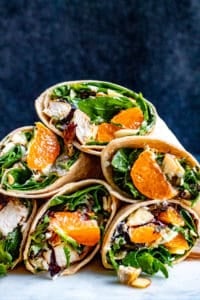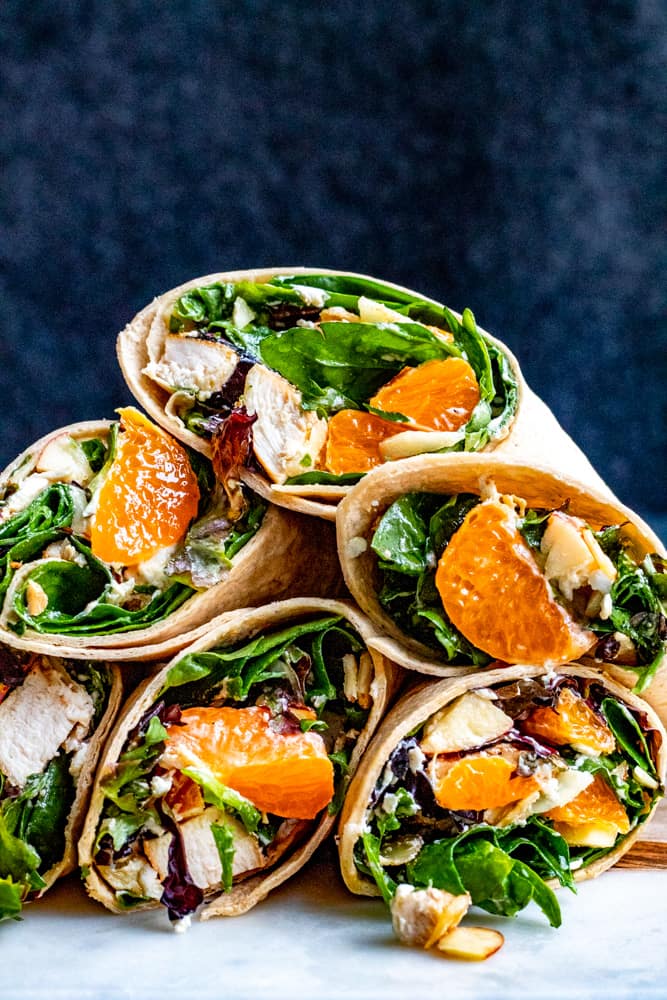 Dinner time can sometimes be super stressful. I hope that you and your family love these healthy Chicken Wraps and it makes your family dinner simple and stress-free.
Happy Eating!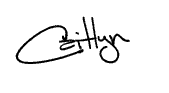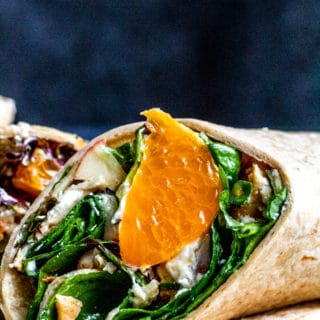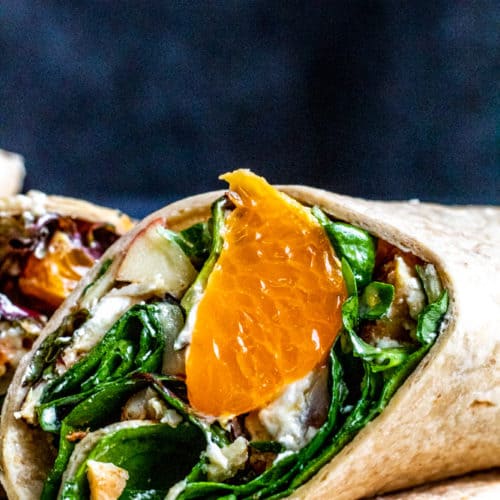 Healthy Chicken Wraps with Mandarin Oranges
This easy Chicken Wrap recipe is ready in 20 minutes and great for busy weeknight dinners or a quick lunch! Packed with fruit, chicken and greens!
Ingredients
3-4

Mandarin Oranges

1

Large

Apple

4

Cups

Fresh Spinach Leaves

3

Cups

Artisan Spring Mix

¾

Cup

Sliced Almonds

4

Oz

Plain Goat Cheese

1

tablespoon

Olive Oil

1

lb

Chicken Breasts

½

teaspoon

Sea Salt

1

teaspoon

Ground Black Pepper

½

teaspoon

Paprika

1

teaspoon

Garlic Powder

½

teaspoon

Onion Powder
Instructions
Add oil to a large skillet and heat over medium heat. Season both sides of chicken breasts (see notes about size) with sea salt, pepper, paprika, garlic powder, and onion powder.

Add chicken breasts to skillet and cook for 5 minutes each side, or until internal temperature reaches 165 degrees.

While the chicken is cooking wash your spinach and spring mix then pat dry. Next, chop your apple and peel and section the mandarin oranges. Measure out remaining ingredients and add everything to a large bowl.

When the chicken is cooked through, remove it from the skillet and slice it on a cutting board. Add it to the large bowl with other ingredients and toss to combine.

Place the Mission® Protein Tortilla Wraps in several damp paper towels and microwave for 15 seconds. This helps make rolling the chicken wraps much easier.

Take a heaping cup of chicken wrap filling and place in the middle of one Mission® Protein Tortilla Wrap. Roll the chicken wrap and repeat until all the chicken wraps are filled and rolled.

Enjoy cold (my preference) or heat on a grill pan until warm and light grill marks appear. Enjoy!
Notes
Leftover Storage: Store leftover chicken wraps in an airtight container for up to 4 days. When ready to eat, enjoy cold or warm in the microwave or on a grill pan until warm.
Chicken Breast Size: I like to use thin, small chicken breast for this chicken wrap recipe. If your breast are large and thick the chicken will take much longer than 10 minutes to cook through. I suggest using a thin sliced chicken breast, or slicing a large chicken breast in half to keep the cook time low for this recipe.
Nutrition
Serving:
1
Chicken Wrap
Calories:
582
kcal
Carbohydrates:
51.8
g
Protein:
37.3
g
Fat:
23.2
g
Saturated Fat:
7.5
g
Cholesterol:
85
mg
Sodium:
701
mg
Potassium:
542
mg
Fiber:
5.4
g
Sugar:
9.1
g
Calcium:
392
mg
Iron:
5
mg
See What We Are Pinning!
Follow erhardtseat1 to see all the food!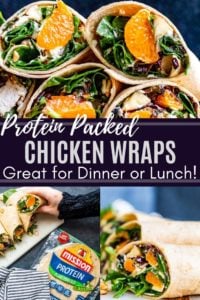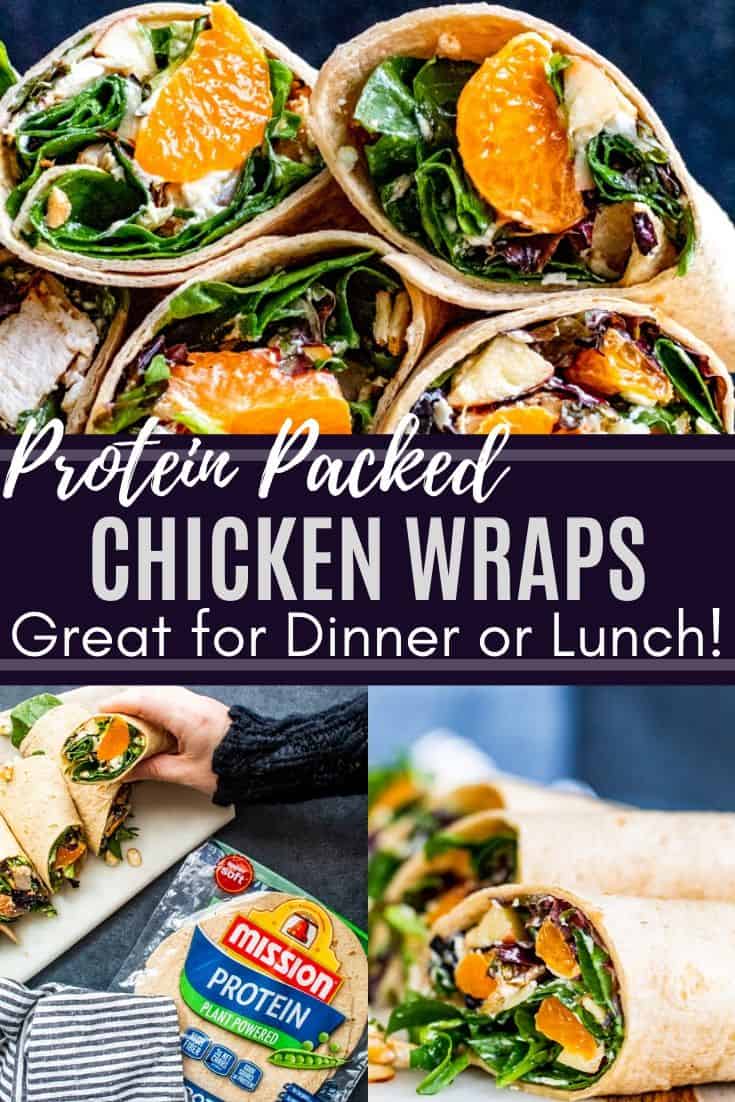 Thank You for Sharing!
This is a sponsored post written by me on behalf of Mission Foods.