Looking for the best Fall bread recipe? Well, this Homemade Apple Cinnamon Bread is just that! This apple bread is packed with cinnamon and fresh apples and is perfect for the entire family!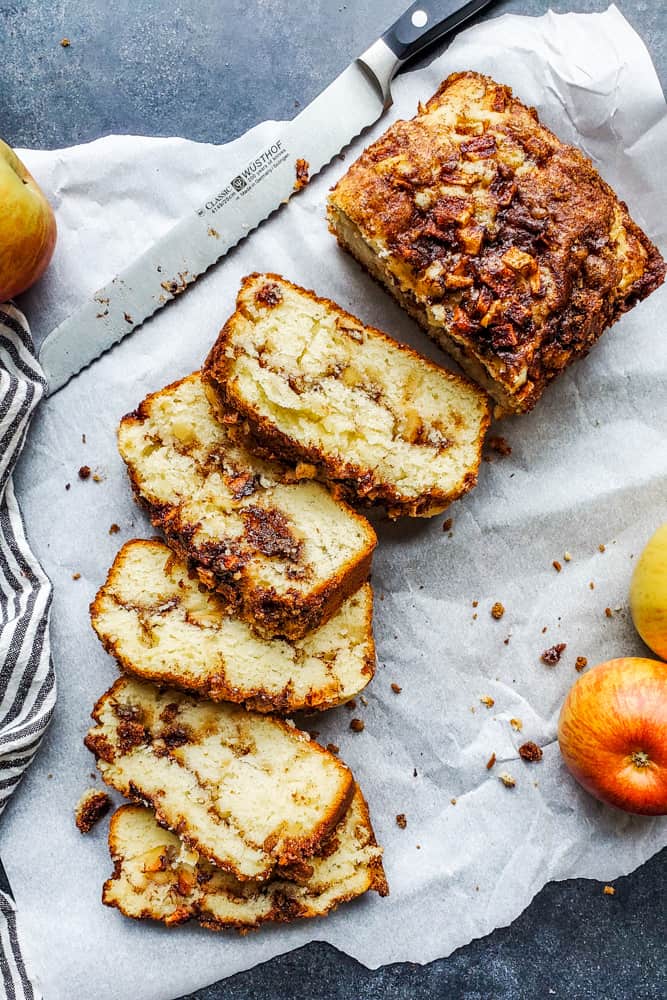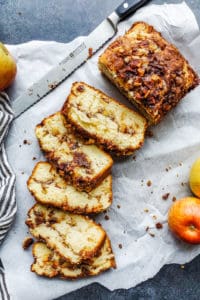 Summer is officially over and Fall is here! I am beyond excited to be done with the heat and humidity and instead enjoy some crisp air and crunchy leaves. With the cool weather also brings out all the flavors of the fall season. I'm talking pumpkin and apples people!
This Homemade Apple Cinnamon Bread recipe is super quick and yields super moist apple cinnamon swirl bread that can be enjoyed right away or frozen. The apple loaf can be made in your run of the mill loaf pan, or made into mini loaves for the kiddos to enjoy. This apple cinnamon swirl bread is packed full of fresh apples, cinnamon and brown sugar for the best Fall dessert or quick breakfast. I hope you and your family fall in love with this easy quick bread!
Cinnamon Apple Bread is Perfect for Fall Baking.
This apple quick bread recipe is great because all you need besides baking staples like flour, sugar and butter is a large apple and some cinnamon. You can of course make substitutions for some ingredients to accommodate your health and lifestyle.
This cinnamon apple bread can easily be made vegan, vegetarian or gluten free if you wish. Of course any ingredients substitutions you make will result in the apple cinnamon swirl bread coming out slightly different in taste and texture.
Also, you may need to adjust the bake time of the apple quick bread, so make sure to keep an eye on it and use a toothpick to check if the bread is finished.
Kitchen Tools
A Hand or Stand Mixer- I like to use my trusty KitchenAid hand mixer for this easy apple loaf. You can use any hand mixer you have, or a stand mixer if you prefer.
A Spoon- Any spoon will do!
A 9x5 inch Loaf Pan-

Or three mini loaf pans or one of a similar size.

Cooking Spray or Parchment Paper- I used cooking spray for this apple quick bread recipe. Usually I would put some parchment paper on the bottom of the loaf pan, but ran out (the horror). Make sure you use one or the other though, or the apple bread could stick to the sides and be tough to get out.
Several Bowls- I used a small bowl for the cinnamon/brown sugar mix, a medium bowl for the dry ingredients, the a large bowl to combine everything together. If you want to save a dish for this apple bread recipe you can just add the dry ingredients strait to the large bowl, instead of combining them separately.
Measuring Cups and Spoons- You will need to for this homemade apple cinnamon swirl bread to ensure all the ingredients are measured accurately.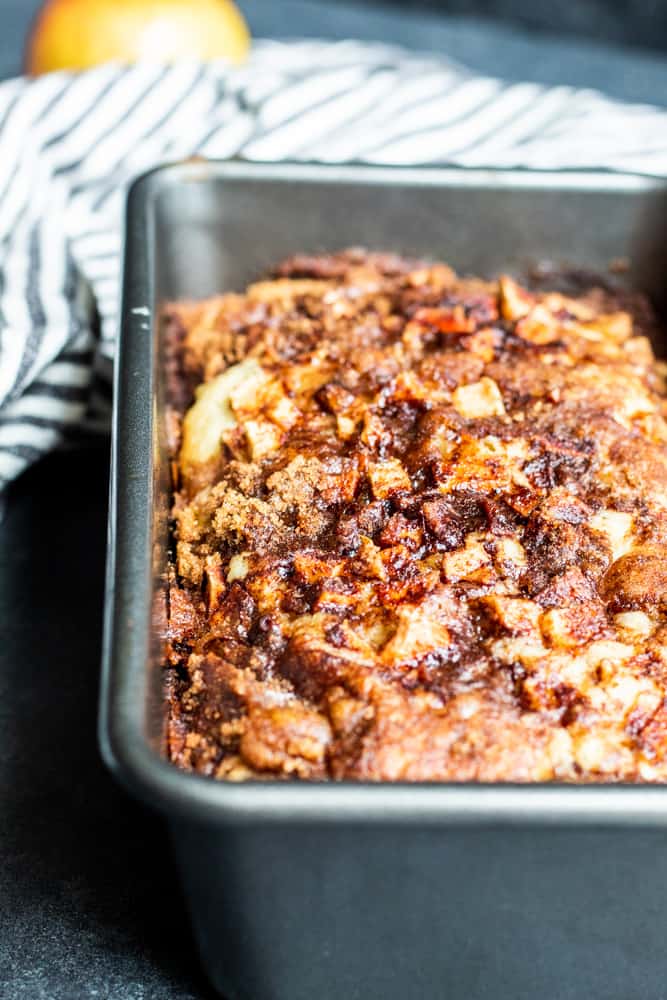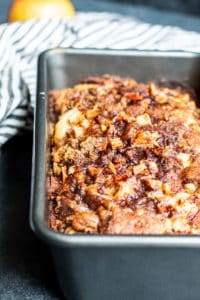 Ingredients
All Purpose Flour-

You can use a different type of flour like whole wheat flour, or gluten-free flour.

Baking Powder

A Large Apple-

I suggest using either a Gala, Fuji or Granny Smith apple for this apple cinnamon bread recipe. Also, depending on the size of apples you can find you might need more than one apple. Aim for about 1 ½ cups of chopped apple for this quick bread recipe.

Cinnamon and Brown Sugar-

These are used for the topping and filling of the apple bread. I do not suggest swapping this out for anything else, because these are important for the overall flavor of the finished cinnamon apple bread.

Salted Butter-

You could use unsalted butter for this apple bread recipe. If you do so I would add a pinch of salt to the batter. Also, you could use a butter alternative for this loaf recipe.

Granulated White Sugar-

For this bread recipe, y

ou could swap the sugar out for a healthier sugar substitute like Monkfruit Sweetener.

Vanilla Extract

Eggs

Milk-

Any milk will do for this apple cinnamon swirl bread! I used almond milk, because that is what I had on hand. You could use almond milk, soy milk, or cow's milk for this apple quick bread and it will come out perfect.
How to Make Apple Bread
This apple cinnamon bread recipe is extremely simple to make and perfect for beginners and experienced kitchen wizards. If you have ever made banana bread or anything similar this apple bread recipe is no harder than that. The entire recipe takes about an hour from start to finish. So while it isn't super fast the prep is simple and the majority of the time is spent waiting for the the delicious, moist apple loaf to finish baking in the oven.
Apple Bread Prep
First, combine the brown sugar and cinnamon in a small bowl and whisk to combine. Set the cinnamon topping aside for now we will return to it shortly.

Next, REMOVE THE PEEL from the large apple (Gala, Fuji, Granny Smith are great options) and chop into small pieces. Aim for pieces that are no larger than your thumbnail.

In a large bowl, add the softened butter and granulated white sugar. Use a hand or stand mixer to whisk the two together until well combined. The apple bread mix will be crumbly.

To the large bowl add the eggs, and vanilla extract. Continue to apple bread mix on med-low using the mixer. The batter will be soupy, and no large chunks should remain.

Next add all your dry ingredients to the large bowl and stir until combined. You can just toss the dry ingredients into the large bowl, or you can combine the dry ingredients separately in their own bowl then add them to the large bowl. Either way the cinnamon bread will be great, so whichever you prefer.

Finally, add the milk in and continue to stir the apple cinnamon bread batter. This will take a few minutes for the milk to get incorporated into the rest of the apple mixture.
Baking Super Moist Quick Bread
Once you have your apple mixture, cinnamon sugar topping ready and apple chopped you are ready to assemble and bake your apple cinnamon bread. Pour half of the apple bread batter in a greased parchment paper lined loaf pan.

Next, sprinkle half of the chopped apples over the apple bread batter. Then sprinkle half of the cinnamon sugar topping over the apples.

Repeat step 2 by pouring the rest of the apple bread batter over the filling then top with the reaming apples and cinnamon sugar mix.

Place the completed apple cinnamon bread into the preheated oven on the center rack for 50 minutes at 350 degrees F. Depending on your oven the apple bread may need more or less time to bake. Start checking the apple bread at 45 minutes by inserting a toothpick in the middle for doneness. Insert a toothpick in the center of the apple bread, when it comes out clean the apple loaf is finished.

Let the apple cinnamon swirl bread rest and cool completely in the pan. Once cool, remove the bread from the pan, slice, and enjoy warm on its own or with butter.





Check out the Cinnamon Apple Bread Recipe Video for a more detailed look at prep.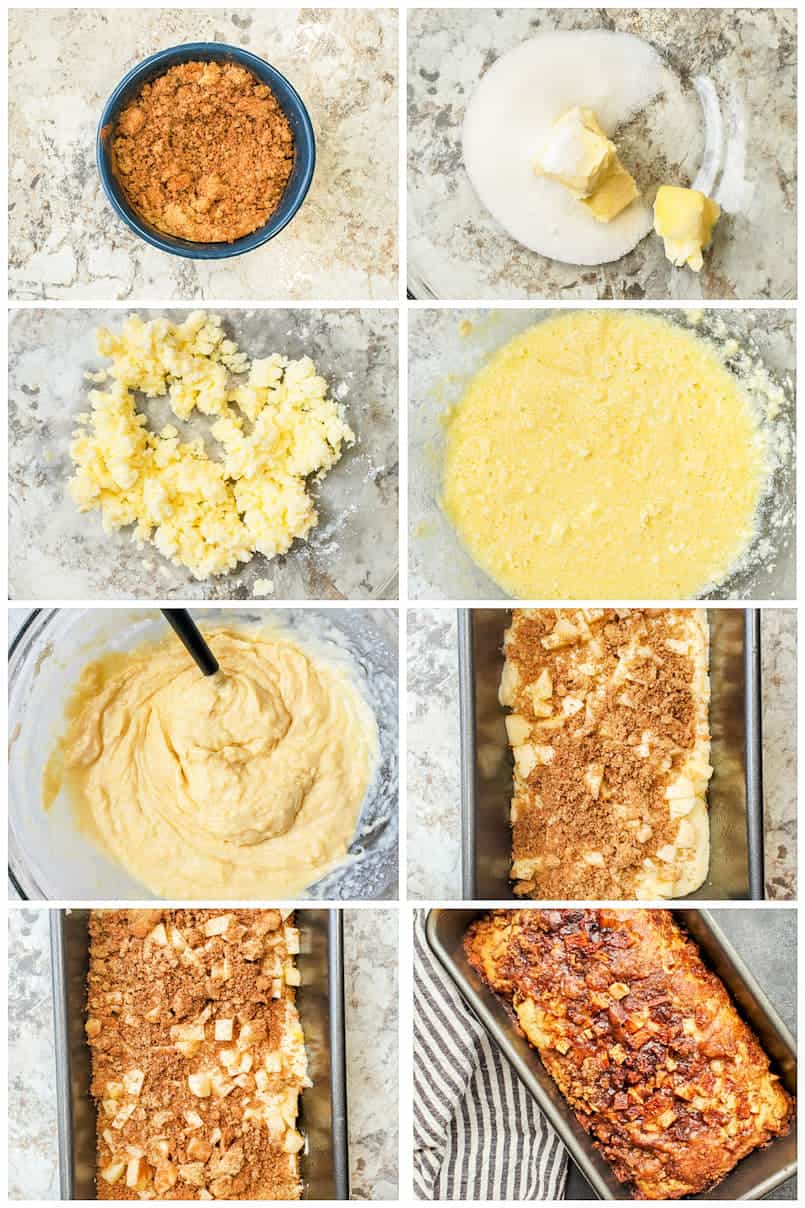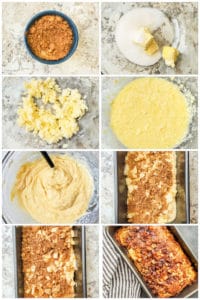 Mini Loaf Instructions
This quick bread recipe can be turned into mini loaves instead. You will get three mini loaves out of this one apple bread recipe. I recommend using 5.75 X 3 inch loaf pans if going to mini loaf route. To make mini loaves all the ingredients and prep are the same, but you will need to divide the apple bread batter, chopped apples and cinnamon sugar topping among 3 mini loaf pans instead of one large one.
Therefore, you will need to divide the apple bread ingredients by six instead of two. Also, you will need to adjust the bake time if making mini apple loaves. Reduce the cook time down to 25-30 minutes and leave the oven temperature the same.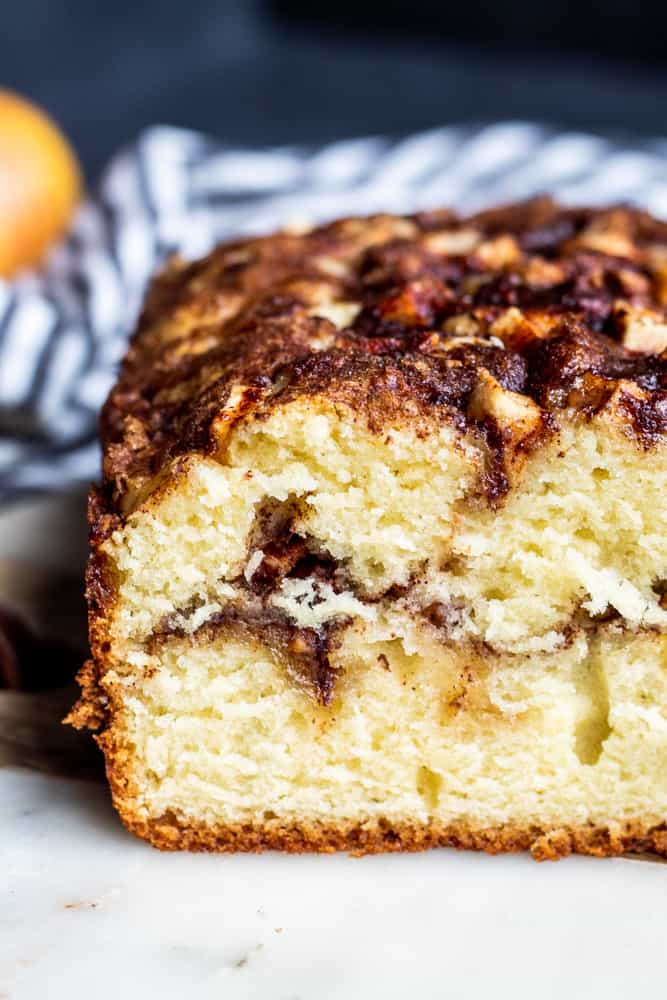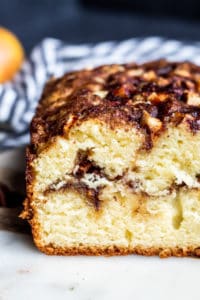 More Fall Favorites
Herb Roasted Turkey with Classic Gravy
Dark Chocolate Swirl Pumpkin Bread
Southern Sweet Potato Casserole
No Bake Pumpkin Cheesecake Dip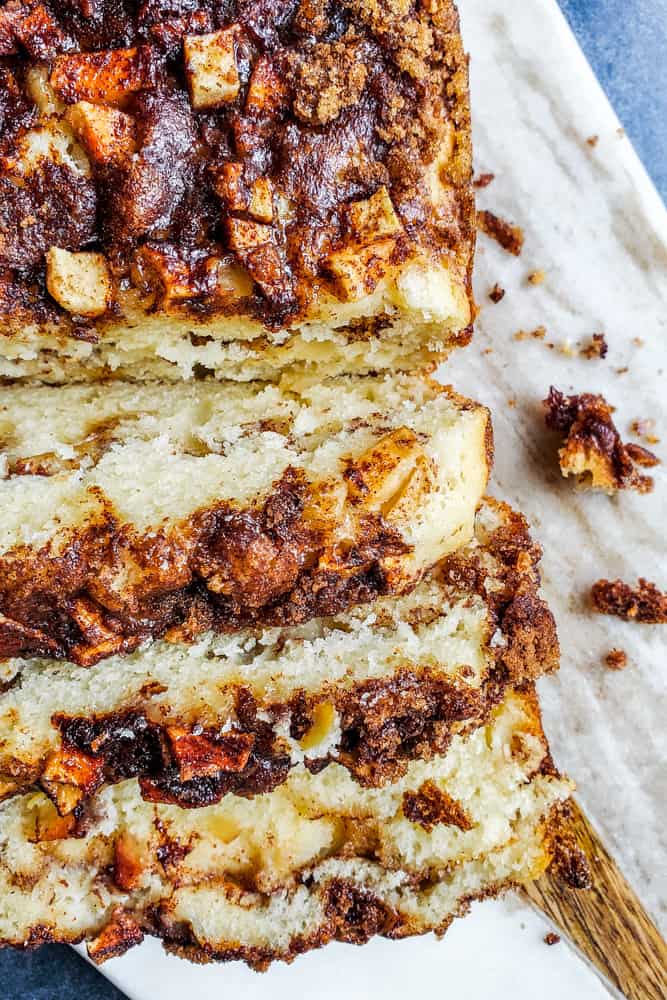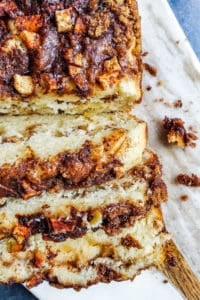 Common Questions
How should leftover quick bread be stored?
Apple Cinnamon Bread is awesome leftover. I like to store mine at room temperature covered for up to 1 week. I usually store my apple swirl bread on a plate wrapped in aluminum foil or cling wrap.
Can Apple Bread be frozen?
yes it absolutely can! To freeze the apple bread slice the bread into individual slices. Next, wrap each slice of homemade apple bread in cling wrap, then in aluminum foil. Place all of the wrapped apple quick bread into a large freezer bag and store in the freezer flat and not buried under a bunch of stuff if you can. This will help the bread not get smashed. When frozen the apple cinnamon swirl bread will stay fresh for up to 3 months.

When ready to eat the bread let it defrost first. You can defrost the bread at room temperature or put it in the microwave for about 30 seconds or until completely warmed through. Enjoy the bread plain or with butter.
Quick Tips
Warm it Up: To get that fresh out of the oven feel you can warm the cinnamon apple bread up in the microwave. To microwave the apple loaf, warm for 7-15 seconds or until warm. The quick bread doesn't need much time, so don't nuke it or the bread will be way too hot and have to cool off. You can enjoy the bread on it's own or with some butter spread on top.
Super Moist: To help keep the cinnamon apple bread fresh longer leave the bread whole then slice off what you want as you eat it. If you slice the entire loaf of bread right away it wont stay fresh as long.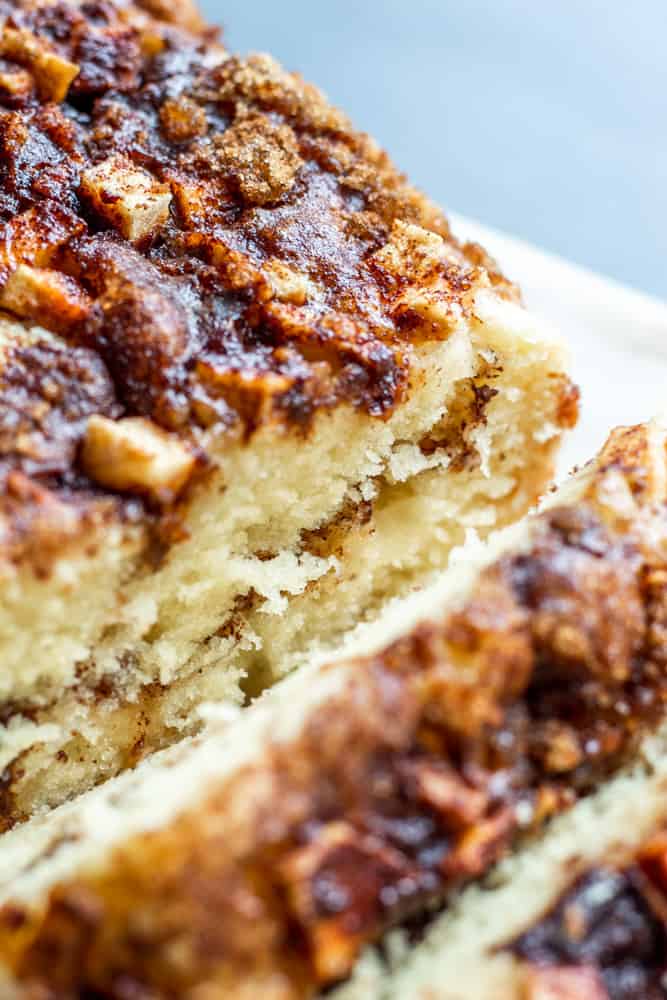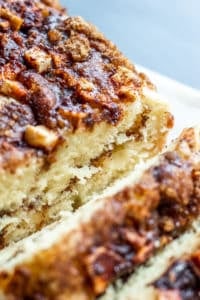 I hope you love this recipe for Apple Cinnamon Bread! Don't forget to comment and rate below if you loved this tasty apple quick bread.
Happy Eating!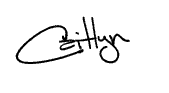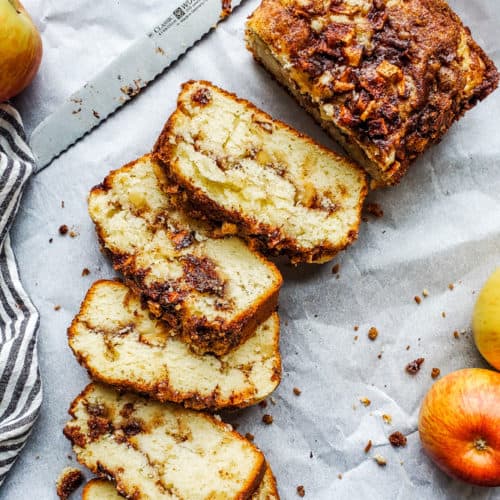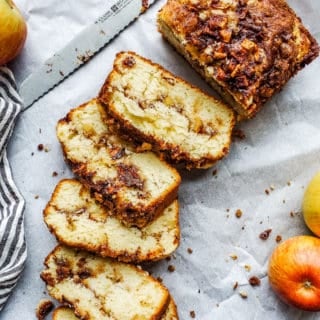 Easy Apple Cinnamon Bread Recipe
This Apple Cinnamon Bread Recipe is easy and ready in an hour! This delicious and moist bread will be your family's new Fall favorite dessert! Serve warm with butter, or store in the freezer to be enjoyed for months.
Ingredients
½

Cup

Brown Sugar

Packed

1 ½

Tsp

Cinnamon

1

Large

Apple

Fuji, Gala, or Granny Smith work well

⅔

Cup

Granulated White Sugar

½

Cup

Salted Butter

Softened

2

Eggs

2

Tsp

Vanilla Extract

1 ½

Cups

All Purpose Flour

1 ½

Tsp

Baking Powder

1

Pinch

Sea Salt

½

Cup

Milk
Instructions
Combine brown sugar and cinnamon in a small bowl and stir to combine. Set aside.

Remove the peel from the apple and chop into small pieces. Place in bowl and set aside.

Combine softened butter and sugar in a large bowl and combine on low/med using a hand of stand mixer. This will be grainy and chunky.

To the same large bowl add the eggs and vanilla extract. Continue to mix on low/med using the mixer. This will be soupy and no large chunks should remain.

Next add the flour, baking powder and salt into the bowl with the rest of ingredients and stir to combine. Lastly, add the milk and continue to stir with a spoon until incorporated.

In a greased 9x5 inch loaf pan add half the batter then top with half of the chopped apples, followed by half of the brown sugar mixture. Repeat this layering one more time using the remaining ingredients.

Place the apple bread in the oven on the center rack at 350 degrees F for 50 minutes or until an inserted toothpick comes out clean. Once finished let stand in the pan for 10 minutes then remove, slice and enjoy warm on its own or with butter. Enjoy!

Check out the recipe video for a more detailed look at prep!
Notes
Leftover Storage: Store at room temperature covered for up to 1 week. Enjoy leftover at room temperature, warmed up, or with butter.
Freezer Option: Wrap bread in cling wrap then foil and place in a freezer bag. I like to store mine in individual slices. Keep in the freezer for up to 3 months and allow to defrost before eating. You can defrost the apple bread at room temperature or in the microwave until warmed through.
Mini Loaves: You can make the bread into mini loaves if you wish. Follow the same recipe prep just reduce the cook time down to 25-30 minutes for 5.75 x 3 pans. If using that pan size this apple bread recipe will yield three mini loaves.
Nutrition
Serving:
1
Slice
Calories:
342
kcal
Carbohydrates:
53
g
Protein:
4.5
g
Fat:
13.2
g
Saturated Fat:
7.9
g
Cholesterol:
73
mg
Sodium:
110
mg
Potassium:
198
mg
Fiber:
1.6
g
Sugar:
33.2
g
Calcium:
88
mg
Iron:
2
mg
See What We Are Pinning!
Follow erhardtseat1 to see all the food!
Thank You for Sharing!