This Healthy Greek Yogurt Ranch Dip is the perfect, easy party appetizer! The dip is great served with veggies and can be made ahead of time for meal prep.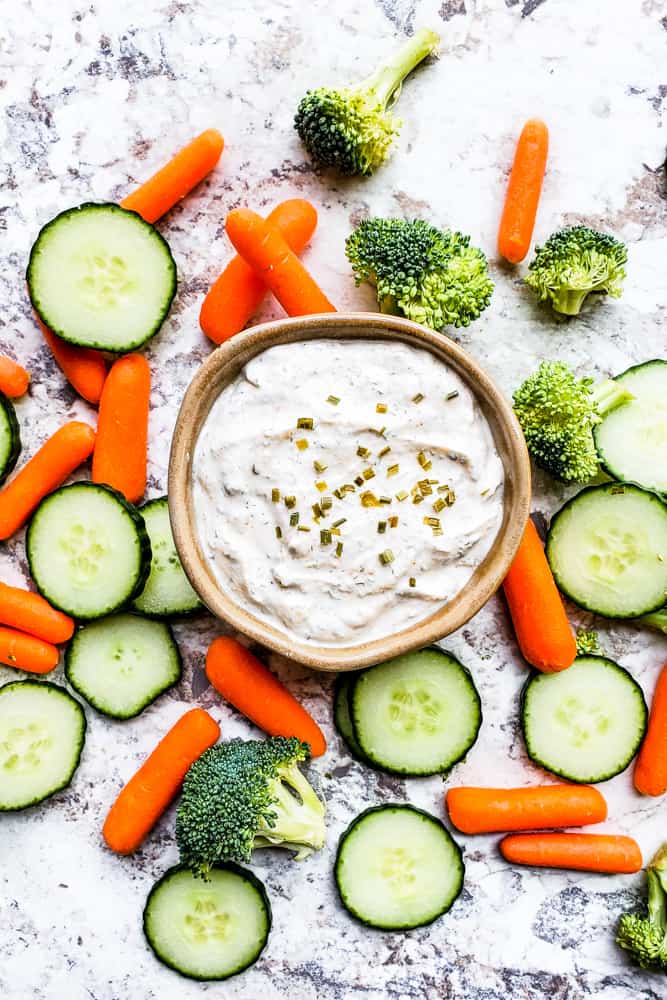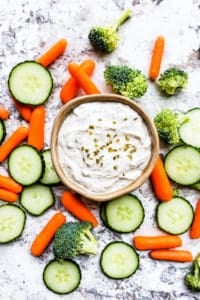 Need a last-minute, super simple and delicious party appetizer for your next get-together?! Well this Healthy Ranch Dip requires ZERO cooking, can be made ahead of time and is ready in only 5 minutes. Yes, this ranch dip is that awesome. This ranch dip is great served with veggies, chips or even a dip for french fries. I hope you love this ranch dip and find loads of uses for this vegetarian recipe. Okay, enough chit-chat, let's get into the recipe!
Kitchen Tools
A Medium Bowl-

Any medium bowl will do! Just make sure it is large enough to hold all of the ranch dip ingredients.

A Whisk or Spoon-

Personally, I like to just use a spoon, but a whisk will work as well.

Measuring Cups and Spoons-

You could of course eyeball it if you wish, but if you want to get the balance of spices exact then be sure to measure everything out.

Serving Tray (Optional)-

If you are serving this Greek yogurt dip at a party a tray works great to keep the dip and veggies together in one place. Also, be sure to keep the dip cool if you are leaving it sit out at room temperature. You can do this by placing ice in a bowl then placing the ranch dip in a smaller bowl and placing it in the ice.

Storage Container for Leftovers (Optional)-

Be sure to store leftover ranch dip in an airtight glass or plastic container in the fridge.
Ingredients
Plain Non-Fat Greek Yogurt-

Make sure the Greek yogurt is plain and not vanilla.

Assorted Dried Spices-

The spices are what make the flavor happen for this healthy ranch dip. I chose to use dried spices because they are more accessible and available year round. You could swap in some fresh herbs if you have them available. The spices you will need for this dip are: garlic powder, onion powder, dried dill, sea salt, ground black pepper, dried parsley and cayenne pepper.

Worcestershire Sauce- This gives the easy dip its ranchy flavor!
Chives (Optional)- You can use chives as a garnish for the healthy ranch dip if you wish. This is optional and just makes the dip look a little prettier.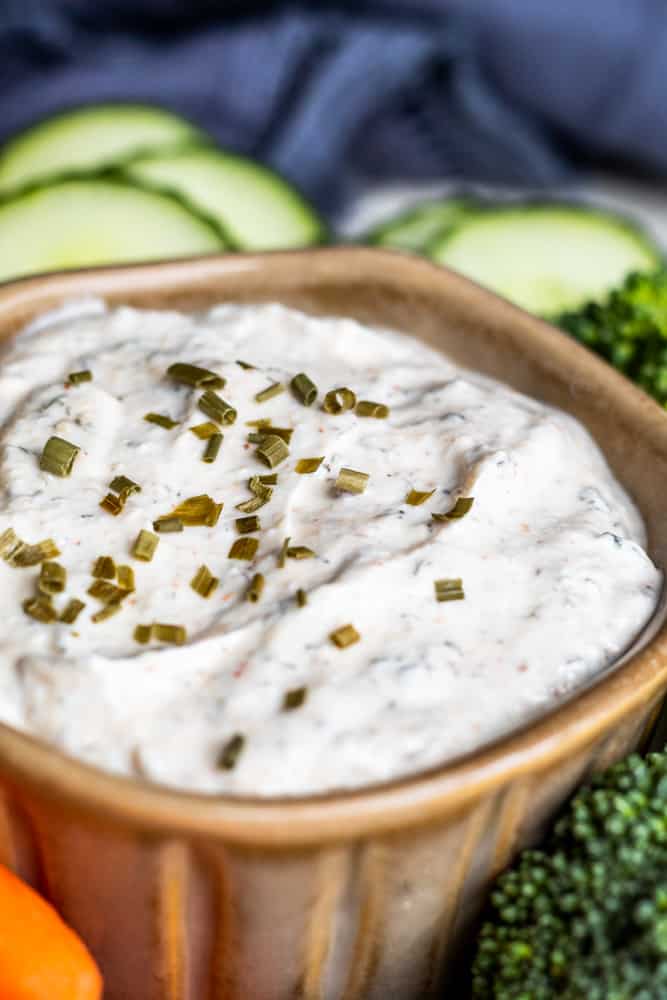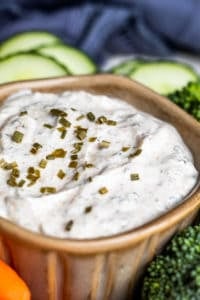 How To Make Greek Yogurt Ranch Dip
This healthy Greek yogurt dip is one of the easiest dips ever! All you have to do is measure all the ingredients out and combine them into a bowl then stir. That's it, super simple! This DIY ranch dip works great as a appetizer for parties or as a afternoon snack. Also, I like to make a large batch of this healthy ranch dip ahead of time and eat it with veggies for lunch. The fact that the ranch dip is already ready to go in the fridge makes eating a healthy snack or lunch so much easier. To make this easy ranch dip you will need to:
Measure out all ingredients and combine them into a medium bowl. If you are using fresh herbs instead of dried ones, make sure to finely dice them.

Stir or whisk the Greek yogurt dip until all the ingredients are well combined and the spices are distributed evenly.

Serve the dip imminently with veggies or store in an airtight container in the fridge until ready to serve.





Check out the Healthy Ranch Dip Recipe Video for a closer look at prep

.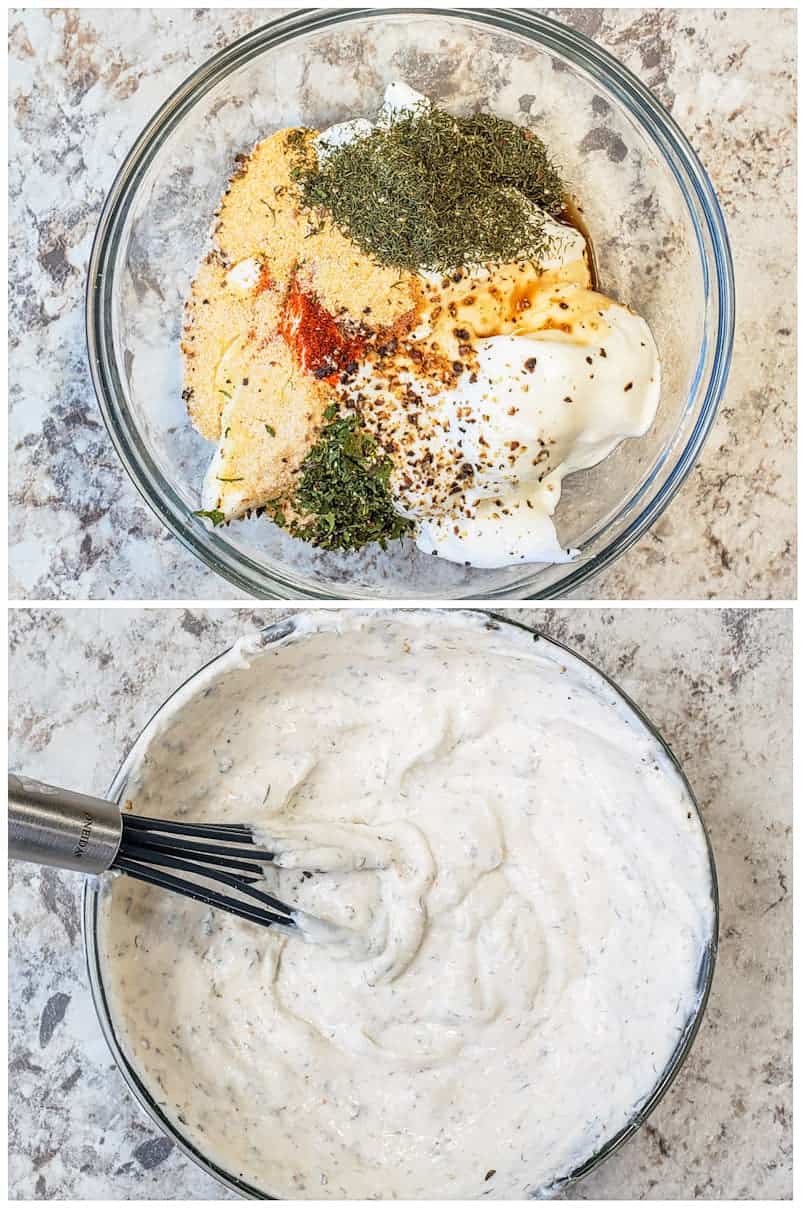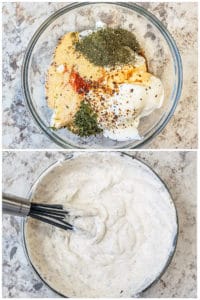 Pairing Ideas
This easy yogurt ranch dip is not only simple to make, the dip is versatile as well! This healthy ranch dip can be paired with:
Baby Carrots

Sliced Cucumbers

Raw Broccoli

Raw Cauliflower

Grape Tomatoes

Pretzels

Potato Skins

French Fries

Tatar Tots

Chicken Tenders
Of course this is not all of the uses or pairings for this healthy ranch dip and I encourage you to test it out with different foods to find your favorite.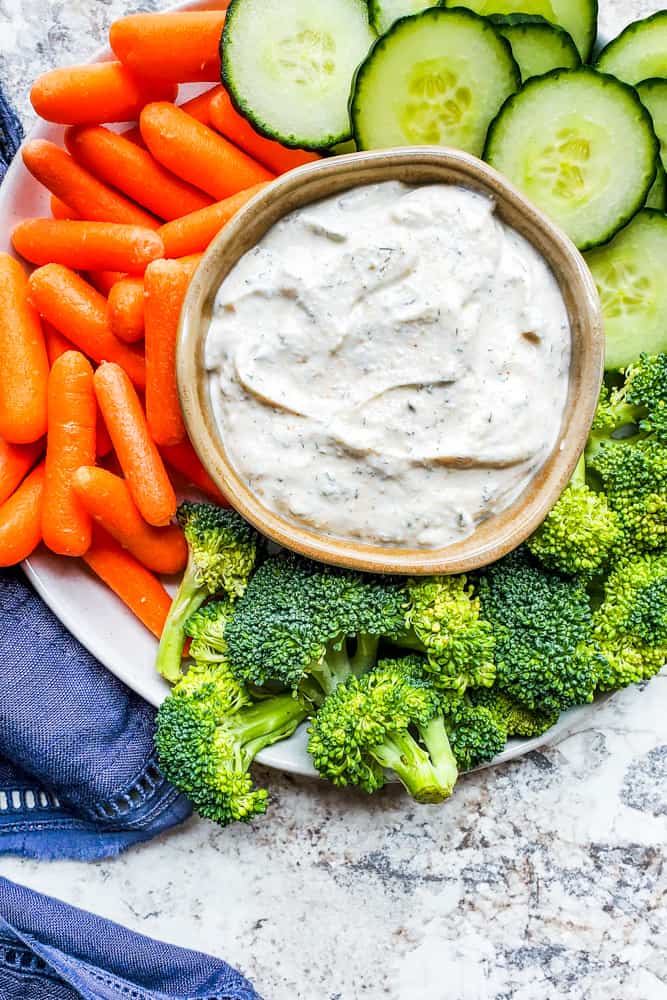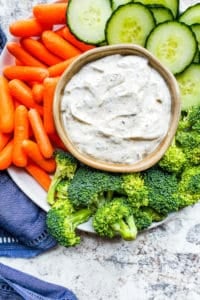 More Dip Recipes
Baked Buffalo Chicken Dip
Chicken Enchilada Dip
Pumpkin Cheesecake Dip
Jalapeno Popper Dip with Bacon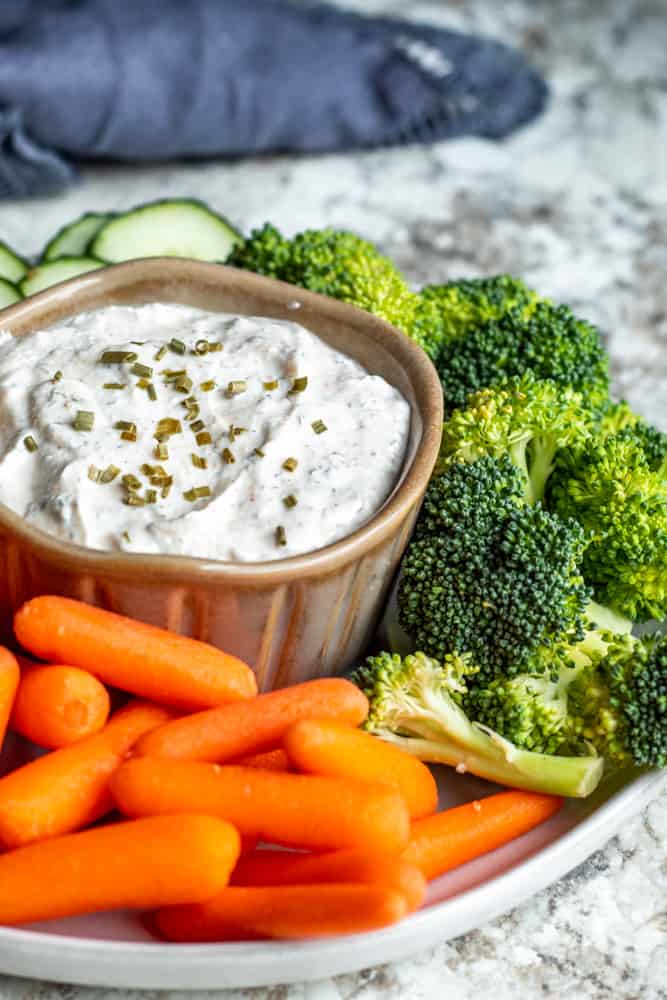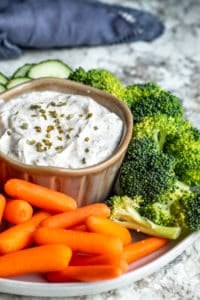 Storage Instructions
This healthy Greek yogurt dip is so easy to make and stores great for leftovers or as meal prep for lunches. The easy dip can be stored in an airtight container in the fridge for up to 4 days. When you are ready to enjoy the leftover dip make sure you stir is first to make sure everything is well combined. No need to heat up the dip or let in come to room temperature, just enjoy the dip strait from the fridge.
Also, this ranch dip is not freezer friendly. Therefore, make sure you don't make the dip too far ahead of time, because you won't be able to freeze it.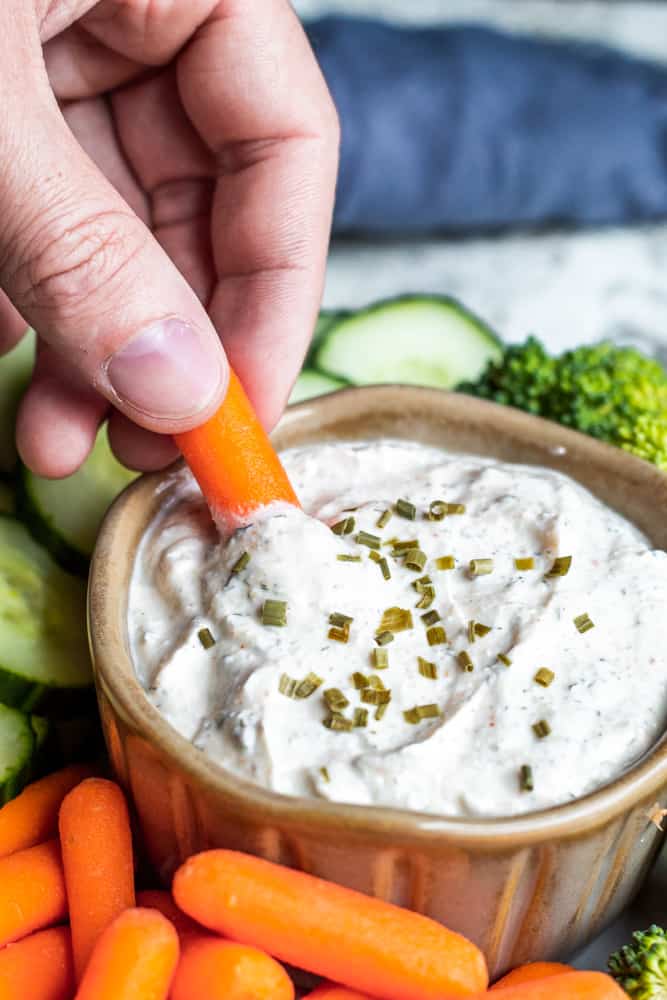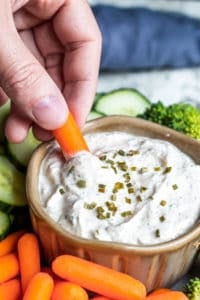 I hope you and your family love this Healthy Greek Yogurt Ranch spread for Veggies! Feel free to comment, rate and ask any questions you have below.
Happy Eating!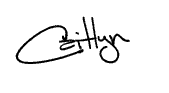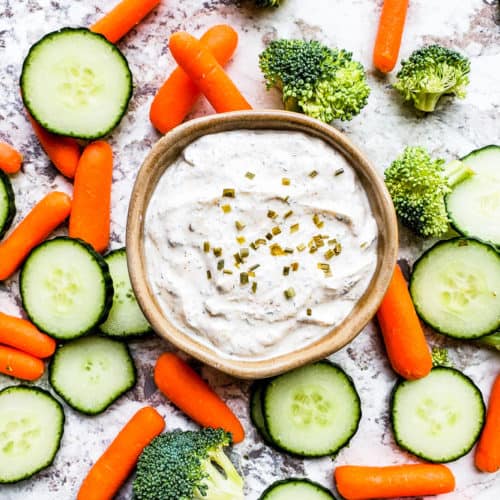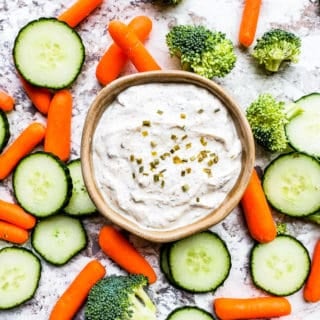 Greek Yogurt Ranch Dip Recipe
This Greek Yogurt Ranch Dip is healthy and ready in only 5 minutes! This dip is perfect for parties or an afternoon snack with some veggies or chips!
Ingredients
Suggested Dippers
Baby Carrots

Raw Broccoli

Sliced Cucumber

Pretzels
Instructions
Measure and combine all ingredients into a medium bowl. Stir until well combined and serve immediately with dippers of choice. Enjoy!
Notes
Leftover Storage: Store leftover ranch dip in the fridge in an airtight container for up to 4 days. Do not re-heat leftovers, just enjoy the dip strait from the fridge.
NOT FREEZER FRIENDLY
*Nutritional Information does not include suggested dippers.
Nutrition
Calories:
25
kcal
Carbohydrates:
4.2
g
Protein:
2.1
g
Fat:
0
g
Saturated Fat:
0
g
Cholesterol:
1
mg
Sodium:
110
mg
Potassium:
116
mg
Fiber:
0.6
g
Sugar:
3.1
g
Calcium:
78
mg
Iron:
0
mg
See What We Are Pinning!
Follow erhardtseat1 to see all the food!
Thank You for Sharing!