This Grilled Peaches Recipe is the perfect treat for the warm summer weather. This quick and easy vegetarian recipe works great as a dessert or an appetizer for parties. Pair with Honey Mascarpone and fresh thyme for the perfect finish.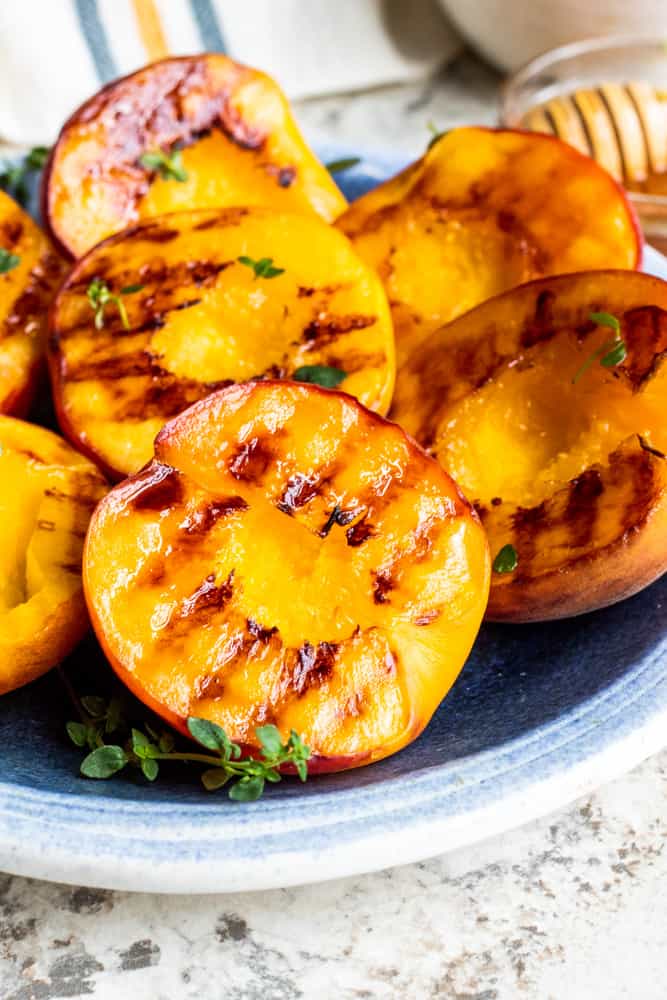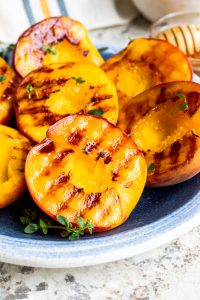 Summer is officially here and that means peaches galore! I am a huge peach fan, and even grew up on a small peach orchard. I spent my summers eating peaches in all forms, including this Grilled Peaches Recipe. The peaches are soft, sweet, perfectly charred and pair wonderfully with whipped Honey Mascarpone.
This vegetarian dessert or appetizer is ready in under 15 minutes and great all year round. Also, if grilling isn't your thing, no worries these peaches can be made on a stove top or oven. I hope you love these juicy and sweet peaches as much as my family does.
Kitchen Tools
An Outdoor Grill, Grill pan or Skillet

Tongs

A Pairing Knife and Cutting Board

A Bowl and Whisk
A Basting Brush (Optional): You could just drizzle the olive oil over top, but a brush will give you a more even coat.

Measuring Cups and Spoons
Pro Tips
Indoor Cooking Tip: If you are choosing to make these grilled peaches with mascarpone on the stove top I would highly recommend using a cast iron grill pan or skillet if you have one. The flavor comes out much better than using something like a non-stick pan. Also, you can get great grill marks when using a grill pan.
Char Mark Tip: To get the perfect grill marks let the peaches sit on one place and do not rotate them constantly. The more you mess with them the less the char marks will show in one place. If the peaches are getting to charred move them to indirect heat to continue to cook and not burn.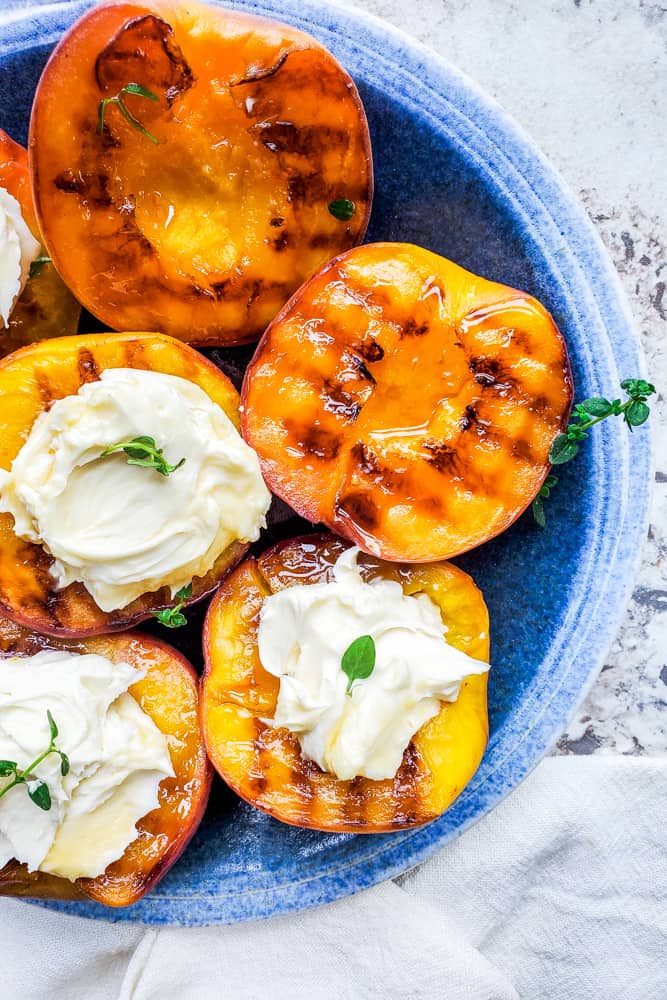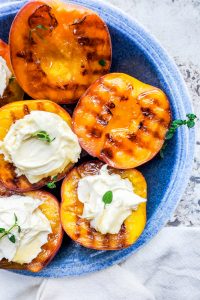 How to Grill Peaches
Prepping the Peaches
Wash and slice peaches in half lengthwise, then remove pits.

Brush all cut side of peaches with olive oil or melted butter.

Sprinkle each cut and oiled peach half with brown sugar.

On a heated outdoor charcoal or gas grill (or grill pan if cooking indoors) place peaches skin side up (oiled side down).

Cook for 5-7 minutes or until peaches have started to soften and char.

Remove the peaches from the grill with tongs and serve warm with Honey Mascarpone, whipped cream, vanilla ice cream or maple syrup.
Honey Mascarpone Prep
In a medium sized bowl combine mascarpone cheese, honey and vanilla extract.

Use a whisk or fork to stir until light and combined.

Scoop a spoonful of the mixture over each grilled peach and sprinkle with fresh thyme and additional honey.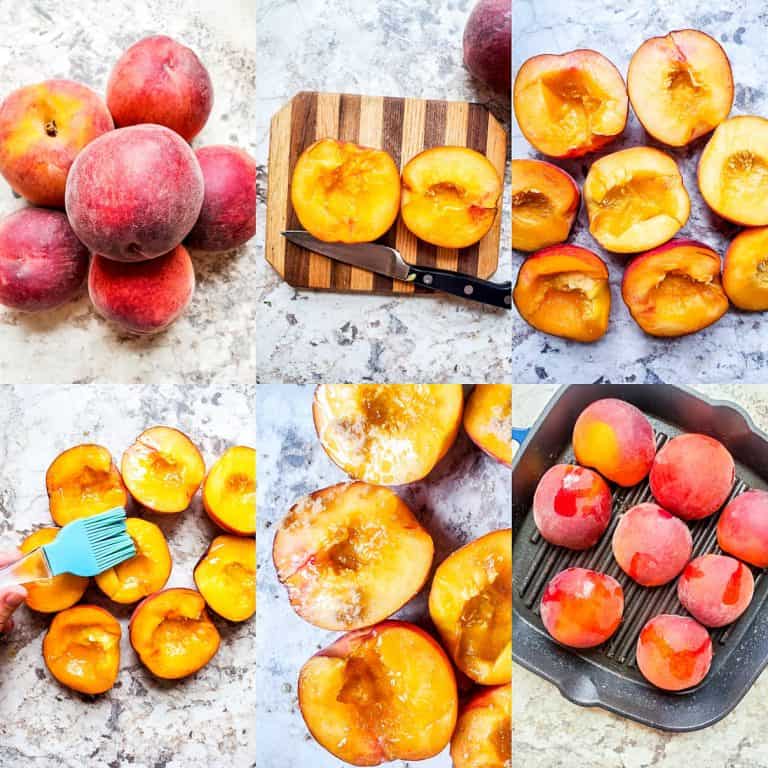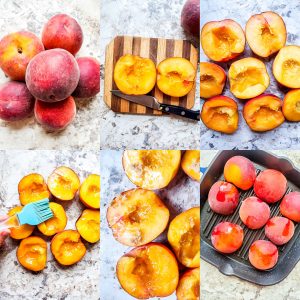 Recipes Featuring Fruit
Strawberry Pineapple Salsa
Easy Jam Recipe with Honey and Chia Seeds
Strawberry Cinnamon Rolls
Blueberry Vinaigrette
Mango Salsa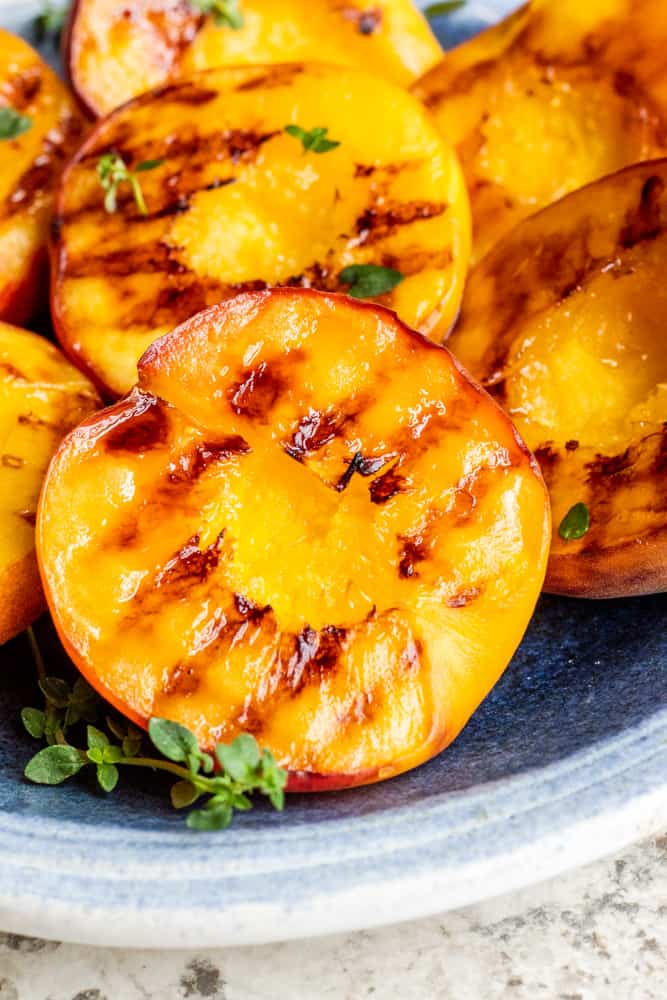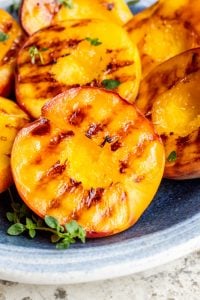 Common Questions
How should grilled peaches be stored?
Leftovers should be stored in an airtight container in the fridge for up to 3 days. Also, I suggest storing the peaches and honey mascarpone in separate containers in the fridge.

Can cooked peaches be re-heated?
To re-heat place in the microwave for 15-20 seconds until warm. Alternatively, you could rewarm the peaches on the stove top in a pan or in the oven until warm.
Can leftover be frozen?
I do not recommend freezing grilled peaches. It is possible to store leftover fresh peaches in the freezer, but once the peaches are grilled they are best enjoyed soon after.
What should peaches be served with?
I suggest serving these grilled peaches with my Honey Mascarpone and fresh thyme. Alternatively, you could serve with vanilla ice cream, maple syrup, whipped cream, sprinkle with cinnamon or enjoy on their own.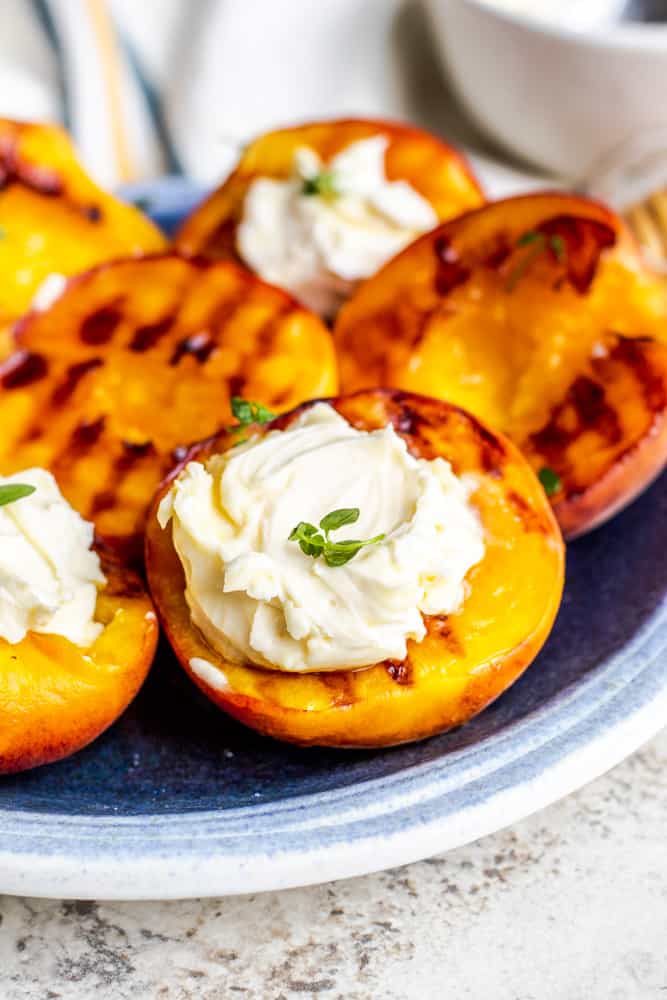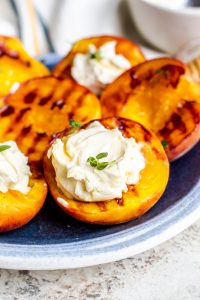 Stove Top & Oven Instructions
If you do not want to use an outdoor grill you could make these peaches in the oven or on a stove top. Follow grilled peaches recipe prep instructions for both of these options.
Oven Method: Preheat oven to 400 degrees. Next, place peaches skin side down on a cookie sheet and bake for 10-15 minutes or until soft.
Stove Top Method: Use a grill pan or regular pan and heat over medium heat until and add the peaches when warm. For the best grilled peaches use a cast iron skillet or grill pan. Cook the peaches for 7-10 minutes until soft.
Note: You will not get the same char or marks as you would on the grill when using the oven method.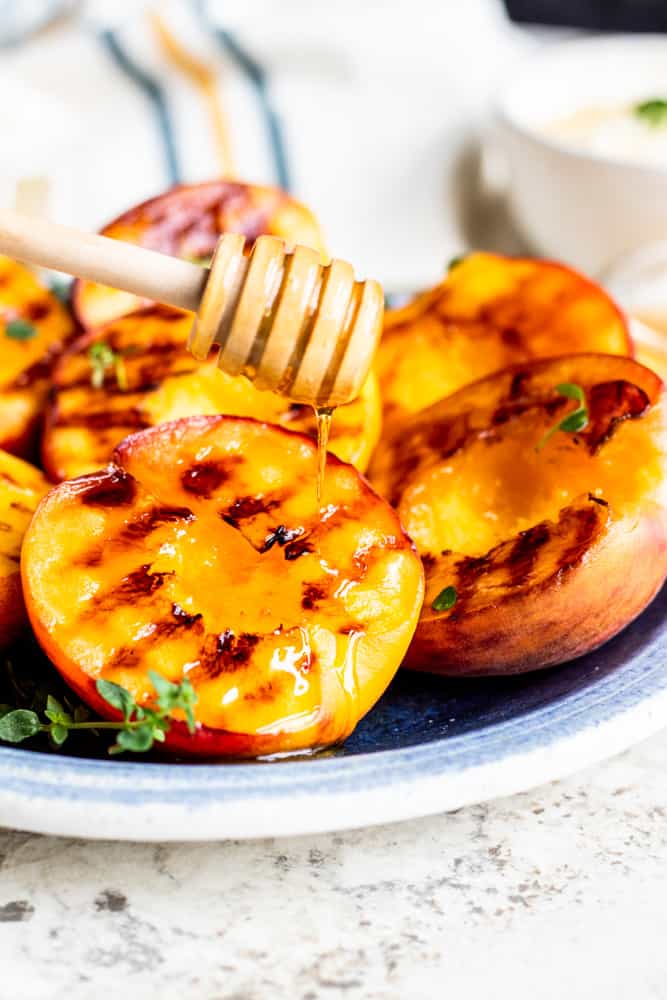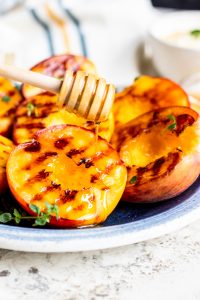 Storytime
Okay, so peaches have held a special place in my heart since I was 12 years old. My family moved from the suburbs in St. Louis to a small town just oven the river. There we lived on several acres of land which included a small peach orchard.
My brother and I spent our summers trimming trees, collecting fallen peaches, and of course eating our fill. We even had a small stand set up in front of our house to sell them. This was our version of a lemonade stand and while this was all hard work we had so much fun doing it.
Hilariously enough my mom hates peaches, so it was just my brother and I eating them all. Over the years my mom and grandma taught me how to utilize the peaches in a number of ways. We would make things from grilled peaches, jam, pies, tarts, and even smoothies.
The peaches in my parents orchard were beyond the best on this planet and I miss living near them to enjoy them in the summer. Still to this day whenever I eat a peach I think about summers spent barefoot going out into my backyard to pick myself a fresh peach for breakfast.
I hope you and your family love this Grilled Peaches Recipe with Mascarpone as much as my family does. Leave a comment below to let me know how you liked these juicy peaches.
Also, check out my Grilled Peach Salad for the perfect use of leftover grilled peaches.
Happy Eating!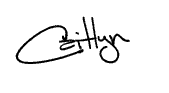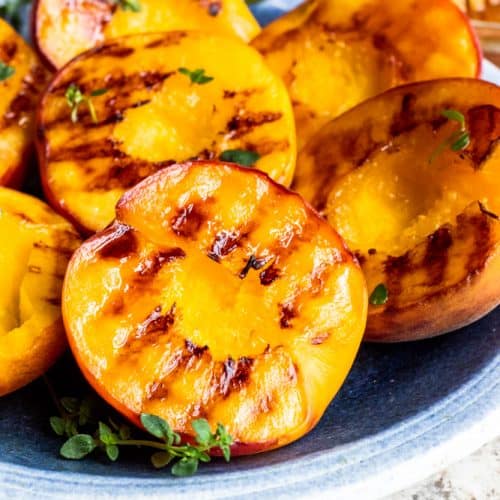 Grilled Peaches Recipe with Honey Mascarpone
This Grilled Peaches Recipe is the best summer snack or appetizer! The peaches pair great with honey, mascarpone, fresh thyme or vanilla ice cream! This vegetarian recipe will also please both kids and adults and it comes together in under 15 minutes!
Ingredients
6

Ripe Peaches

3

Tbsp

Olive Oil

or Melted Butter

1

Tsp

Brown Sugar

EACH

1 ½

Cups

Mascarpone Cheese

2

Tsp

Vanilla Extract

4

Tbsp

Honey

Plus More For Topping-Optional

Fresh Thyme

Optional
Instructions
Wash peaches and slice each lengthwise then remove the pit. Brush each peach halve with olive oil then sprinkle with brown sugar.

Heat a grill pan, outdoor grill or skillet and add peaches skin side up when warm. Cook until peaches are soft and slightly charred. While the peaches are cooking prepare the honey mascarpone.

Combine mascarpone cheese, vanilla extract and honey in a bowl and stir with a whisk until light and combined.

When peaches are finished cooking serve each warm with a spoonful of honey mascarpone. Drizzle each with additional honey and fresh thyme if desired. Enjoy!
Notes
Leftover Storage: Store leftover peaches and mascarpone in separate airtight containers in the fridge for up to 3 days. Rewarm peaches in the microwave for 20-30 seconds, or in the oven until warm.
Alternate Serving Ideas: You could serve these peaches with vanilla ice cream, and maple syrup as well!
Alternate Preparations: If you do not want to use an outdoor grill or stove-top you could make these peaches in the oven. Follow recipe prep instructions then preheat oven to 400 degrees. Place peaches skin side down on a cookie sheet and bake for 10-15 minutes until soft. Note: you will not get the same char or marks as you would on the grill.
Nutrition
Serving:
1
Peach
Calories:
275
kcal
Carbohydrates:
28.1
g
Protein:
8.4
g
Fat:
15.1
g
Saturated Fat:
6.1
g
Cholesterol:
31
mg
Sodium:
53
mg
Potassium:
360
mg
Fiber:
2.3
g
Sugar:
24.3
g
Vitamin A:
500
IU
Vitamin C:
15.7
mg
Calcium:
100
mg
Iron:
0.7
mg
See What We Are Pinning!
Follow erhardtseat1 to see all the food!
Share the Love!