This Baked Goat Cheese Dip recipe is quick and easy to make, yet looks and tastes impressive. Ready in only 30 minutes and the perfect party appetizer!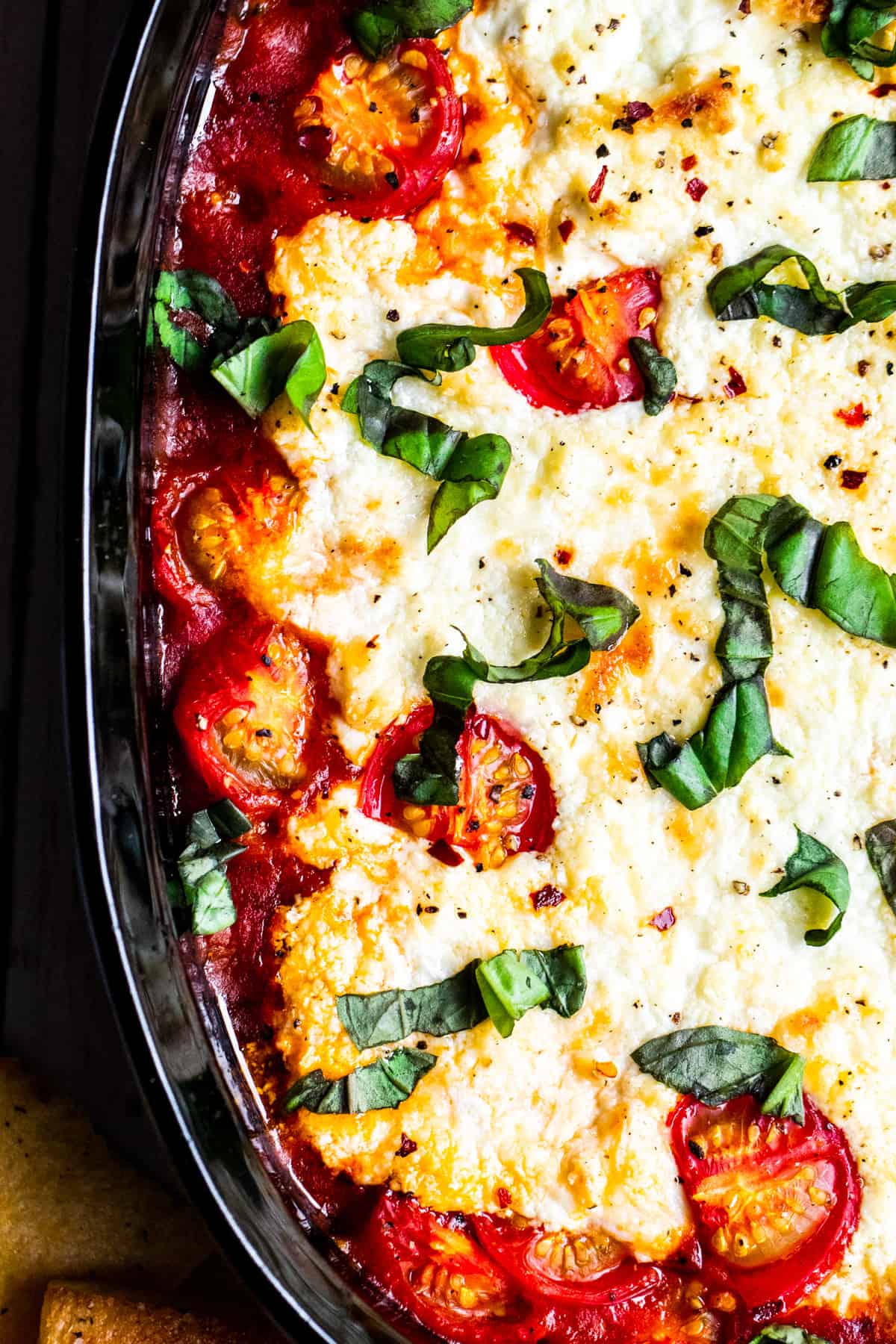 If you know me (we are all really good friends by now), then you know I am obsessed with cheese. This Baked Goat Cheese Dip recipe is super simple to make and packs a lot of flavor. As an added bonus it is ready in only 30 minutes (AMEN!) and only requires basic kitchen tools and ingredients.
The dip features four different types of cheese, some bumped up store bought marinara sauce, then some fresh tomatoes and basil to dress it up. This hot goat cheese dip feels fancy making it perfect for parties and holidays without all the work. Pair with toasted bread or raw veggies for the perfect finish!
Ingredient Notes
Cheese: For this baked cheese dip I used more than just goat cheese. Goat cheese on its own doesn't melt well and can get a gritty texture. That is why I paired it with creamy cream cheese, mozzarella cheese that melts well and asiago cheese for more flavor. The goat cheese flavor still shines through and the cheese combo is perfect for this dip.
Tomatoes: I like using a small tomato like a cherry or grape tomato. You can use a larger variety and dice into smaller pieces though and it will work fine.
Marinara Sauce: I like to keep this dip quick and easy which is why I use a store bought jar of marinara sauce, then boost the flavor with some add ins like garlic and balsamic vinegar. You can of course use a homemade marinara sauce for this goat cheese dip if you wish.
Why You'll Love It
Quick and Easy: Ready in only 30 Minutes
Step up your Dip Game: This Dip Looks and Tastes Impressive
Versatile Appetizer: Perfect for Parties, Holidays or Game Days
Basic Tools and Ingredients: Nothing Funky or Expensive Required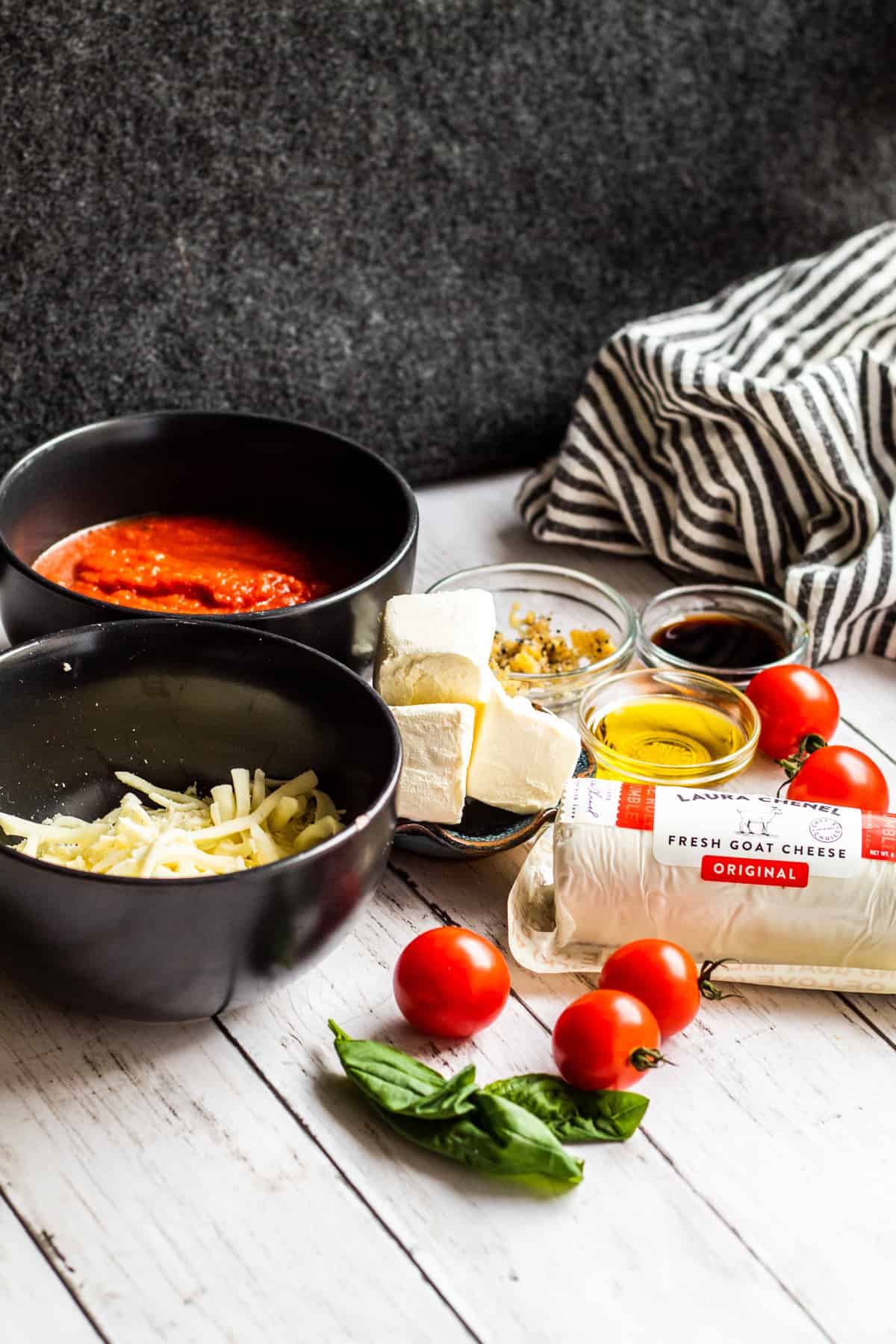 Instructions
Ingredient Prep
Begin by preheating your oven, prepping your baking dish with cooking spray and then getting out and measuring all your ingredients. I recommend using a 1 quart to 1 ½ inch quart baking dish for this dip. Another option is an 8 inch round cast iron skillet.
Remove the stems from the tomatoes if they have one then slice them in half.
Next, add all the cheese into a large prep bowl and either stir or use a hand mixer to combine. See my tip below for blending the cheese!
Finally, add the salt, pepper, minced garlic and balsamic vinegar to a small prep bowl and whisk to combine.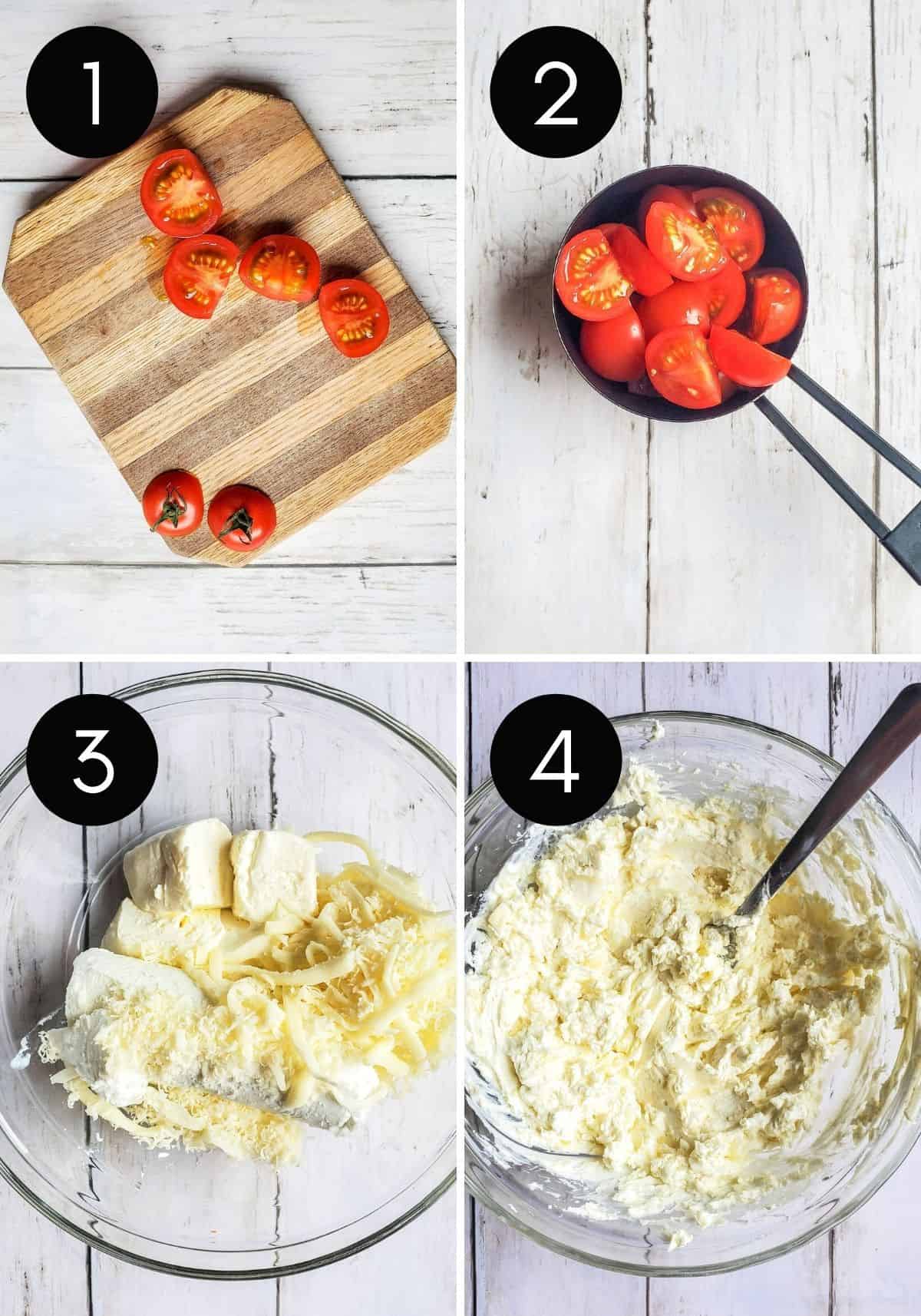 Baking the Dip
Add the marinara sauce to your baking dish concentrating more around the edges.
Next, add your prepared goat cheese dip to the center of the baking dish and use a spoon or fork to flatten into an even layer. Leave some small around the edges for the sauce.
Finally, add the tomatoes over the top of the goat cheese marinara dip and sprinkle with olive oil, plus additional salt, pepper, and red pepper flakes. This is optional, but I think adds more flavor and makes the dip look prettier.
Bake the dip on the center rack of your oven for 20-25 minutes until warm, bubbling and slightly golden on top of the cheese. Sprinkle finished hot goat cheese dip with fresh basil and serve warm with dippers of choice. Enjoy!
Storing Leftover Baked Goat Cheese
Store leftover baked goat cheese dip in an airtight in the fridge for up to 3 days. I recommend rewarming the dip in the oven for 10-15 minutes until warm, but you can warm the dip in the microwave as well until hot.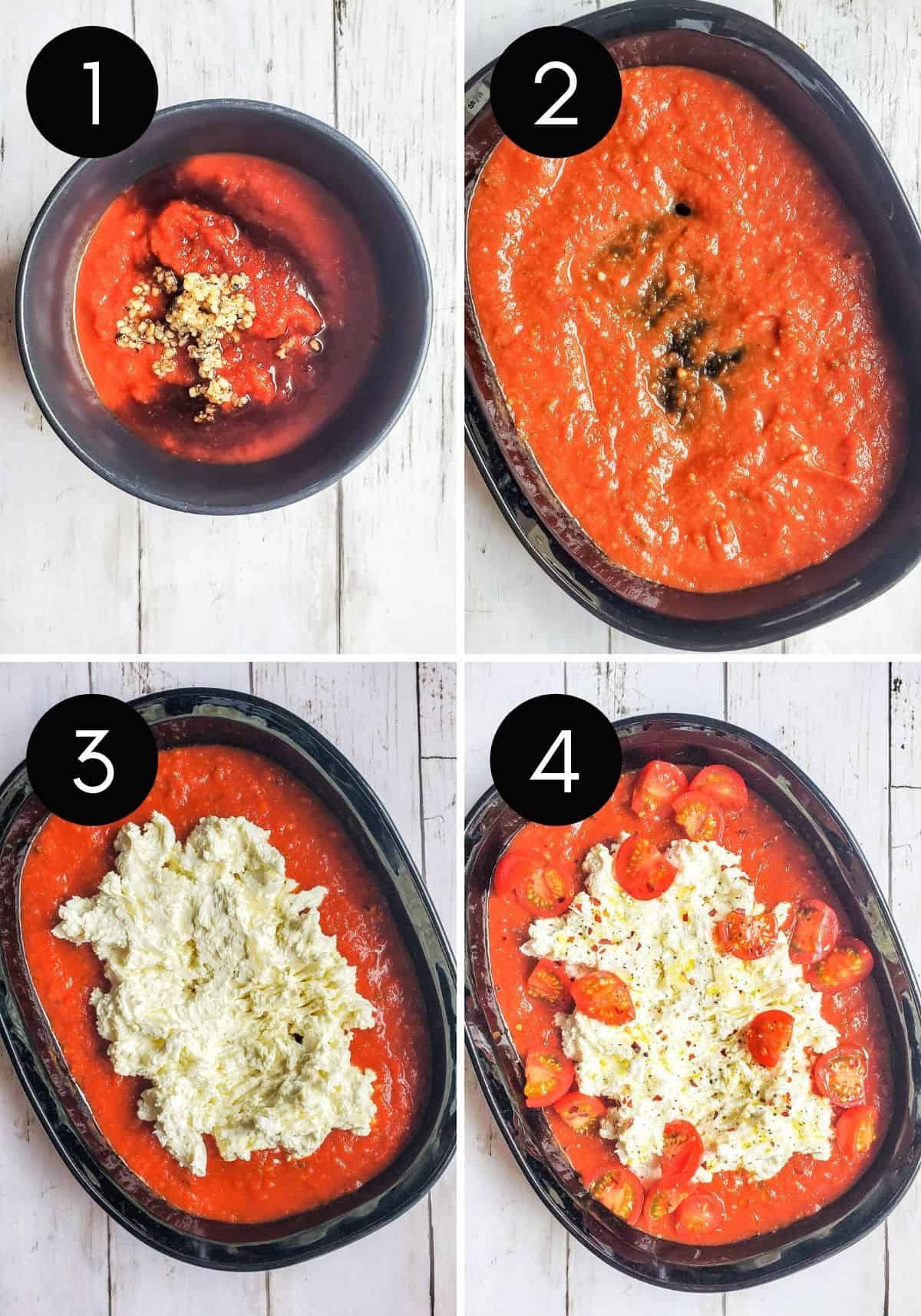 Pro Tips
Blend the Cheese: I find that blending the cheeses with a mixer the texture doesn't get gritty once baked. Goat cheese can be fickle when baking, so this extra step helps the texture. This is optional and the dip will taste the exact same if you skip it.
Broil to Finish: Sometime the top of the dip just does not want to get nice and golden. After 25 minutes if the top is still not golden, but the dip is bubbling then you can broil it on high for 1 minute. WATCH THE DIP while you do this. It will burn very quickly and it does not need a lot of time.
Make it a Meal
I normally serve this hot goat cheese dip as an appetizer, but it can also double as an easy topped for chicken, steak or even veggies. This is a great addition to a simple grilled steak, baked chicken or roasted veggies and really dressing them up to make them feel more fancy.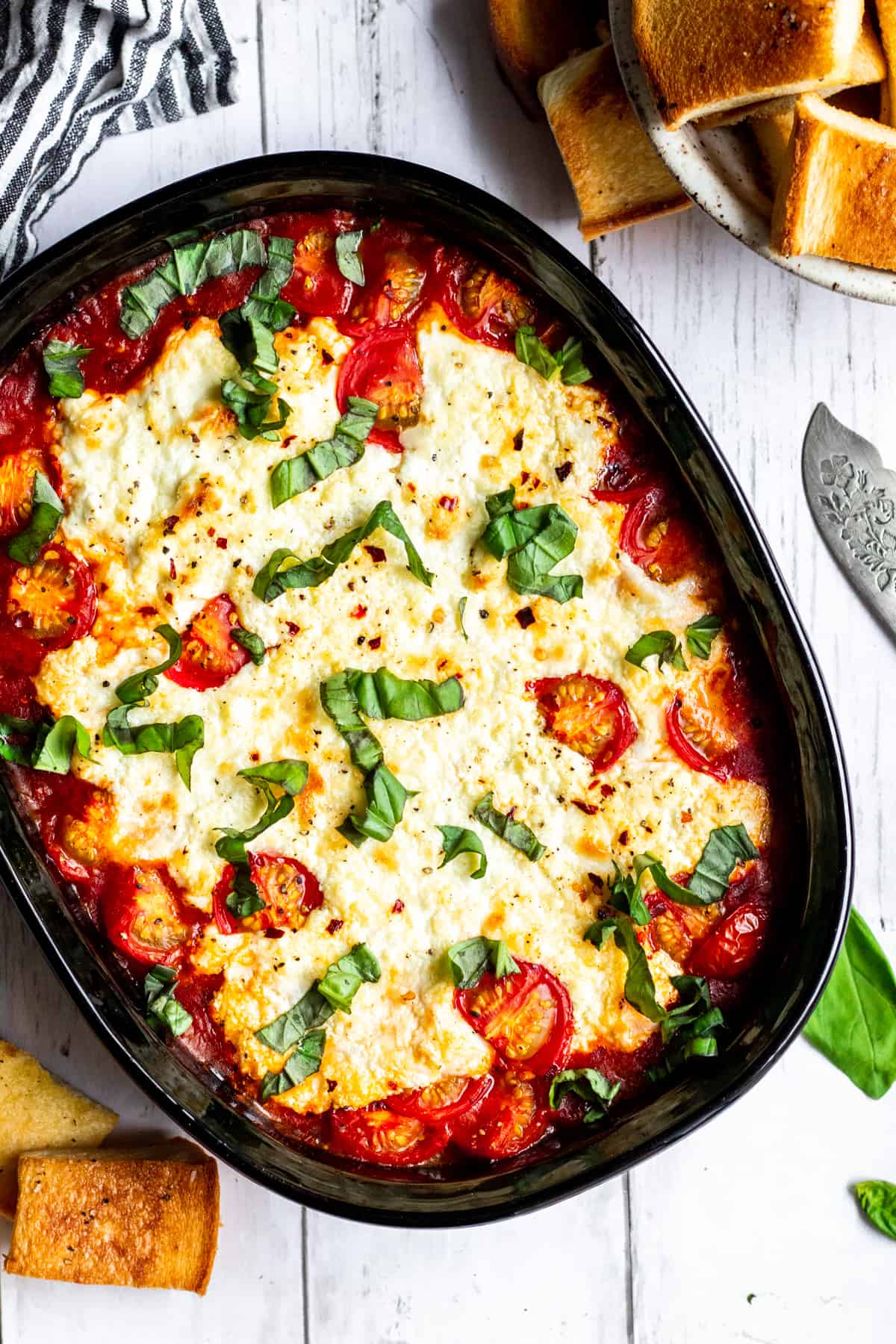 FAQS
What does goat cheese pair well with?
Goat cheese is very versatile and can be paired with both sweet and savory flavors like honey, berries, jam, or in the case of this dip marinara sauce. My favorite things to pair with this baked dip include toasted bread, a crostini, raw veggies like celery, carrots or broccoli and pretzel rods.
Can goat cheese be cooked?
Yes, it can be cooked! This dip proves that hot goat cheese works and can make a great appetizer or additional to a meal. Goat cheese can get gritty and doesn't melt like a creamy cheese would. That is why I like to pair goat cheese with melting cheeses and blend it first to improve the texture.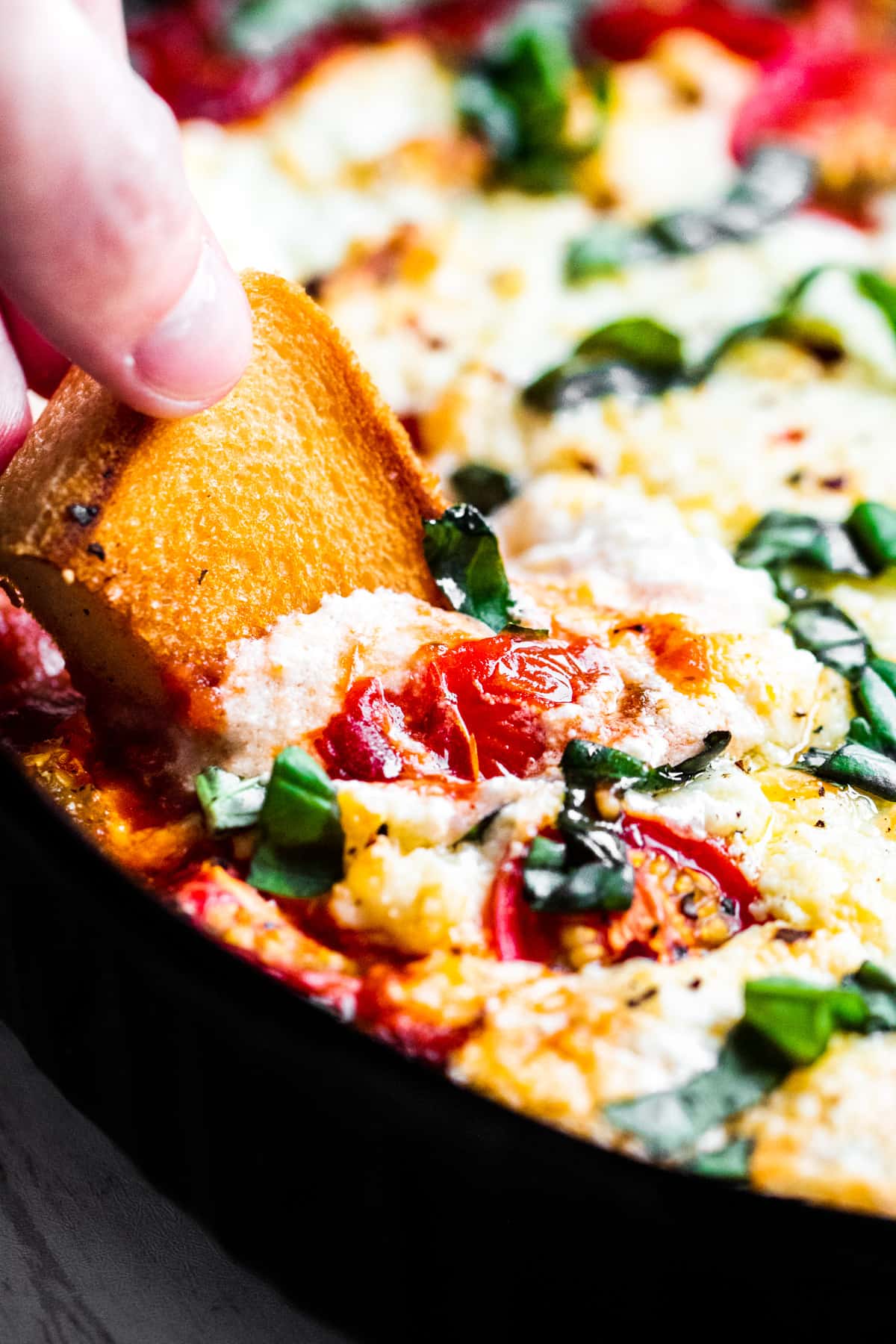 You May Also Enjoy...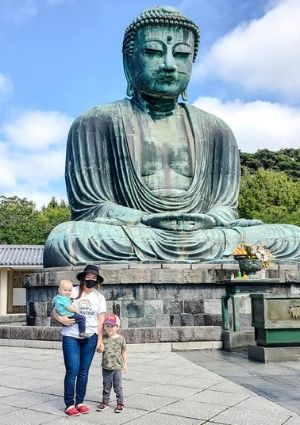 Happy Eating!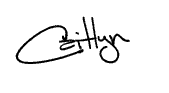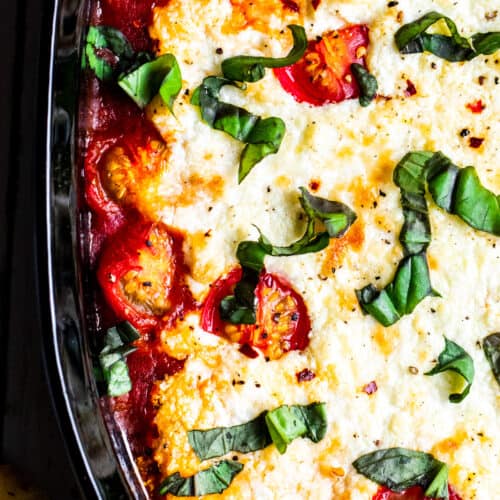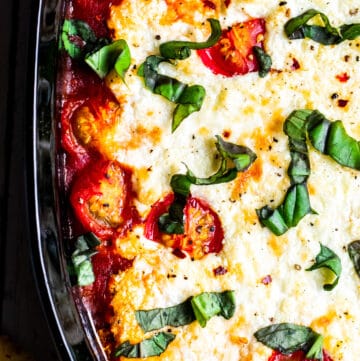 Baked Goat Cheese Dip Recipe
This quick and easy Baked Goat Cheese Dip recipe is ready in only 30 minutes and makes the perfect party appetizer for any occasion!
Ingredients
8

Oz

Plain Goat Cheese

¼

Cup

Mozzarella Cheese

Shredded

¼

Cup

Asiago Cheese

Shredded

4

Oz

Cream Cheese

12

Oz

Marinara Sauce

¼

Tsp

Sea Salt

½

Tsp

Ground Black Pepper

2

Cloves

Garlic

Minced

1

Tsp

Balsamic Vinegar

1

Cup

Cherry Tomatoes

1

Tbsp

Olive Oil

To Taste

Fresh Basil

Optional for Topping

To Taste

Crushed Red Pepper

Optional For Topping
For Serving
Crostini

Fresh Crusty Bread

Carrot Sticks

Raw Broccoli

Celery Sticks

Pretzel Rods
Instructions
Prepare a 1 ½ quart baking dish (or similar size) with cooking spray and preheat your oven to 375 degrees F.

Combine the four cheese into a large prep bowl and stir to combine with a spoon or use a hand mixer to blend. See note about blender tip below.* Set aside.

Chop your cherry tomatoes in half and set aside. Remove the stems as well if they have any. Set aside.

Add marinara sauce, sea salt, minced garlic, black pepper and balsamic vinegar to a small prep bowl and stir to combine. Next, pour the sauce into your prepared baking dish concentrating more sauce around the edges.

Scoop the cheese mixture into the center of your baking dish over top of the marinara sauce leaving about 1 inch around the edges for just the sauce. Next, spread the dip into an even layer with a fork or spoon. Top the dip with the sliced tomatoes and sprinkle with olive oil.

Bake the dip in your preheated oven for 20-25 minutes, or until the sauce in bubbling and the cheese is slightly golden. Once finished serve warm with toasted bread or dipper of choice. Enjoy!
Notes
Leftover Storage: Store leftovers in an airtight container for up to 3 days in the fridge. Rewarm before enjoying.
Blending the Cheese: If you want your dip to have a smoother texture then I recommend blending the cheeses with a hand mixer instead of mixing them with a spoon to combine.
Broil Option: If the tip is not getting golden on top after 25 minutes, then you can broil the dip on high for 1 minute to finish. Be VERY careful when doing this and watch the dip the entire time as it can burn quickly.
Baking Dish Size: I recommend using a 1 quart to 1 ½ inch quart baking dish for this dip. Another option is an 8 inch round cast iron skillet.
Nutrition
Calories:
218
kcal
Carbohydrates:
7.8
g
Protein:
4
g
Fat:
16.6
g
Saturated Fat:
9.5
g
Cholesterol:
31
mg
Sodium:
487
mg
Potassium:
220
mg
Fiber:
1.4
g
Sugar:
4.7
g
Calcium:
132
mg
Iron:
1
mg
See What We Are Pinning!
Follow erhardtseat1 to see all the food!
Thank You for Sharing!