Growing up, I was an extremely picky eater. I basically lived off of chicken nuggets and mac and cheese until I was in high school, and even then I think the most adventurous I got was mild Thai fried rice. It wasn't until getting married and traveling that I started to try new foods. I found that I actually LOVE all sorts of foods and just never gave them a chance because I was unfamiliar with them. So, after I had Theo and we got closer to starting solids, I was determined to help him NOT grow up not knowing all types of food. These are some of my favorite blw meal ideas that have worked great for Theo! This is what Theo eats!
BLW Meal Ideas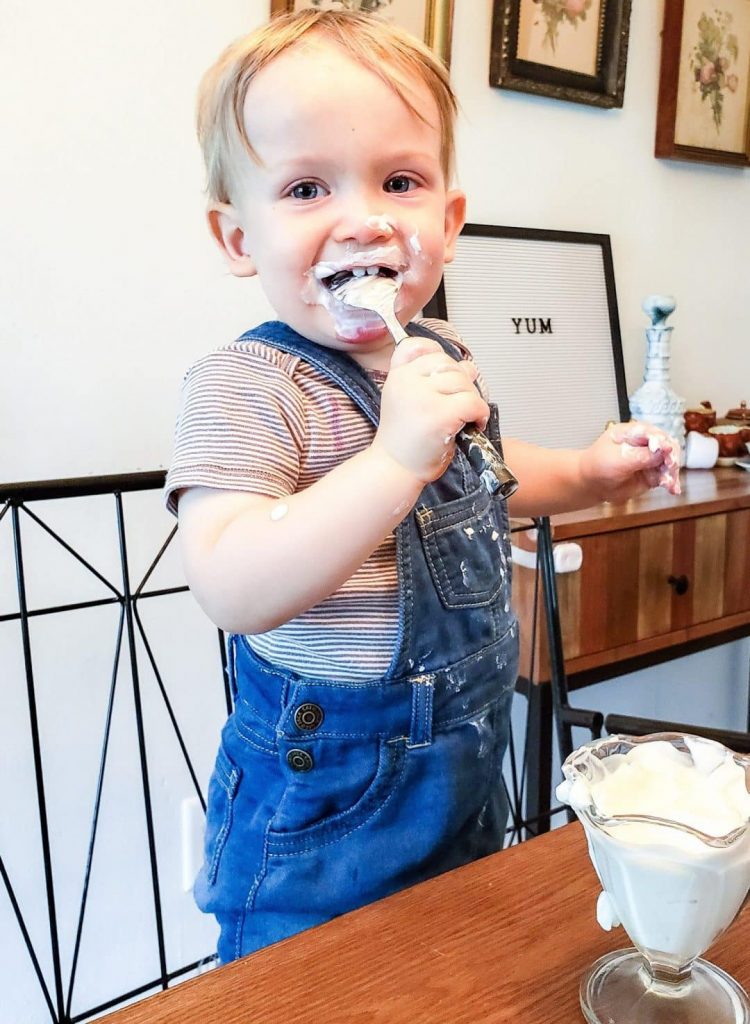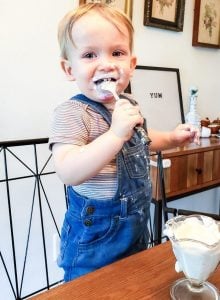 When I started looking into how and when to start solids I came across BLW, or babyled weaning, and knew I wanted to implement it into our life. We started off doing a combo of BLW and purees around 6 months. Since then he has tried all types of food, gotten decent with silverware, and can drink from a cup. As I go through this series I will talk about our journey so far and what has worked best for us. I will also highlight four meals for inspiration and ideas that you can try with your kiddos! These are some of my favorite BLW meal ideas that Theo LOVES!
Avocado Toast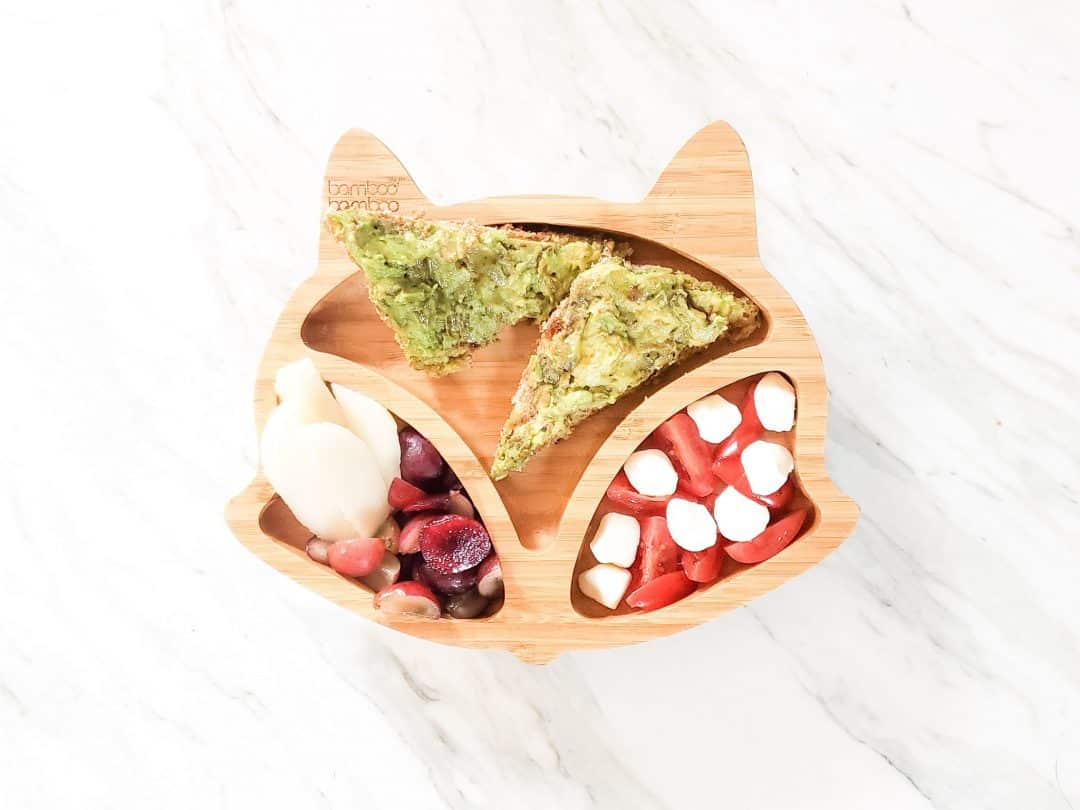 Theo absolutely loves avocados. They were his first food he ever tried and they are still his favorite. I have a more adult version of this Caprese Avocado Toast if your kids are older or if you would like to make a similar meal for yourself. For Theo though I keep it simple. I toast one piece of whole grain bread, cut off the crust, then mash half a small avocado and spread it on top. On the side, I give him some fresh mozzarella and sliced grape tomatoes. Theo also loves fruit so I pair most of his meals with some type of fruit. Here I did a combo of cherries, grapes, and pear. If you are giving your little something round and small like grapes make sure you quarter them. This exact meal Theo will eat all of every time. I make this for him often because it is fast, healthy and I know he will eat it.
Naan Pizza Sticks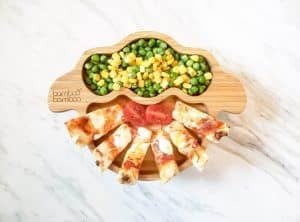 This is another favorite for Theo. It is also a family favorite and I have grown up version of this Margherita Pizza as well. I make this probably every other week for my family. This is extremely simple and ready in about 10 minutes. I usually make this for dinner and then save the leftovers for his lunch. All I do is take 1 piece of pre-packaged Naan bread, spread on some marinara sauce, I usually use my Perfect Marinara Sauce. Then sprinkle with cheese, our favorite is mozzarella and bake for 10 minutes at 350 degrees. Once finished, I cut the pizza into strips so Theo can easily pick them up and feed himself. So simple and ready to go. I usually pair this meal with some mixed veggies to balance it out.
Peanut Butter and Banana Quesadilla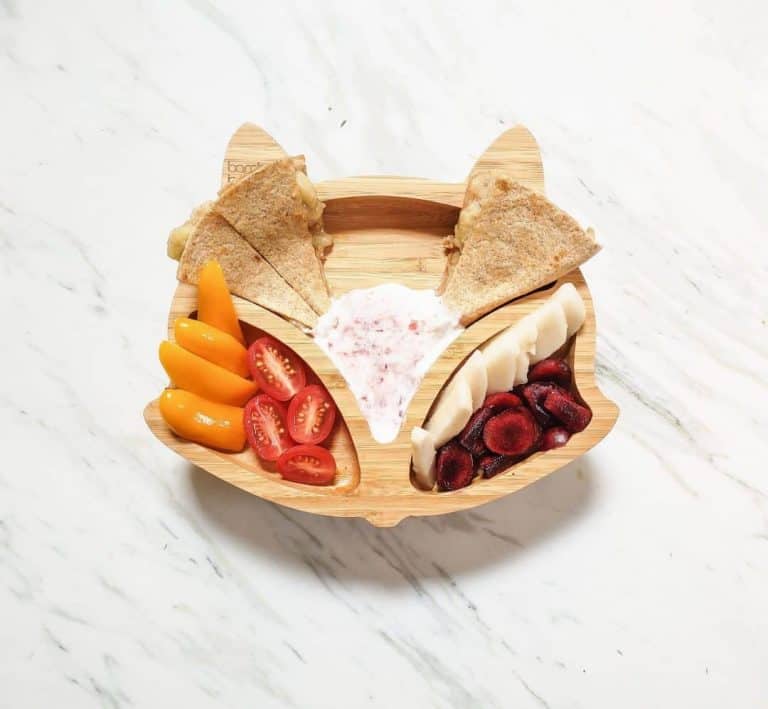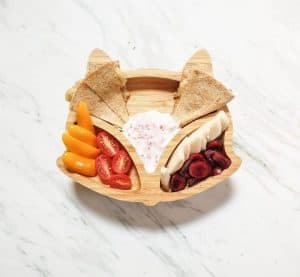 I can't take full credit for this blw meal idea because I used to eat a version of this as a kid. The difference was that mine was on sandwich bread. While that version is great, I like the quesadilla better. I think the triangles are easier for Theo to pick up and this isn't as bulky as a sandwich. I make these for Theo for both lunch and breakfast and pair it with anything from fruit, Greek yogurt or veggies. Here I did all three!
For the quesadilla I take half of a whole wheat tortilla and spread a thin layer of butter on the outside. Then I spread a thin layer of nut butter on the inside and add about half a mashed banana. I then toast both sides on a skillet to warm it up and give it some color. This usually takes me less than 10 minutes from start to finish so it is an easy meal to get out fast.
Naan Bread and Hummus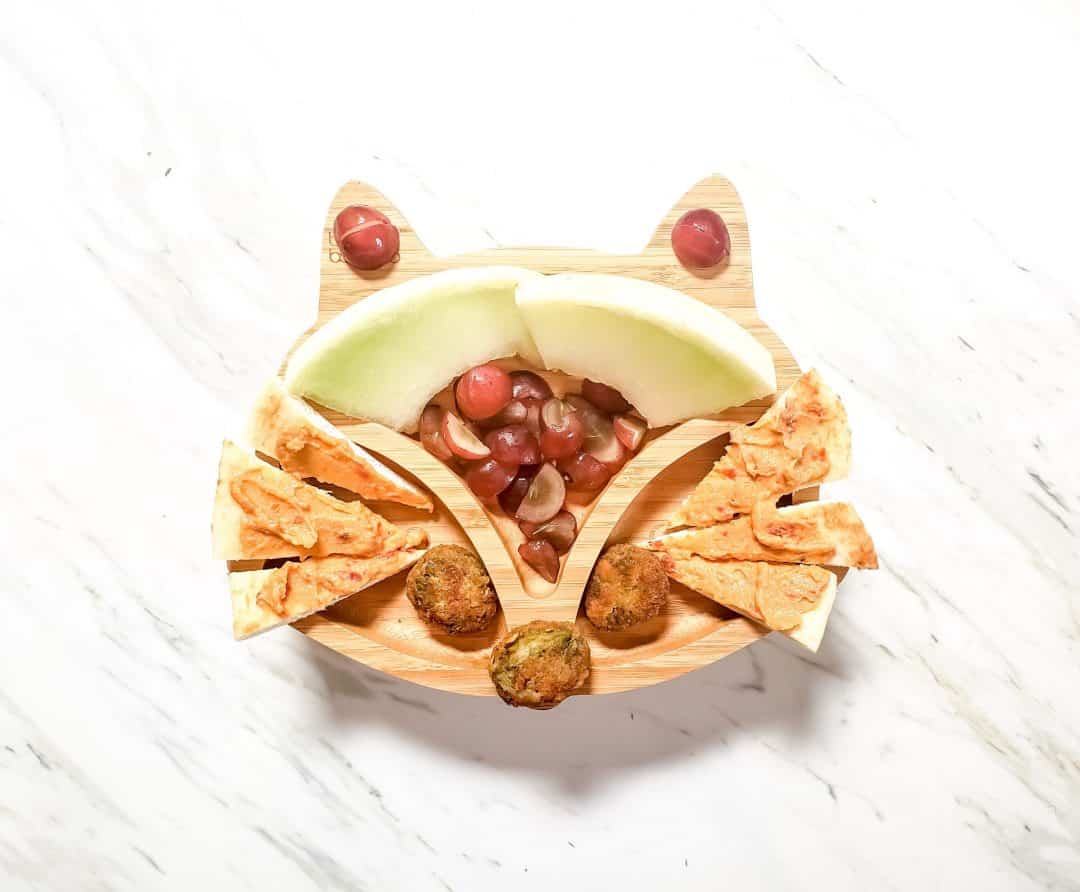 Okay, this one is one of the simplest blw meal ideas! I know, more naan bread! But it really is so versatile and makes meals so much simpler. The hummus Theo eats is roasted red pepper hummus, our favorite is Sabra.* We usually buy the giant size because we love it and eat A LOT of hummus. This was one food I did not offer to Theo, he walked over and stole some of mine and has loved it ever since.
For this meal all I do is take about half a piece of naan bread and cut into slices or triangles. Then I spread a small amount of hummus on each and eats them like chips and dip. I usually pair this with fruits and veggies. On this day I chose honeydew, grapes and some veggie nuggets. I also think it is fun making cute designs with his Bamboo Bamboo fox plate.* I find he stays more focused during meal time and bonus is that it suctions to the table! (Theo is a serial plate thrower!)
I hope you found some inspiration and blw meal ideas for you toddler/child! If you have any further questions about how I make these meals feel free to leave a comment!
Happy Eating!

~Caitlyn

*I make a commission for purchases made through the links on this page.