The season of shopping is among us! Black Friday is this week and the early deals are going on nearly everywhere. This week always gets me excited, because I know it is nearly time for Christmas! While I have always loved shopping and the deals during this time of year, this year I am going to do my gift giving a bit differently. Every year I buy things and most of which ends up being junk or cheap (guess it was on super sale for a reason). Therefore, I want to try and make as many gifts for my friends and family as I can. Not only do I think this approach is more thoughtful it is also more creative and cost effective. Immediately I thought of food related gifts and who wouldn't love the best edible cookie dough as a gift this year?!
What Do You Need To Make Edible Cookie Dough?
This recipe is sooooo simple! It only requires pantry staples and whatever add-ins you choose! I chose to go with a Christmas theme for mine, because I think they make the perfect edible Christmas present. Therefore, I went with dark chocolate chips, sprinkles, red and green M&M's and some peppermint M&M's as well! Some other great extras you could add to make this recipe your own are, crushed Oreo cookies, Reese's Peanut Butter Cups, mini chocolate chips, or caramels! This recipe is perfect for customizing to your taste or to whoever you plan to gift this to! The required ingredients to make the best edible cookie dough are:
TOASTED Flour
Brown Sugar
White Sugar
Butter
Salt
Vanilla Extract
Milk of Choice (I use Almond Milk)
Any Extra Add-In's
That is it! Pretty simple and only pantry staples needed! I will go into more detail about how to toast your flour in a bit. For now, the kitchen tools needed for this recipe are:
A Cookie Sheet (for toasting the flour)
A Large Bowl
A Spoon
Mason Jars (For Gifting)
Any Addition Ribbons, Bows or Tags for your Mason Jars
For gifting this recipe I used three 4 oz. mason jars. Each mason jar contains three servings of edible cookie dough. You could use bigger or small mason jars depending on how many gifts you would like to give. Or, you could keep it all for yourself! This recipe is versatile and can be used as a gift or a Sunday treat for the family!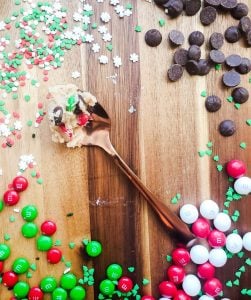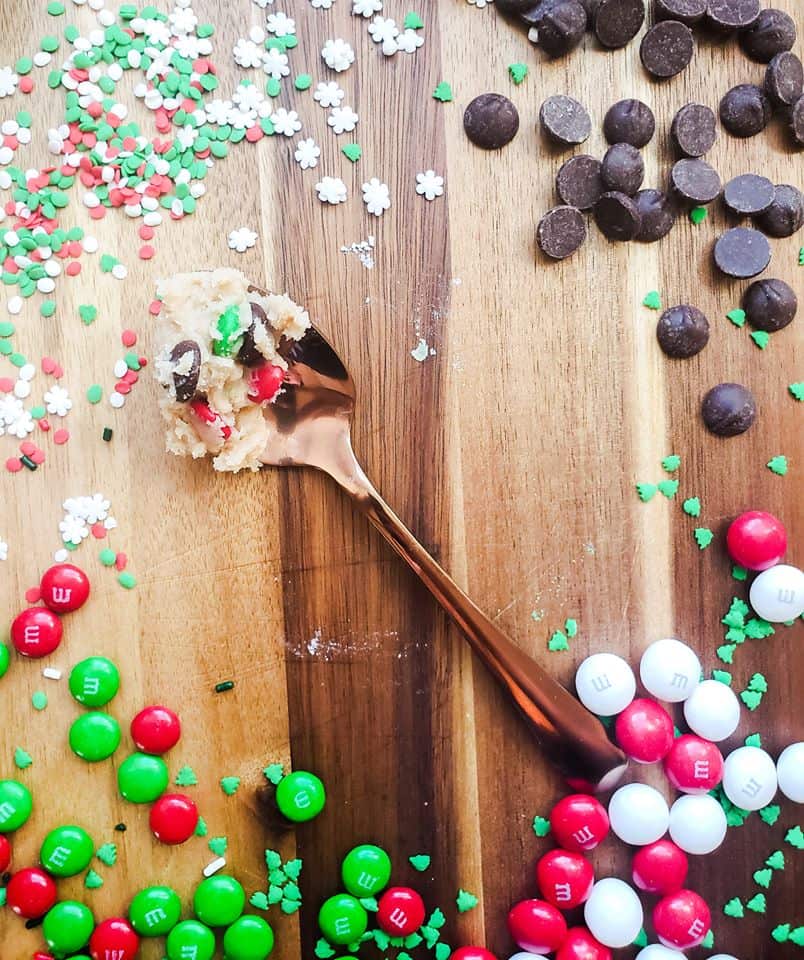 How Do You Make Edible Cookie Dough?
This is probably this simplest and fastest recipe I have done thus far. It is ready in less than 15 minutes (that includes flour toasting time). It requires only two steps, minimal equipment and makes a really cute gift!
-1-
First, you will need to toast your flour. You can do this ahead of time and store it in a zip-lock bag until you are ready to use it. Doing this ahead of time will save you time and save you from turning your oven on. To toast the flour preheat the oven to 350 degrees. Spread the flour out evenly on a cookie sheet. Once the oven is preheated, place the flour into the oven on the center rack and toast for 7 minutes.
This step is VERY important to make the cookie dough safe to eat. Toasting the flour kills any potential bacteria making this a safe snack. While this step is very simple and straightforward it is pretty messy. I really do not know of any time flour isn't messy, so get a kitchen towel ready because you will probably need it. Once the flour is toasted let it cool and then move on to the next step.
-2-
Second, you will bring it all together. Combine all ingredients into a large bowl and stir until well combined. That's it! So simple! If you want the cookie dough to be more of a creamy texture you can use a hand mixer to whip the butter and sugars together before adding the other ingredients. This does not effect the taste in any way and is up to you if you want to take this optional extra step. Personally, I usually skip it because I like to keep this recipe simple and fast. Plus, we do not have a dish washer and I like that I can skip on extra dishes.
Finally, once you have the base of the best edible cookie dough made you can add in your favorite extras! I loved using Christmas themed colors, candies and sprinkles, but you can use whatever you want! My personal favorite besides the chocolate chips is crushed Oreo's. Now that you have your dough finished you can either enjoy immediately or gift it.
Cheat Sheet
Toast That Flour
Ingredients-Bowl-Stir-Enjoy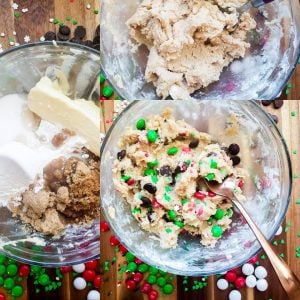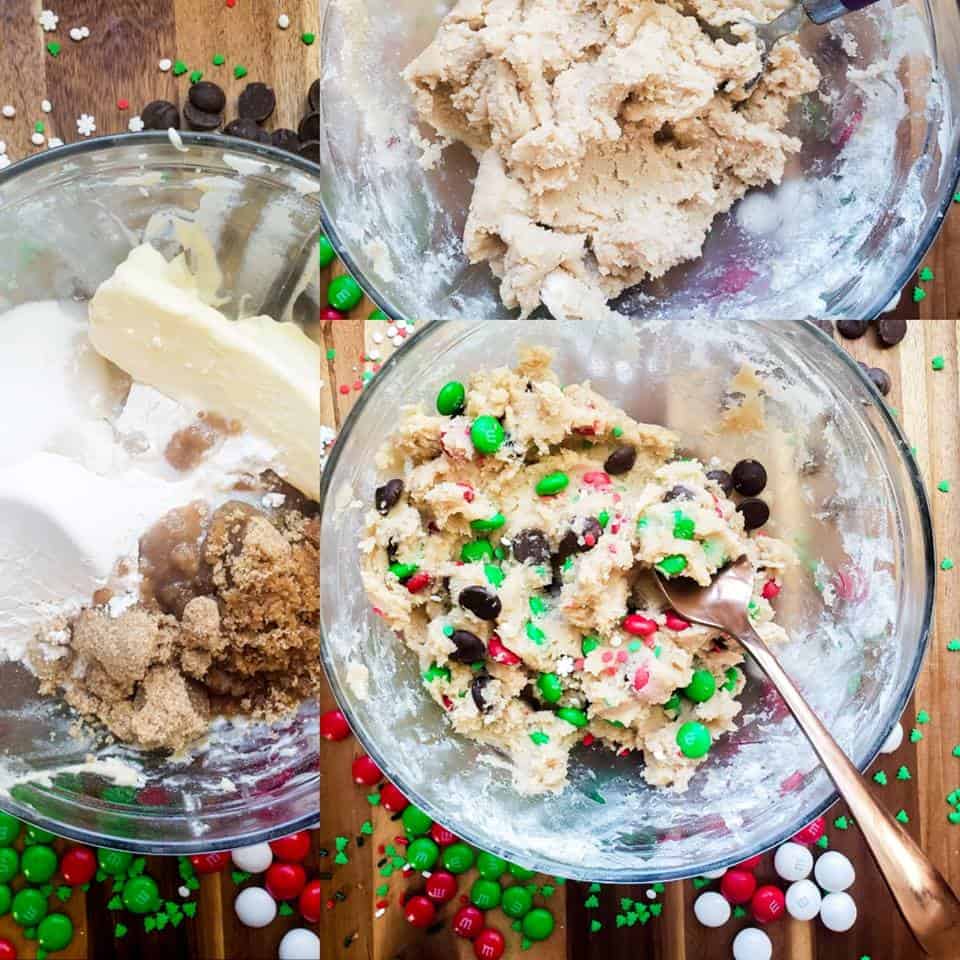 Perfect Holiday Edible Gift
Black Friday is right around the corner which means I am officially thinking about Christmas presents. Each year I like to think I get everyone is my family something creative, useful and that they will love. This year is no exception, but I am going to take a more minimalist approach this year. I want to still give each person something special, but I do not want to be running about like crazy with everyone else trying to get all my shopping done. Also, a lot of the sales, and gift sets the stores put out are cheap and a waste of money. Therefore, I want to make a lot of the gifts I give this year. This thought made me think of different foods or treats I could make and gift that everyone would love.
First, I thought of cookies. This is a great gift and I probably will give people cookies, but I wanted it to be something that they probably wouldn't do for themselves. So, I thought why not edible cookie dough?! I think it is such a fun gift and something that they do not have to bake, prepare or do anything to. They can just open the jar and enjoy! I also loved using lots of fun holiday add-ins like peppermint M&M's, green and red sprinkles, and chocolate chips. You can use any extra you want depending on who you are gifting it too.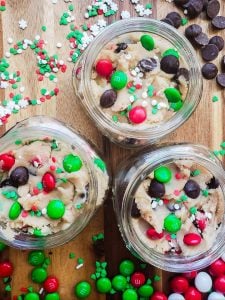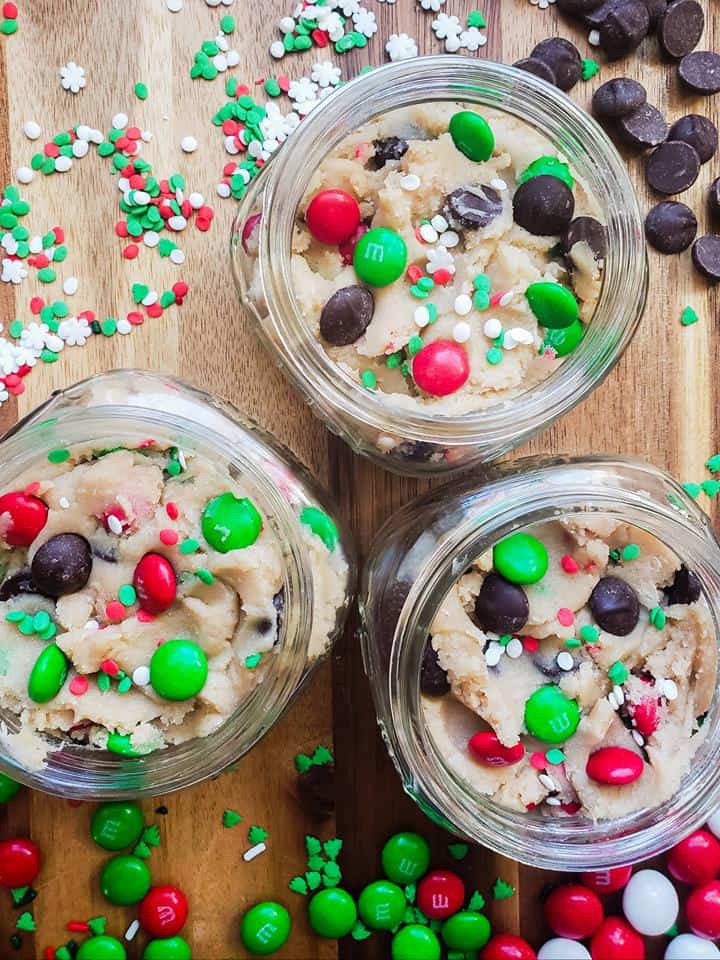 The Perfect Bite
This recipe yields 9 serving which I divided into three 4 oz mason jars. I like this distribution, because each person gets a good amount of edible cookie dough and it stretches the recipe to multiple gifts. After you are done mixing all of your ingredients divide the cookie dough into three equal parts. Next, scoop the dough into three jars and place the lid on. You can leave them as is or add bows, ribbons, or name tags to decorate them. Store the jars in the refrigerator (up to 1 week) until you gift them. Also, I like to take mine out of the fridge for 5 minutes to soften up some. This entire recipe is very cost effective and won't break the bank while still being unique and thoughtful!
While this recipe makes the perfect holiday gift it is also perfect for anyone who wants a fast and simple sweet treat! I love that I can whip this up so quickly and have something to snack on for days. Also, I love that the taste stays the exact same days later and I know I will always get the perfect bite. My son also loves this snack and I love that it is safe for him to eat. I was obsessed with eating the raw cookie dough as a kid, and now I can share a safe version with my son!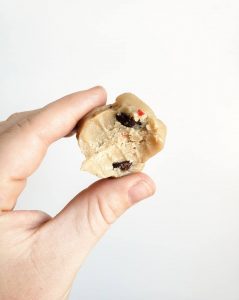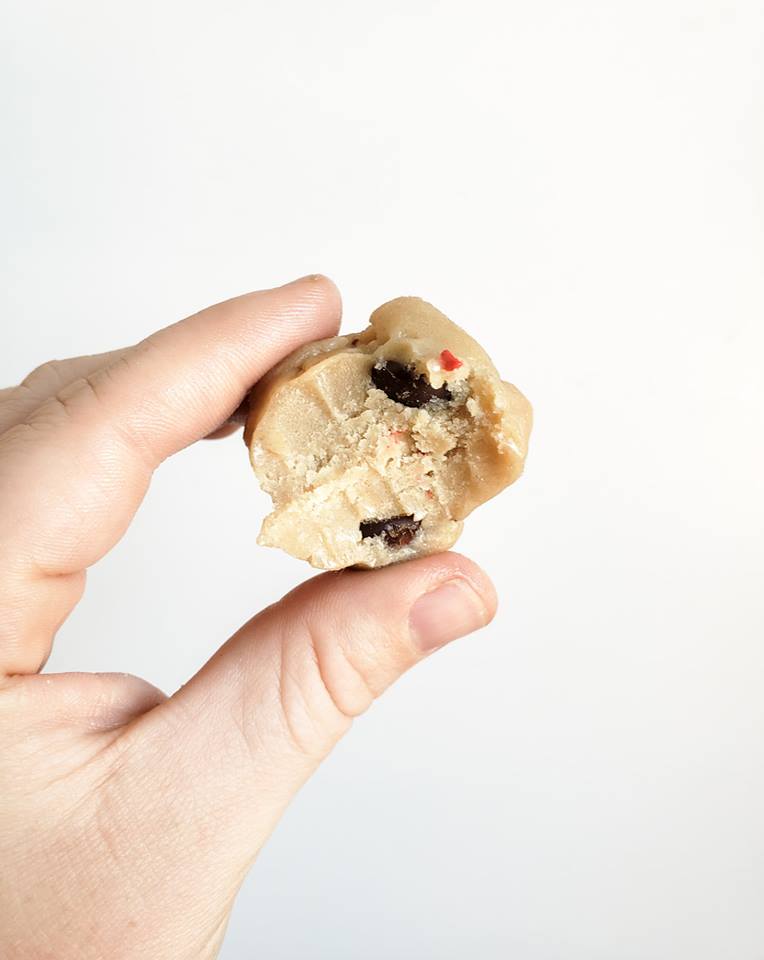 Happy Holidays and Happy Gifting!
So whether you are looking for the perfect quick and cost effective gift or a sweet treat for yourself this is the best edible cookie dough for everyone!
Why You Need To Make This Edible Cookie Dough
So Simple
Little Prep and No Baking
Perfect Holiday Edible Gift
So Delicious You Will Probably Eat It All
Happy Eating!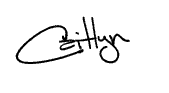 Looking For Another Holiday Treat?! Try these Chocolate Cake Cookies with Peppermint Sprinkle next!
Looking For A Fun Brunch Idea? Try this Chocolate Glazed Donut Recipe!
Shop This Recipe:
I make a small commission for purchases made through the links on this page.
Best Edible Cookie Dough Recipe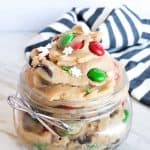 Print Recipe
Best Edible Cookie Dough: Holiday Gift Recipe
The perfect edible holiday gift for friends or family. This recipe also makes a delicious treat just for you! Add in your favorite extras to make this recipe perfect for you!
Ingredients
2

Cups

All Purpose Flour

Toasted *See Recipe Notes

1

Cup

Brown Sugar

1/4

Cup

Granulated White Sugar

1/4

Tsp

Salt

1/2

Cup

Unsalted Butter

Softened

3

Tsp

Vanilla Extract

2

Tbsp

Almond Milk*
Suggested Extras
Sprinkles

Dark Chocolate Chips

M&M's

Crushed Oreos

Crushed Peppermint
Instructions
Combine all ingredients in a large bowl and stir to combine. Add in extras and stir until well incorporated. Enjoy!

If gifting, separate into individual mason jars (I used 3 4oz jars) and decorate if desired. Store in the refrigerator for up to one week. Before eating, remove from refrigerator and let come to room temperature for a softer texture.
Notes
*Toasted Flour: Place flour on a cookie sheet in an even layer and toast in the oven for 7 minutes. This ensures that all potential bacteria is killed and your edible cookie dough is safe to eat! *Or the Milk of Your Choice
Nutrition Facts
Best Edible Cookie Dough: Holiday Gift Recipe
Amount Per Serving
Calories 263
Calories from Fat 97
% Daily Value*
Total Fat 10.8g 17%
Cholesterol 27mg 9%
Sodium 72mg 3%
Potassium 62mg 2%
Total Carbohydrates 37.5g 13%
Protein 3g 6%
* Percent Daily Values are based on a 2000 calorie diet.
*Nutrition info is for the base recipe ONLY and does not include suggested extras.
Nutrition
Calories:
263
kcal
|
Carbohydrates:
37.5
g
|
Protein:
3
g
|
Fat:
10.8
g
|
Saturated Fat:
7.9
g
|
Cholesterol:
27
mg
|
Sodium:
72
mg
|
Potassium:
62
mg
|
Fiber:
0.8
g
|
Sugar:
16
g
|
Calcium:
1
%
|
Iron:
8
%