Well, it's nearly time for another holiday, Valentine's Day of course! Valentine's Day has never been a big deal for our family. We usually make each other homemade cards and make pizza from scratch. So no crazy restaurant dinners overpriced flowers or anything like that here. Although, we are always down for some delicious dessert. Whether you love of hate this holiday I think we can all agree that this Skillet Brownie Sundae is a must. Whether you are sharing with a lover, indulging on your own, or sharing with a friend this chocolate explosion will bring a smile to your face and heart. Top with extras like ice cream, hot fudge and strawberries for the perfect finish.
What Do You Need To Make A Skillet Brownie?
Kitchen tools needed for this recipe:
A Mini (5 or 6 inch) Iron Skillet
A Bowl for Mixing the Ingredients
A Whisk and Spoon for combining the Batter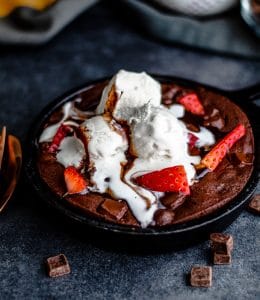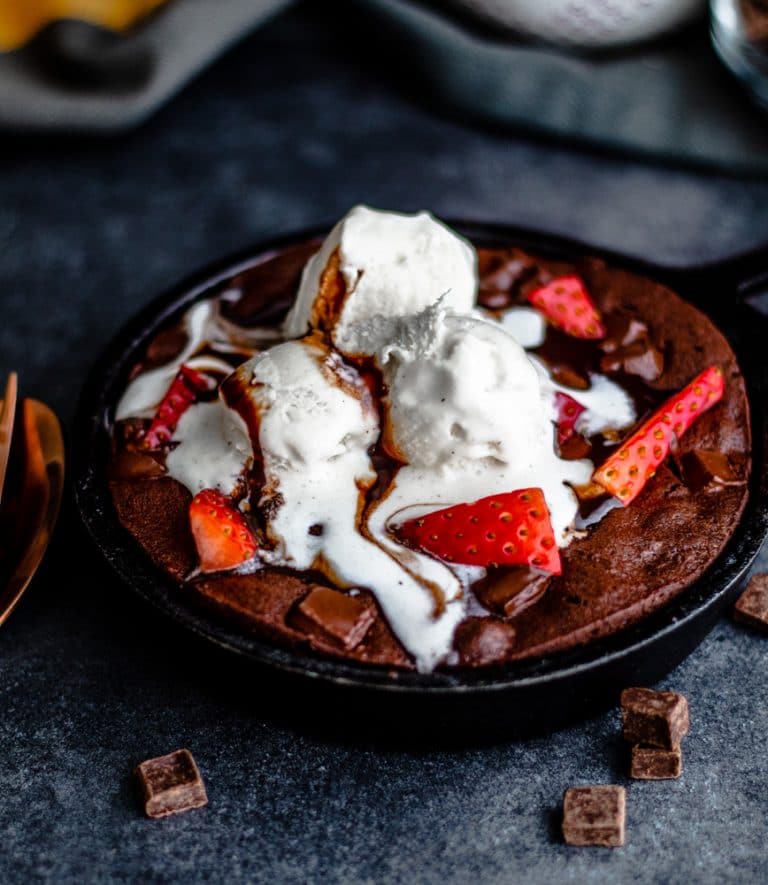 How Do I Make A Skillet Brownie?
-1-
Exactly like a regular brownie, just a mini version! First, you will want to make your skillet brownie batter. To do this, start by combining your sugar and melted butter in a mixing bowl. Whisk together for about a minute. Personally, I just like using a whisk for this recipe, but you could also use a electric hand or stand mixer instead. The batter amount is just so small I don't like having to wash my big mixer, but do whichever method you prefer! Second, add in the vanilla extract and egg to the same bowl and whisk for another minute. Next, combine the remaining ingredients to the bowl and gently stir in until just combined. Finally, add the batter into the iron skillet and bake on the center rack at 350 degrees for 20 minutes. You will know it is finished when a toothpick comes out mostly clean.
Serve with your favorite toppings and enjoy!
Tip: Make sure to not over-stir the batter when you add in the dry ingredients. This will help the brownies get a nice fudgey texture.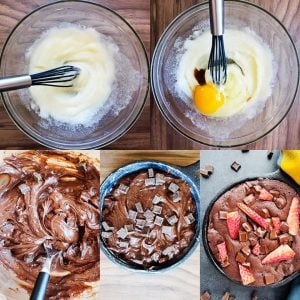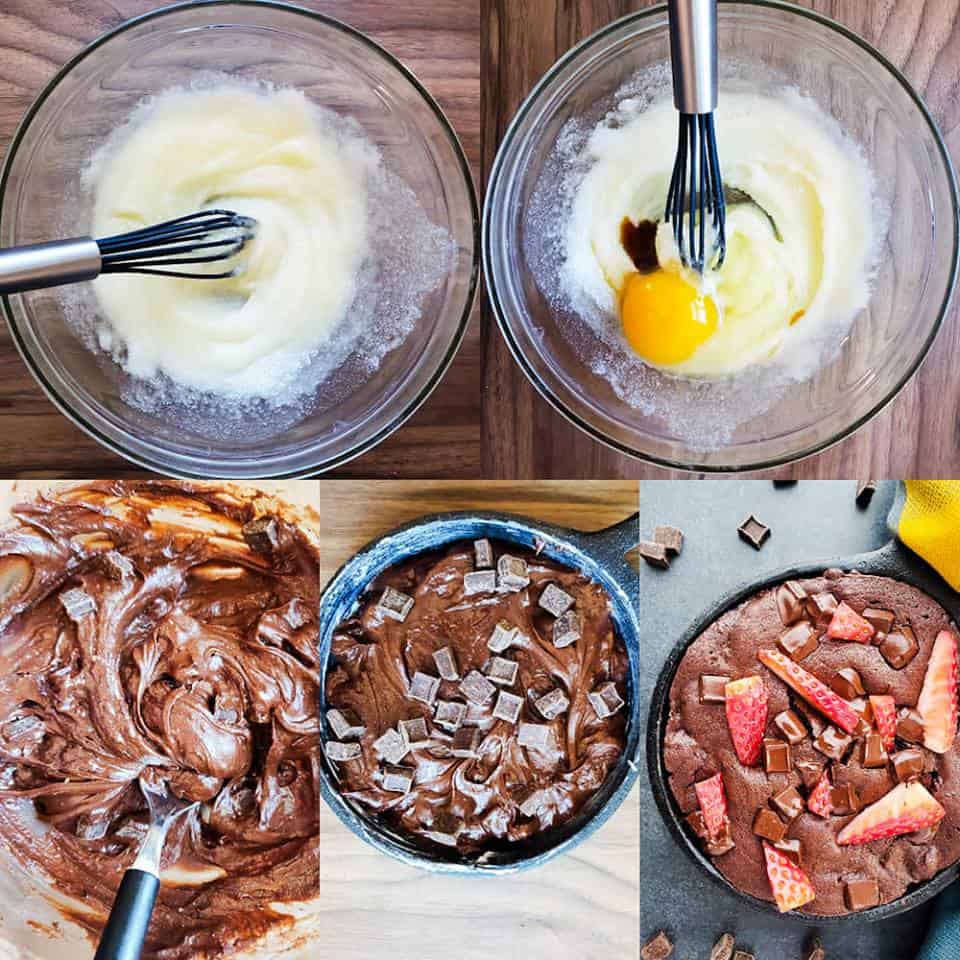 Serving Suggestions
This skillet brownie is dang delicious on its own. You could easily just take a spoon and dig in strait away, or you could add on some extras to make your brownie into a next level sundae. My personal favorite toppings are:
Sliced Strawberries
Hot Fudge
Vanilla Ice Cream
Whipped Cream
Of course you could add anything from caramel, cookies and cream ice cream, sliced banana or whatever you have. This recipe can be customized to your liking and preference, so let your creativity fly! If you find some awesome combos I would love to hear about them in the comment section.
Can I Make This Recipe Bigger?
ABSOLUTELY! A very common size iron skillet in everyone's kitchen cabinet is the 10 or 12 inch size. If you do not have a mini skillet and instead would just like to use what you have I completely understand. Luckily, it is very simple to convert this recipe to accommodate a larger skillet. Plus, more brownie so that is always a win. Simply double all of the ingredients of the recipe and follow the exact same prep steps. Also, keep the same baking temperature; but extend the cook time. I would start with baking for 30 minutes and checking it and adding an additional 5 minutes if needed. It is finished baking when a toothpick comes out mostly clean, so just go by that!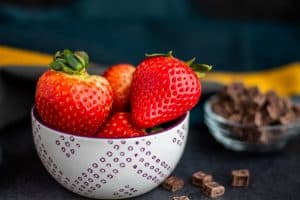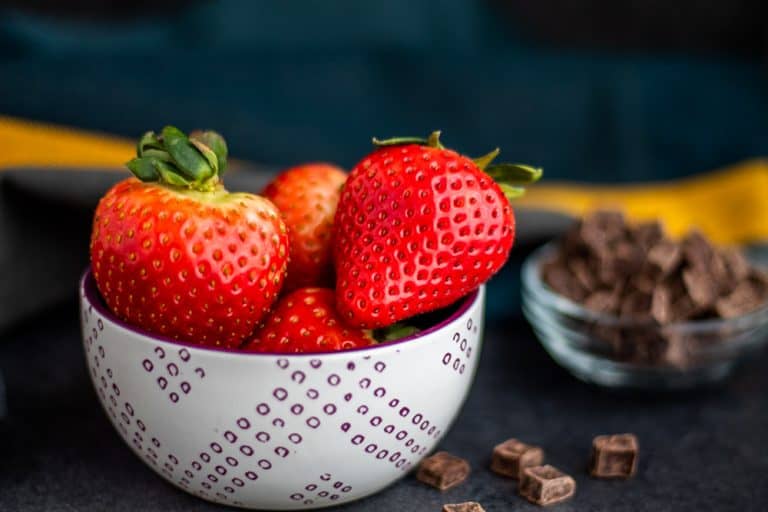 Check Out These Other Scrumptious Desserts!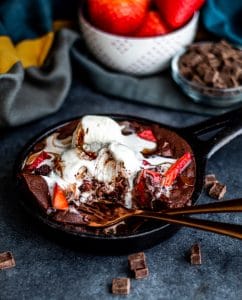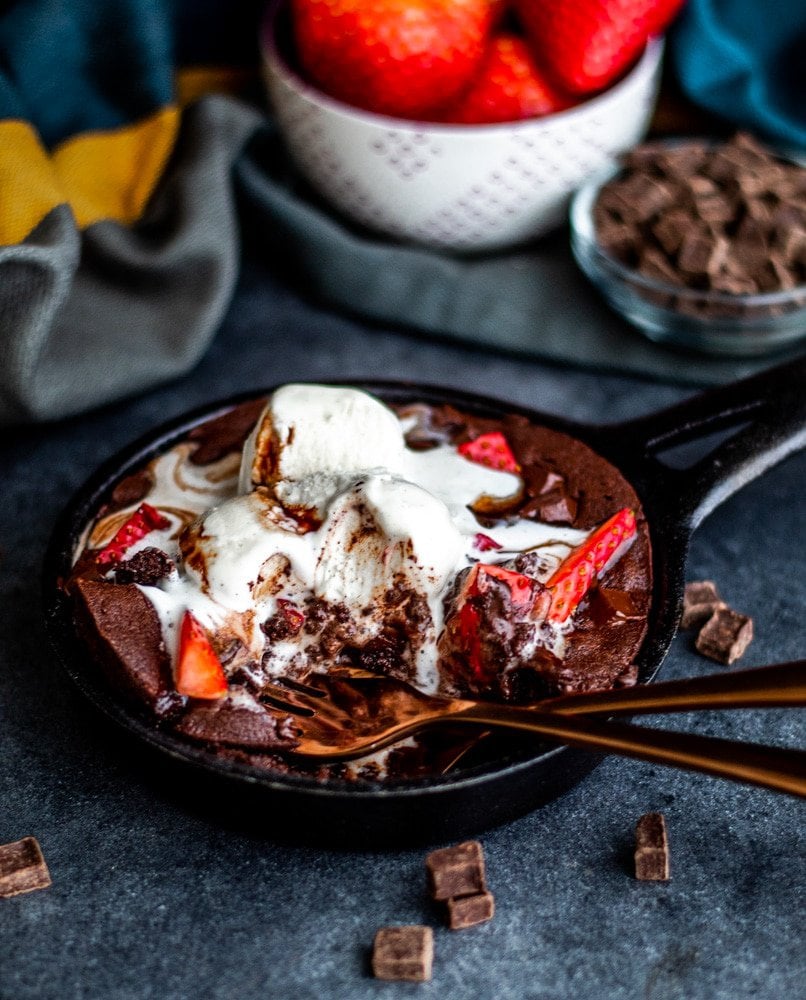 Happy Eating!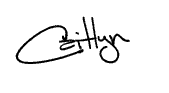 Shop This Recipe:
I make a small commission for purchases made through the links on this page.
Skillet Brownie Sundae Recipe
Print Recipe
Skillet Brownie Sundae for Two
This Skillet Brownie for Two is the perfect indulgent treat for a date-night in or Valentine's Day. Top with your favorite toppings for the perfect finish!
Ingredients
Optional Toppings
Sliced Strawberries

Hot Fudge

Vanilla Ice Cream

Whipped Cream
Instructions
Preheat oven to 350 degrees. In a medium sized bowl combine melted butter and sugar and whisk for 1 minute. Next, add in the vanilla extract and egg and whisk for another 1-2 minutes. I used a hand whisk, but you could also use and electric mixer.

Add in remaining ingredients and stir until just combined. Do not over stir the batter, this will help give the brownie a fudgey texture. Once combined add to a buttered 5-6 inch iron skillet, top with extra chocolate chips if desired.

Bake on the center rack for 20 minutes or until a toothpick comes out mostly clean. Serve warm and top with optional toppings if desired. Enjoy!
Notes
Nutrition Facts
Skillet Brownie Sundae for Two
Amount Per Serving
Calories 380
Calories from Fat 284
% Daily Value*
Total Fat 31.6g 49%
Cholesterol 140mg 47%
Sodium 207mg 9%
Potassium 269mg 8%
Total Carbohydrates 22.9g 8%
Protein 8.4g 17%
* Percent Daily Values are based on a 2000 calorie diet.
*Optional Toppings not included in Nutritional Facts
Nutrition
Calories:
380
kcal
|
Carbohydrates:
22.9
g
|
Protein:
8.4
g
|
Fat:
31.6
g
|
Saturated Fat:
18.1
g
|
Cholesterol:
140
mg
|
Sodium:
207
mg
|
Potassium:
269
mg
|
Fiber:
3.5
g
|
Sugar:
13.3
g
|
Calcium:
6
%
|
Iron:
12
%