These gooey chocolate fudge brownies are so delicious. They are extremely chocolaty, rich and pair perfectly with a scoop of vanilla ice cream. Whenever I need to make a dessert for a get-together I often turn to this brownie recipe. Every time I make them they are always gone quickly! To me that is always the sign of a good recipe! I love to bake and it was the first thing I got good at in the kitchen. Mostly because I loved eating desserts so much more than my actual meal. I have so many great memories of baking with my grandma making cakes, pies, cookies and of course brownies!
Tips to Make the Best Gooey Fudge Brownies!
I feel like in the dessert world brownies can get passed over often. A lot of times cookies are the go-to dessert to bring to a party. I get it, cookies are simple, easy to store and perfect to just pick up and enjoy. Brownies also get looked over because a lot of times they are dry as the desert. Which isn't appealing at all. That is why one of the first things I wanted to master was the perfect gooey chocolate fudge brownies. To achieve the perfect fudge texture I have found a few tricks that make it simple and fool-proof.
-1-
The first tip to the perfect fudge brownie is to whisk the butter and sugars together. This is probably the most important step of all. When I first started baking with my grandma I always wanted to just rush through the steps to get to the finished product faster. This resulted in some very mediocre desserts. After getting a little older and learning some patience I realized how important taking your time and not skipping steps while baking is. When I whisk the sugar and butter I like to do this for AT LEAST two minutes. Ideally, I whisk them for more around four minutes. While this may seem annoying and a step you want to skip or shorten, don't! Anytime I am in a rush and skip on this step the brownies go flat, blah.
-2-
Second, fold in the dry ingredients with the wet ingredients. Again, this is a step I NEVER did when I was younger. I would just toss in the dry ingredients with the wet ones and mix them together. This resulted in the batter being over-worked and fluffy, cake-like brownies. Those are fine, but we are here for the fudgey ones! I like to use a large spoon to gently stir in the dry ingredients (including the chocolate chips) with the wet ones.  I mean combine just until mixed or there is going to be too much air in the batter, and air means fluffier cake brownies. Personally, I like to do the dry ingredients and chocolate chips at the same time, because if I do the chocolate chips after then I tend to over-mix the batter.
-3-
The third little nugget of information is to not over-bake the brownies. It is better to under-bake these, so I always set my timer a couple of minutes less than I think I will need to avoid burnage. If you are using the tooth-pick trick you want it to come out dirty. It won't be runny like the batter, but also not clean. It will be that middle ground. If you over-cook these they are going to be really dense and an unpleasant texture. That is it! Pretty simple right?! Nothing too crazy, you just need to take your time on the batter, not toss everything in at once and set your timer for a little less time.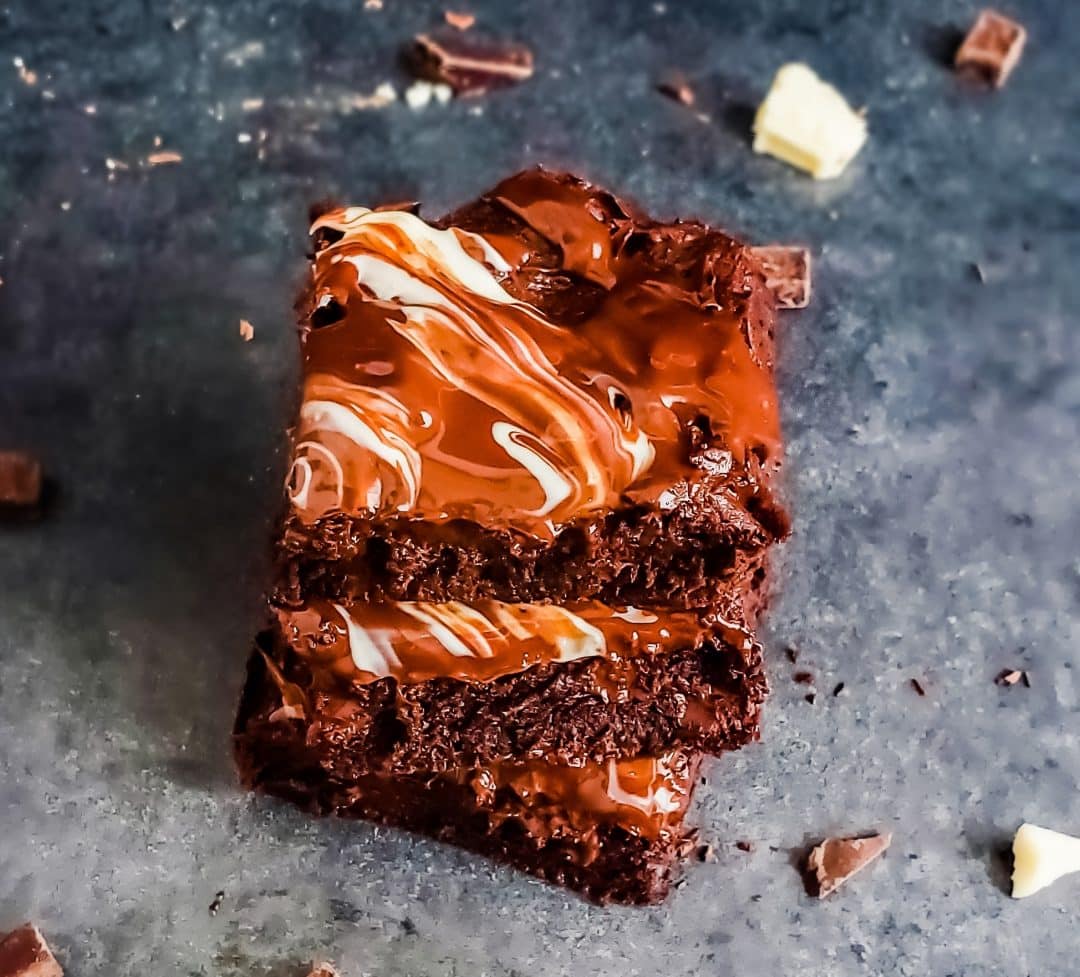 Chocolate Swirl Drizzle
When deciding on a topping for these gooey chocolate fudge brownies I wanted something both pretty and delicious. My family is not a big fan of nuts so I knew those where out. I like to add chocolate chips into the un-cooked batter, so I did not want to add even more on top. Therefore, I decided to add melted chocolate over the top of the cooked brownies. I chose to do two different types of chocolate, semi-sweet and white chocolate. I like to use these because they make the perfect chocolate trip, and swirl well together!
This combination is everything my soul loves. Dark chocolate chips, semi-sweet and white chocolate all combined in a gooey brownie. If you are not a chocolate fan then I would skip the topping. But if you love all things chocolate then you will fall in love with this chocolate combination! When melting the chocolate I do so in the microwave. When melting the chocolate, I do one chocolate at a time in a small bowl. I start with about 20 seconds, stop to stir the chocolate, and then add an additional 10 seconds at a time until the chocolate is warm and completely melted.
I like to do this after the brownies are out of the oven and cooling. That way the chocolate wont re-harden. I like to drizzle both chocolate on at once, then I use the back of a small spoon the gently swirl them together. This results in a very pretty effect, and it is super tasty! Win-win! These brownies are seriously delicious and my family loves when I make them.
Delicious, and Nutritious?
Okay, so these gooey chocolate fudge brownies are not the most nutritious food on the planet, but they are delicious! These are not a weekly treat in our house, but when I make them I savor every single bite! Now, my son is only one so he gets only a tiny bit of one of these as a treat. ("Much too good for children", right!?). While these brownies are delicious I would not recommend eating a whole pan on your own (even though you will want too)! I know these are not low in sugar or have a vegetable hidden in them, but they are so flippin' good!
Therefore, if you are looking to indulge and enjoy a bomb dessert, then these are it. I like to enjoy balance and feel that everyone should treat themselves once in a while. So put the quinoa to the side and enjoy these Gooey Chocolate Fudge Brownies!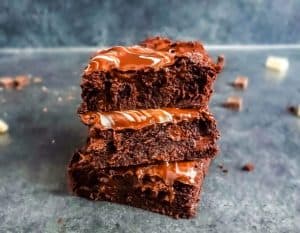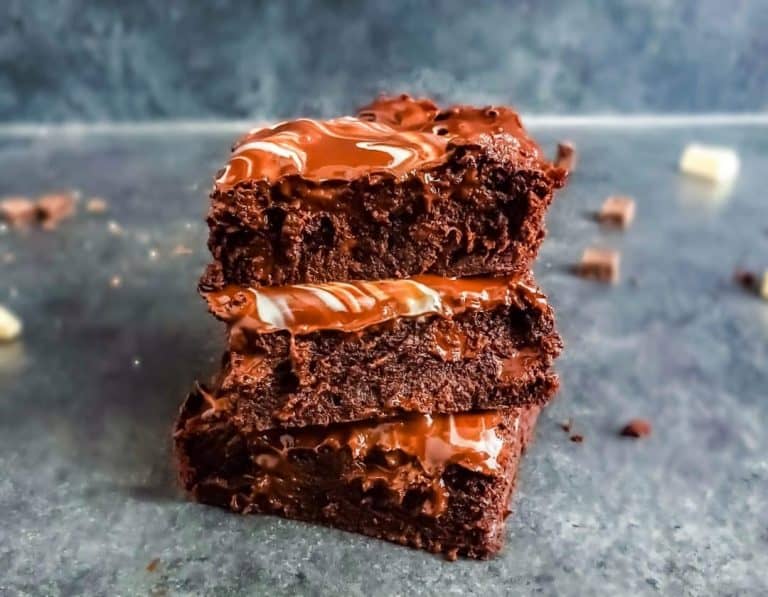 Why You Need These In Your Life
All the Chocolate
Life is Too Short NOT to Eat a Bomb Brownie Once in Awhile
Everyone You Make Them for Will Love You
Yummy, Fudgey, Gooey
Happy Eating!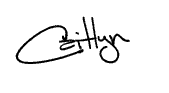 Not feeling brownies? Try this Pumpkin Spice Loaf Cake with Dark Chocolate Swirl!
Shop This Recipe:

*I make a commission for purchases made through the links on this page.
Gooey Chocolate Fudge Brownies Recipe!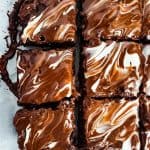 Print Recipe
Gooey Chocolate Fudge Brownies with Chocolate Drizzle
The BEST fudge brownies out there! The perfect combination of chocolate that will leave you wanting more!
Ingredients
Chocolate Fudge Brownies
1/2

Cup

All Purpose Flour

1/2

Cup

Unsweetened Cocoa Powder

1/4

Tsp

Salt

1/2

Cup

Brown Sugar

1/2

Cup

Granulated White Sugar

1

Tsp

Vanilla Extract

1/2

Cup

Unsalted Butter

Melted

1

Tbsp

olive oil

2

Eggs

1

Cup

Dark Chocolate Chips
Chocolate Drizzle
2

Oz

Semi-Sweet Baking Chocolate

2

Oz

White Baking Chocolate
Instructions
Chocolate Fudge Brownies
Preheat oven to 350 degrees. While the oven is preheating, combine flour, unsweetened cocoa powder and salt in a medium sized bowl and set aside.

Combine the melted butter, brown sugar, and granulated sugar in a large bowl. Using the whisk attachment mix with a hand or stand mixer on medium for 2 minutes. Add in the eggs, olive oil and vanilla extract and continue whisking for another 2 minutes.

Sift the flour, unsweetened cocoa powder and salt. Fold in the sifted dry ingredients and the chocolate chips with the sugars, butter, oil. eggs and vanilla extract mix until just combined. Do not over stir!

Pour batter into a 8x8 parchment paper lined pan and cook on the top rack for 20-25 minutes.* Once brownies are finished drizzle with chocolate. Cut into 9 large brownies and serve warm. Enjoy!
Chocolate Drizzle
Place the white chocolate in a small bowl and microwave on high for 30 seconds. Remove and stir and microwave an addition 10 seconds if not completely melted. Repeat this process with the semi-sweet chocolate in a separate bowl.

Immediately drizzle the warm chocolates over the cooked brownies and use a butter knife to swirl them together.
Notes
*I find that cooking these at 23 Minutes gets me the best results. You may need to cook the brownies a little more or less depending on your oven. Also, if you would like to tone down the chocolate swap out the chocolate chips for sliced almonds, dried fruit or walnuts! You could also add on a caramel drizzle to the top!
Nutrition
Serving:
0
g
|
Calories:
274
kcal
|
Carbohydrates:
34.4
g
|
Protein:
5.1
g
|
Fat:
15.3
g
|
Saturated Fat:
8.5
g
|
Cholesterol:
50
mg
|
Sodium:
85
mg
|
Potassium:
105
mg
|
Fiber:
1.8
g
|
Sugar:
23.6
g
|
Calcium:
2
%
|
Iron:
10
%