This Pepper Crusted Steak is cooked to perfection in a cast iron skillet then topped with a creamy mushroom sauce. Perfect for holidays and celebratory dinners!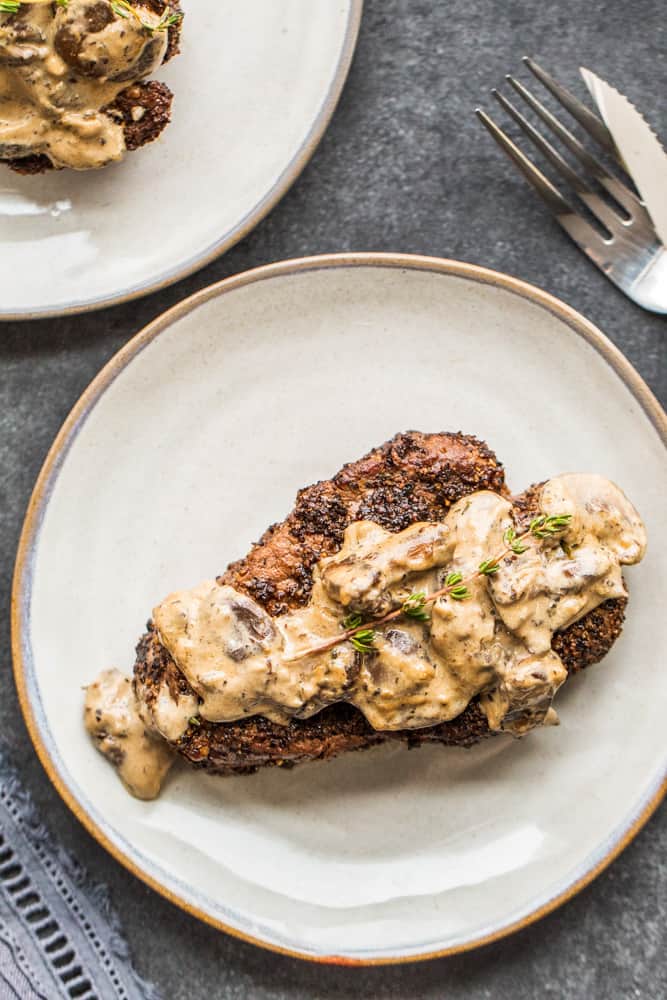 Valentine's Day is right around the corner and that means a tasty date night dinner with your sweetheart! My husband and never go out for Valentine's Day and instead opt to make dinner together at home with our kids. This Pepper Crusted Steak recipe is the best date-night dinner in, celebratory meal or holiday meal for the family. This steak dinner is taken to the next level with my homemade Creamy Mushroom Sauce and pairs great with loads of sides. I hope you and your family love this simple, cast iron filet mignon!
What You Need To Make Pepper Crusted Steak
The kitchen tools you will need to make peppercorn crusted steak are:
The ingredients you will need to make pepper crusted filet mignon are: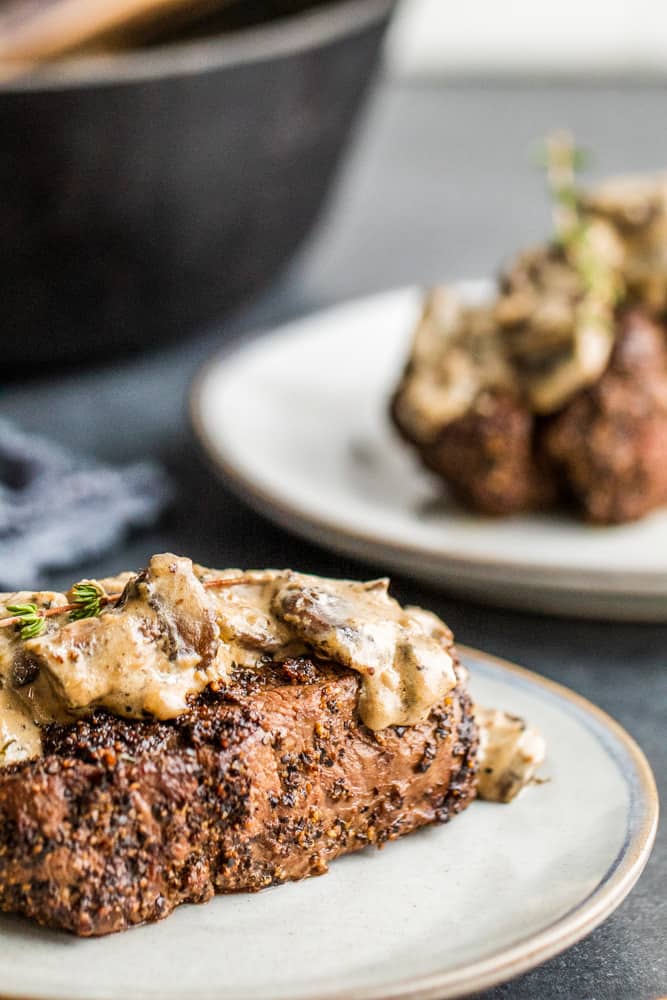 How to Cook a Cast Iron Steak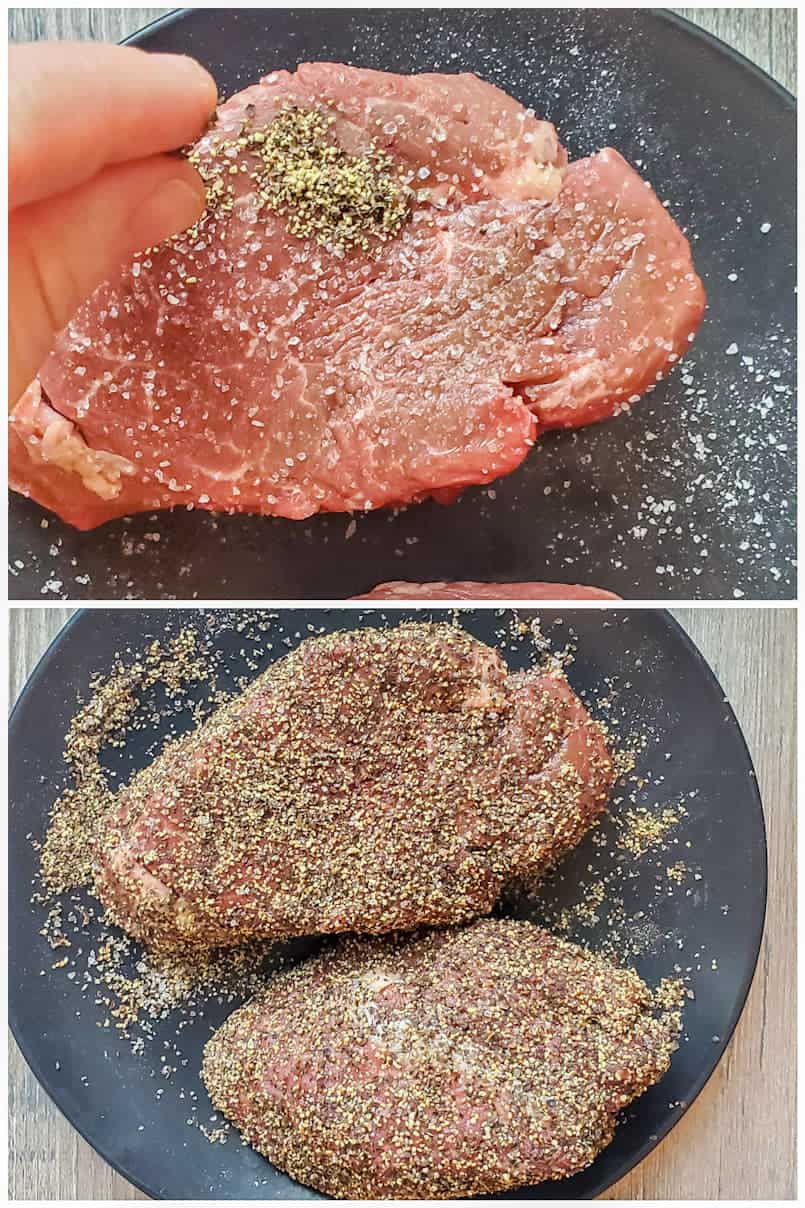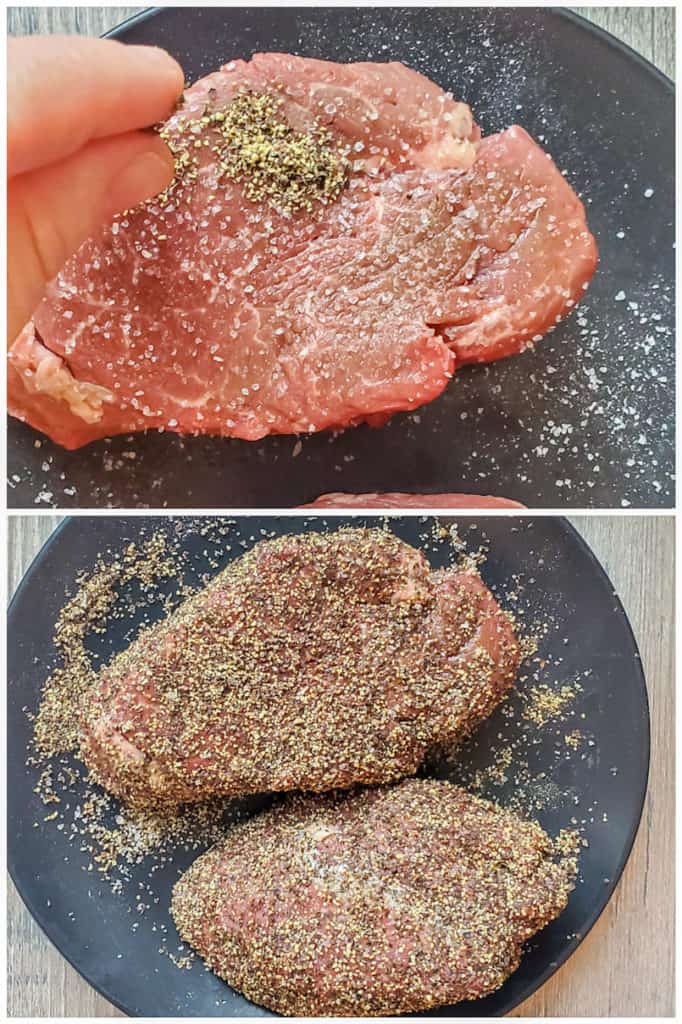 How to Store Leftover Filet Mignon
To store leftover pepper crusted steak, place in an airtight container and store in the fridge for up to 3 days. I HIGHLY recommend re-heating the steak in the oven for 5-10 minutes at 325 degrees F, or just until warm. If you re-heat the steak in the microwave it is going to cook the steak more and leave you with a warm, but well-done piece of meat.
Also, I do not recommend freezing the steak once it is cooked. To get the steak warm again after freezing it would result is a very over-cooked piece of meat.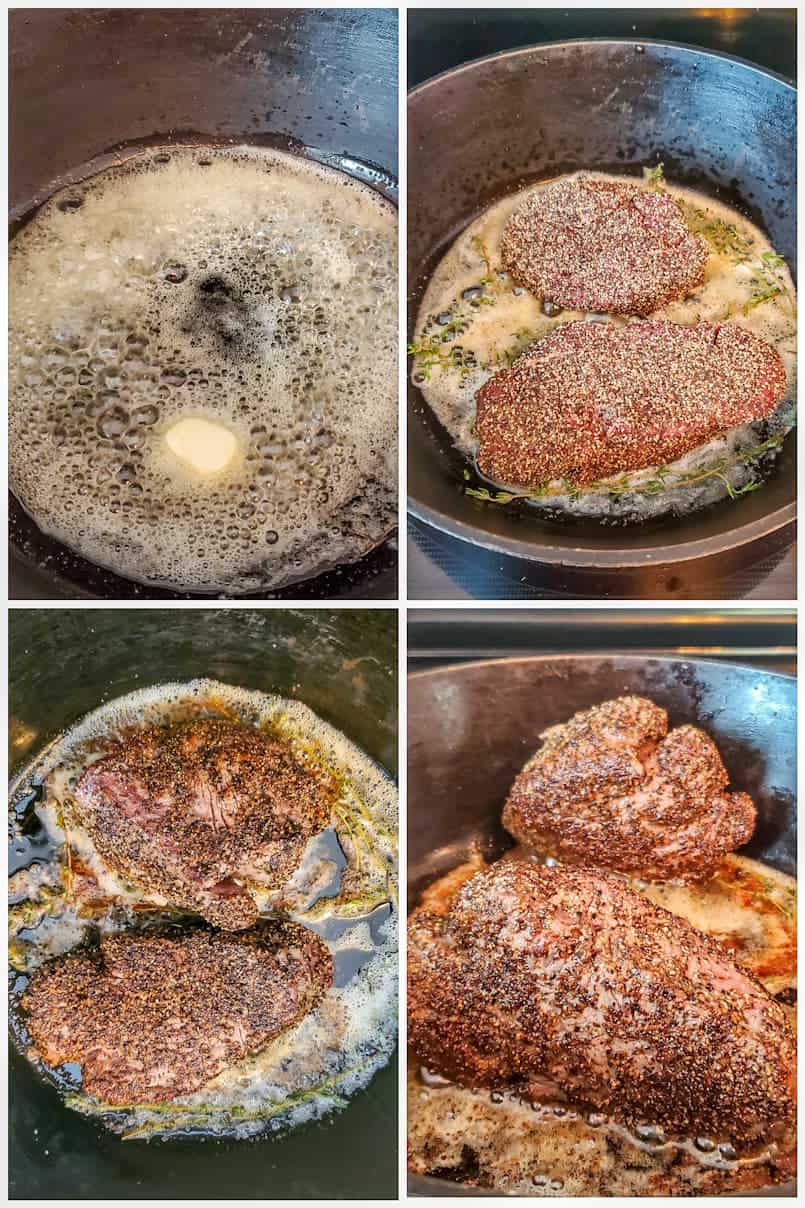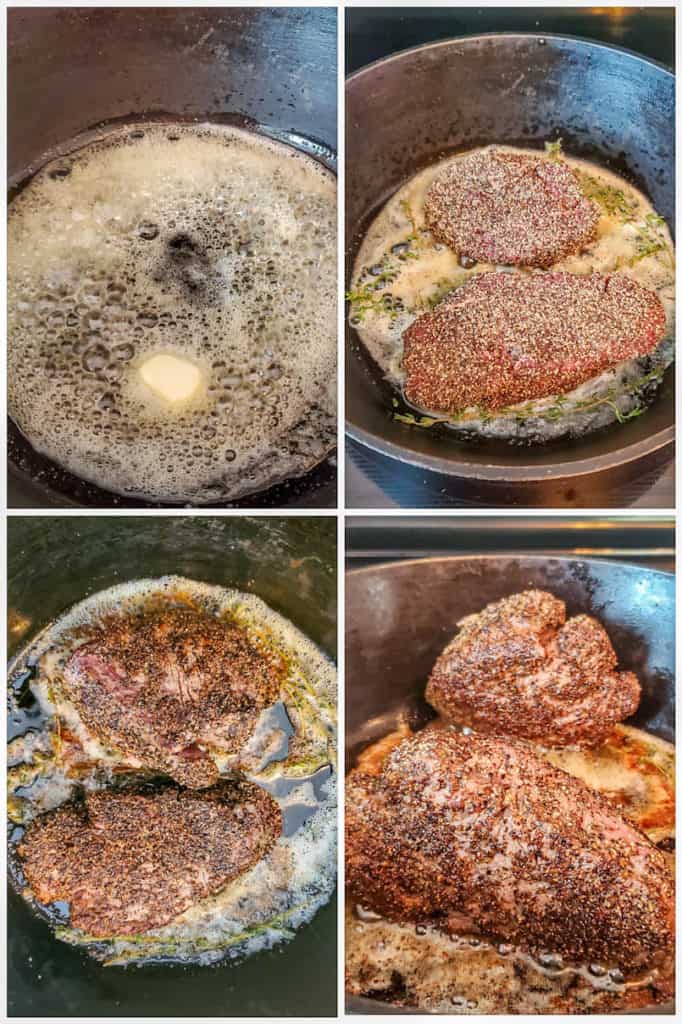 Love Meat Recipes? Check These Out!
Crockpot Beef Short Ribs
Grilled Skirt Steak with Chimichurri Sauce
Sweet and Spicy Chili Mac
Classic Baked Mostaccioli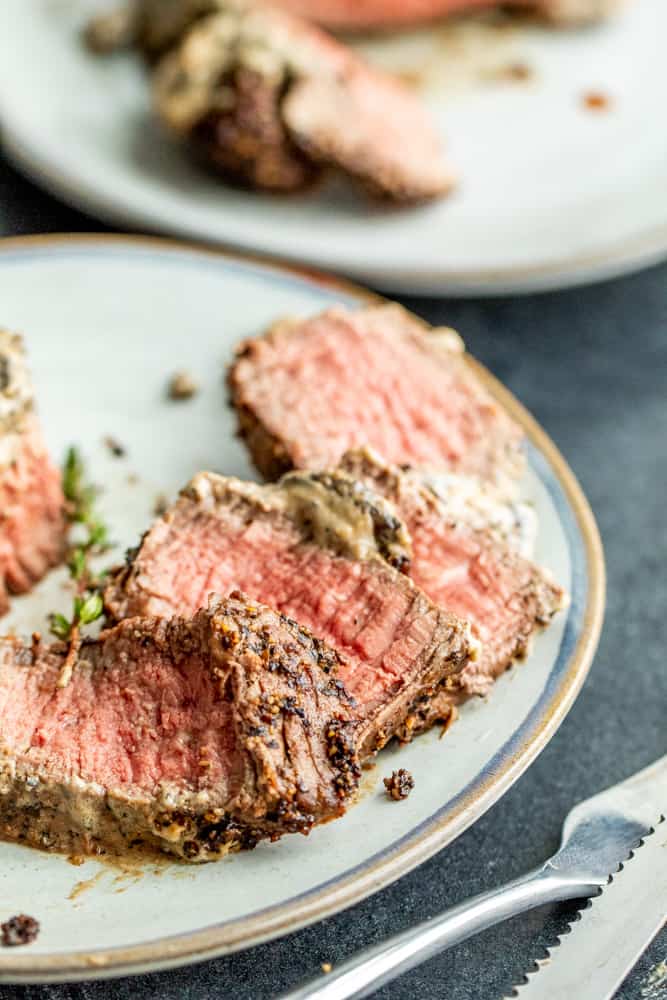 What to Pair Peppercorn Steak With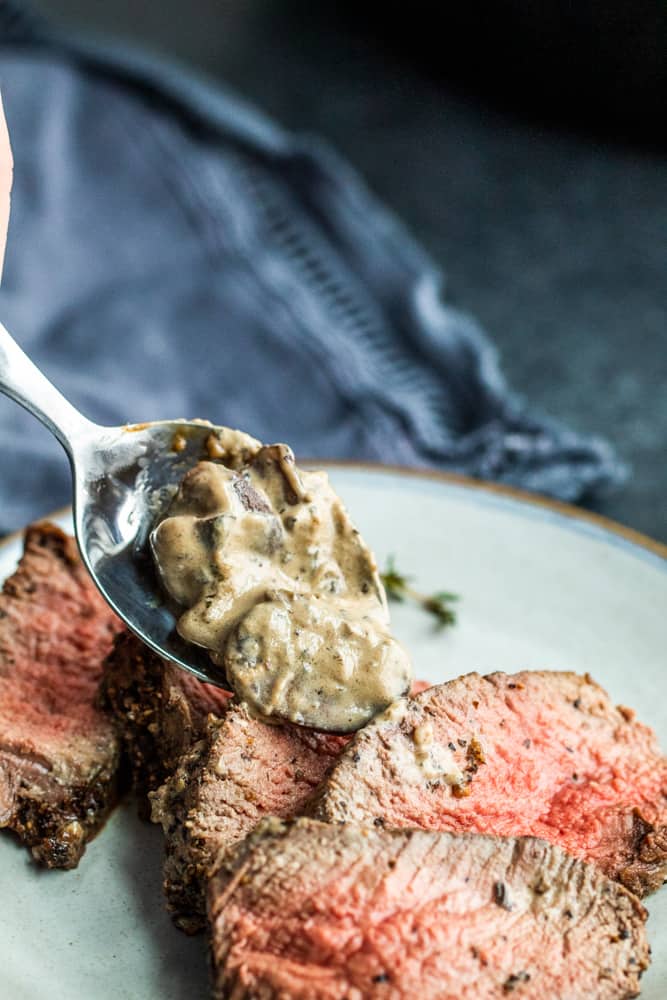 I hope you enjoy this Pepper Crusted Steak recipe! My mom and I both have a serious pepper obsession, and this was always my favorite recipe to request on my birthday growing up! I know, a eight-year-old requesting filet mignon for her birthday (insert eye-roll haha).
Happy Eating!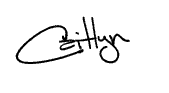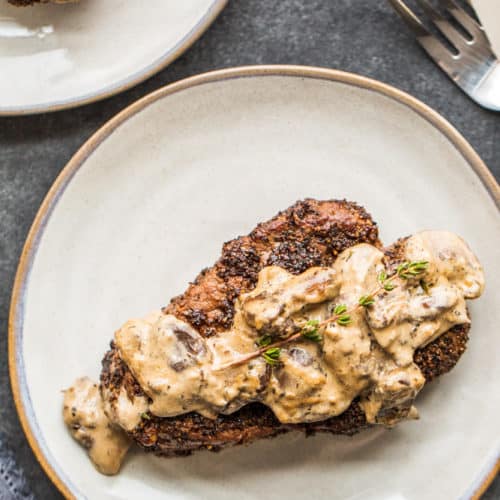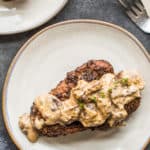 Print Recipe
Cast Iron Pepper Crusted Steak Recipe
This Pepper Crusted Steak recipe is great for a celebration or date night! The filet mignon is cooked in a cast iron skillet and topped with mushroom sauce!
Instructions
Take your room temperature steak and sprinkle all sides of the steak with salt and ground peppercorns making sure it is generously coated. Place the cast iron skillet on a large burner on the stove and let it heat up before adding the butter and olive oil.

Once the skillet it hot, reduce the heat to medium, add the butter and olive oil (it should melt and bubble right away). Place your steak in the middle of the skillet, and let them sit (do not flip them) for 5 minutes allowing the outside to sear.

While the steak is sitting you can add some fresh herbs to the pan as well if using. After 5 minutes flip each steak using tongs and let it sit for an additional 5 minutes without moving it.

After 5 minutes, use your tongs to prop each cut if steak on it's side for 1-2 minutes so the edges can sear. Repeat this until all the edges are seared.

Once all sides are seared check the internal temperature of each pepper crusted steak and continue to cook on low until it reaches your desired temperature. I like mine about medium to medium-rare which is an internal temperature of about 145 degrees F.

Once steaks have reached desired internal temperature, let the steaks rest for 10 minutes before slicing. Serve with creamy mushroom sauce and side of choice. Enjoy!
Notes
Leftover Storage
Store leftover steak in an airtight container in the fridge for up to 3 days. To avoid the steak from getting chewy, re-warm in the oven for 10 minutes at 325 degrees or just until warmed through. Alternatively, you can warm in the microwave for 30-60 seconds.
Steak Options
Filet Mignon is a pricey cut of steak. If this is not an option for you, you can also use tenderloin (which includes the filet), sirloin, top sirloin, or NY Strip. The different cuts will cook at different speeds so be sure to test the internal temperature to make sure it is cooked correctly. Whichever cut you choose make sure each piece of steak is at least 1 1/2 inches thick.
Nutritional Information does not include Creamy Mushroom Sauce.
Nutrition
Calories:
466
kcal
|
Carbohydrates:
4.2
g
|
Protein:
62.2
g
|
Fat:
21.5
g
|
Saturated Fat:
7.2
g
|
Cholesterol:
168
mg
|
Sodium:
250
mg
|
Potassium:
650
mg
|
Fiber:
1.7
g
|
Sugar:
0
g
|
Calcium:
36
mg
|
Iron:
8
mg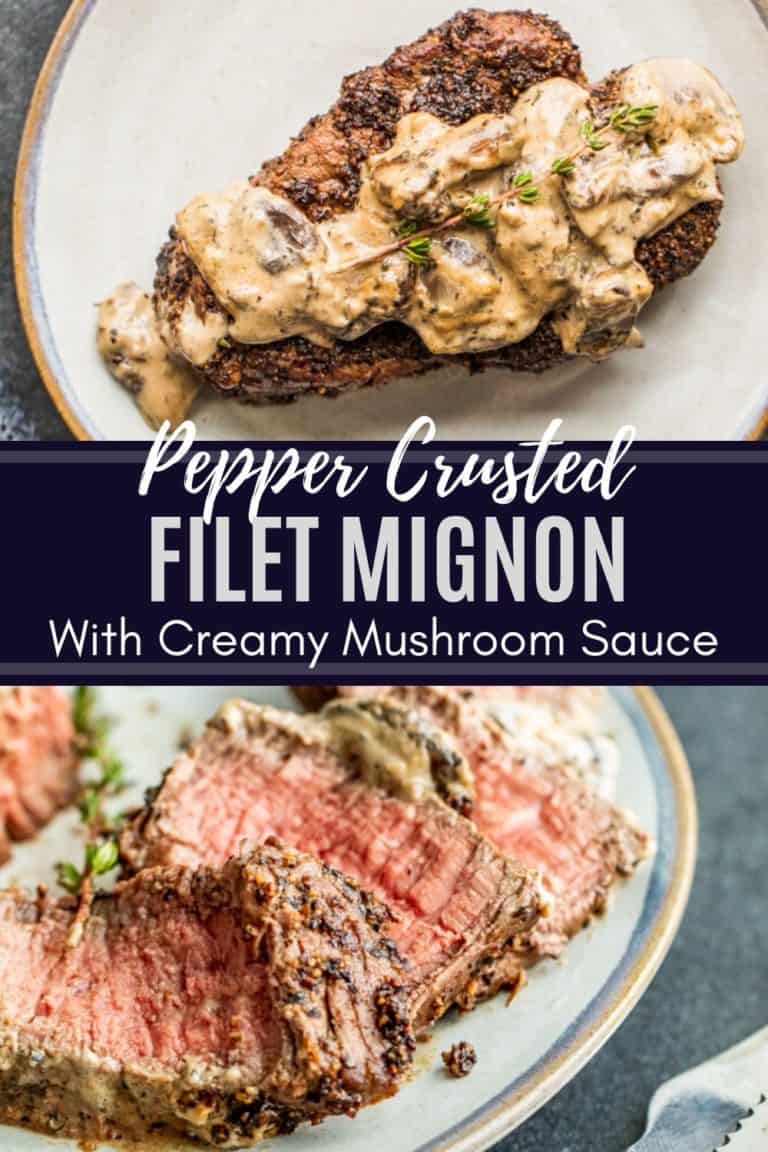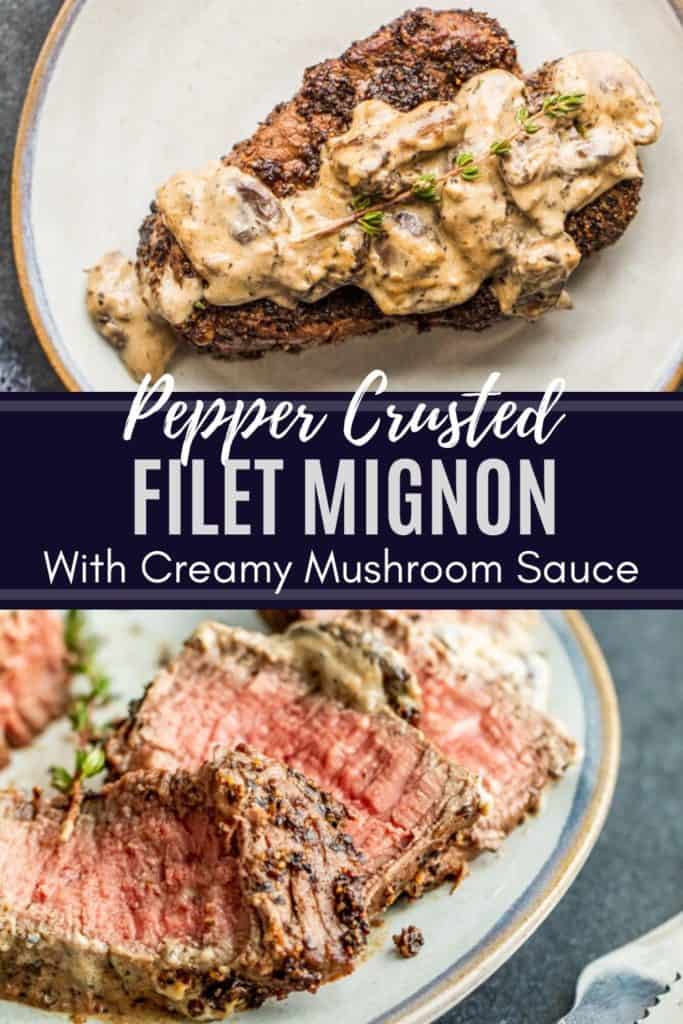 Thank You for Sharing!