Okay, I am finally putting out a new recipe that isn't a sweet. These Crockpot Beef Short Ribs are crazy easy and delicious. The prep work is about 10 minutes, then the crockpot does all the hard work. The result is super tender meat, a herby and wonderful sauce and vegetables you will actually want to eat. This recipe screams fancy Christmas dinner without having to spend all day in the kitchen prepping and preparing. So for everyone out there that wants to be fancy and show off on a holiday or anniversary, but doesn't want to do the work, this recipe is for you.
What Do You Need To Make Short Ribs?
First, for this recipe I really tried to stay around the 10 ingredient mark. I know not everyone has tons of spices and fancy ingredients around their kitchens. I got pretty close with 12 ingredients…but really my head it is 10, because salt and pepper don't count. Either way these crockpot beef short ribs are bursting with flavor and are fall off the bone tender. Now, before you decide to run out and make this recipe, please know that short ribs are not cheap. I envision this recipe eaten on a holiday like Christmas or New Years or even for an anniversary. Alternatively, if you want to go wild on a Monday and splurge, do you! This recipe is completely worth the splurge in my opinion and you will have a hard time not making it a weekly meal.
The ingredients you will need are:
Bone-In Beef Short Ribs aka The Star of the Show
Carrots and Mushrooms
Herbs/Spices: Thyme, A Bay Leaf, Salt, Pepper, and Garlic
Flavor Boosters: Tomato Paste and Butter
Liquid: Red Wine and Beef Broth
The kitchen tools you will need are:
A Crockpot
A Skillet
Tongs, A Slotted Spoon, or a Fork works too
Note: For this recipe I used red wine. This is not required and you can switch it for more beef broth or water. I love cooking with wine, but understand if you do not drink or you do not want your children eating a recipe where alcohol is used. The alcohol is cooked out in the cooking process, but slight notes will remain in the finished product.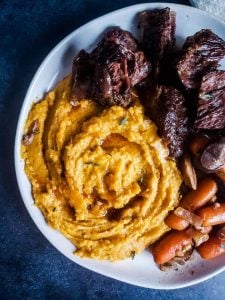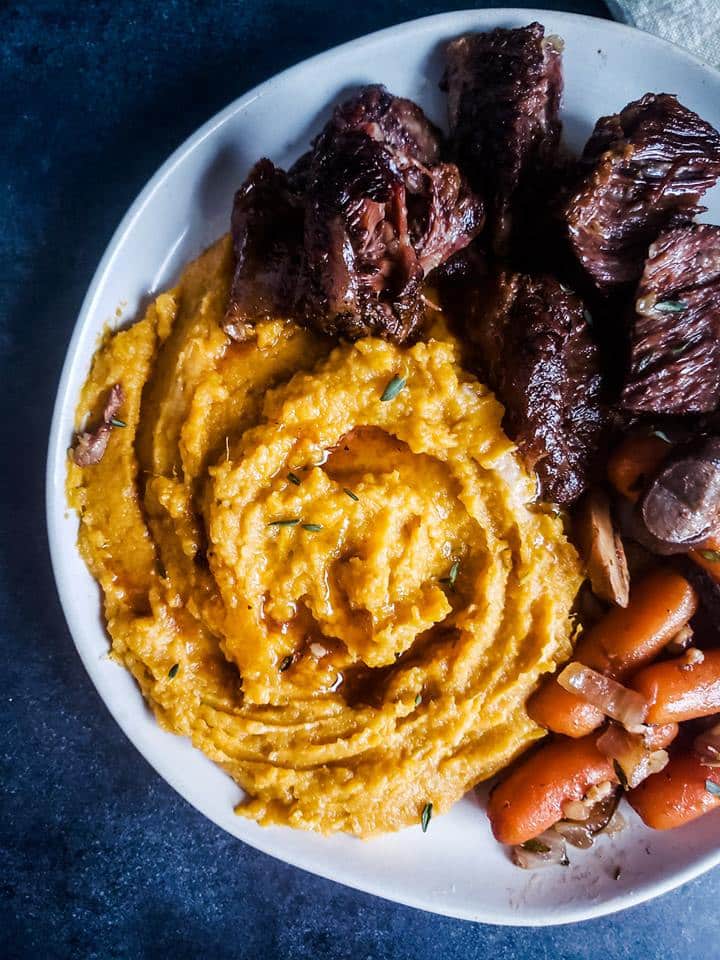 How Do You Make Crockpot Beef Short Ribs?
The recipe is so simple. It is actually crazy how much flavor is developed with very little effort. Crockpots really are a gift we do not deserve. The prep time for this recipe is also short and sweet making this perfect for a busy holiday, date night, or anniversary dinner in. Christmas especially is a holiday where my family is going to multiple houses, opening gifts and playing with said gifts. The LAST thing I want to be doing is messing around preparing an elaborate meal. But, it is Christmas so you also want something special and fancy! Ladies and gentleman meet the short rib. Tons of flavor, fancy, and the whole recipe cooks all day in the crockpot, and you don't lift a finger. The best of both worlds: fancy and lazy.
-1-
First, you will need to brown the meat. Add salt and pepper to all sides of each short rib, then place them in a large skillet over medium heat. Cook each side until browned. The entire process should take you about 5 minutes, each side browns up pretty fast. Alternatively, if you are really in a pinch or just do not feel like doing this step you could just toss them in the crockpot. The texture will be a bite different, but the flavor will remain the same.
-2-
Second, you will add all your ingredients to a large crockpot and cover and cook on low for 6-8 hours. That's it. Now you just hang out and wait and enjoy your house smelling glorious. I told you, super simple, no stress recipe. Once your short ribs are literally falling off the bone, then you know they are finished. Remove the herbs and discard them, and spoon out your veggies and set aside as well. You can serve them whole, cut them up or shred them. I also think this crockpot beef short ribs pair wonderfully with mashed potatoes. I used sweet potatoes, because they are my favorite but regular Idaho potatoes work great too.
Also, please for the love of everything do not get rid of all the beautiful liquid in the crockpot. I like to drizzle mine over my meat, potatoes and veggies. See recipe notes on how to make the liquid a little thicker like gravy.
Tip: Low and Slow is best for this recipe. I recommend cooking them on low in the slow cooker for 8 hours. Alternatively, if you are stretched for time you could cook them on high for 5 hours.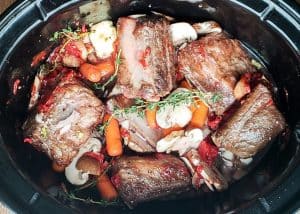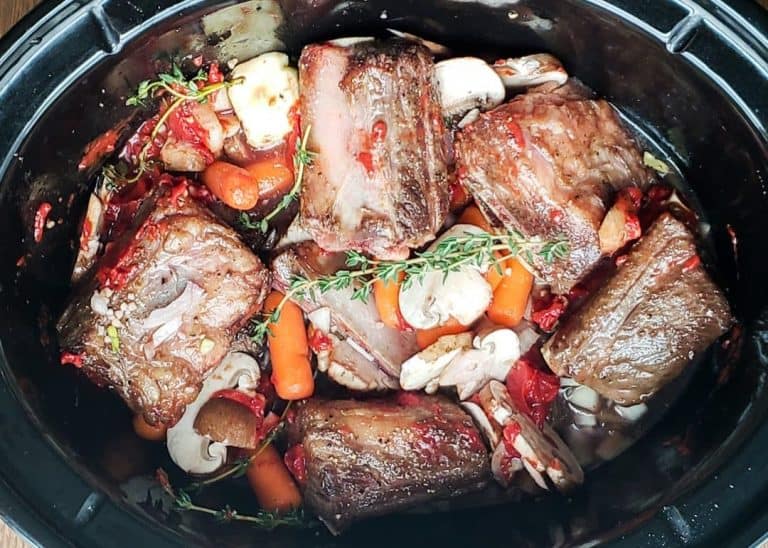 Need More Main Dish Ideas?!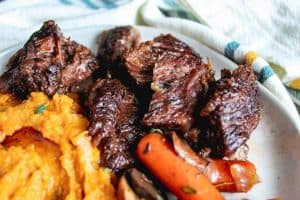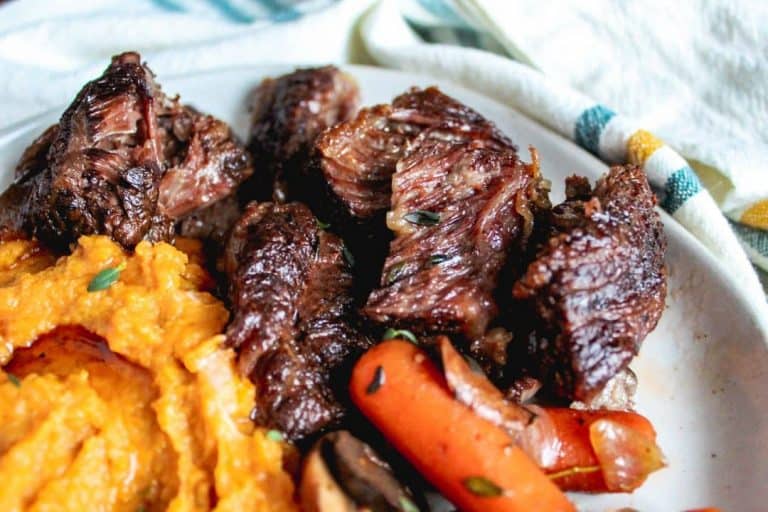 I hope you love this recipe! Whether you are making it for a holiday gathering, anniversary, date night in, or just because on a Tuesday, enjoy! If you have any questions or comments feel free to leave them below.
Why You Need This Recipe In Your Life
The Perfect Combo of Fancy and Lazy
Little Prep Work
Big Flavor with Little Effort
Super Tender Meat
Perfect for Any Occasion
Happy Eating!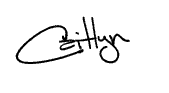 Shop This Recipe:
I make a small commission for purchases made through the links on this page.
Crockpot Beef Short Ribs Recipe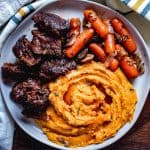 Print Recipe
Crockpot Beef Short Ribs
The perfect holiday dinner, date night in or anniversary meal. Big flavor with little effort!
Ingredients
Crockpot Beef Short Ribs
3

Ibs

Bone-In Beef Short Ribs

3

Cups

Baby Carrots

2

Cups

Mushrooms

Sliced

2

Cups

Beef Broth

1

Cup

Red Wine

Optional

2

Tbsp

Tomato Paste

3

Tbsp

Unsalted Butter

1

Bay Leaf

8

Sprigs

Fresh Thyme

1

Tbsp

Garlic

Minced

Salt

To Taste

Pepper

To Taste
Instructions
Add salt and pepper to all sides of the short ribs. In a large skillet over medium heat brown all the sides of each piece of short rib. About 20 seconds per side.

Add all ingredients to a large crockpot and cook on low for 8 hours, or until meat is falling off the bone. Once finished, remove short ribs and vegetables, set aside. Discard herbs. Don't dispose of the liquid!

Serve immediately with a side of mashed sweet potatoes and drizzle with the liquid* from the crockpot.
Video
Notes
*If you want your liquid to be thicker like gravy combine 1/2 cup water and 1 Tbsp of cornstarch and stir till combined. Add the liquid to a sauce pan over medium heat and whisk in water-cornstarch mixture. Whisk continuously until slightly thickened, about 2-4 minutes.
Nutrition Facts
Crockpot Beef Short Ribs
Amount Per Serving
Calories 739
Calories from Fat 593
% Daily Value*
Total Fat 65.9g 101%
Cholesterol 138mg 46%
Sodium 353mg 15%
Potassium 253mg 7%
Total Carbohydrates 4.8g 2%
Protein 27.2g 54%
* Percent Daily Values are based on a 2000 calorie diet.
Nutrition
Calories:
739
kcal
|
Carbohydrates:
4.8
g
|
Protein:
27.2
g
|
Fat:
65.9
g
|
Saturated Fat:
29.5
g
|
Cholesterol:
138
mg
|
Sodium:
353
mg
|
Potassium:
253
mg
|
Fiber:
1.2
g
|
Sugar:
2.1
g
|
Calcium:
5
%
|
Iron:
31
%