This Southern Sweet Potato Casserole with Sweet Pecan Topping recipe has been in my family for my entire life. The recipe came from my Great Grandma Merritt, my grandma's mother. While she was living in Georgia she needed a recipe to take to her husband's dinner party. Her neighbor at the time shared this recipe with her and it was a hit! Ever since then this recipe has been made every single Thanksgiving with little deviation. My Great Grandma passed away many years ago, but a piece of her lives on through this dish. My great grandma taught it to her daughter, who then taught her daughter who then taught me. I love that I get to carry on the tradition and share it with my family.
What Do You Need To Make Southern Sweet Potato Casserole?
To make this southern sweet potato casserole recipe you will need no special tools and only a few key ingredients.
Sweet Potatoes
Butter
Brown Sugar
Pecans
Crushed Pineapple
Then a few other kitchen staples like eggs and vanilla extract.
There are no special kitchen tools that you need for this recipe. This is perfect, because Thanksgiving is already stressful enough you do not want to worry about buying a bunch of fancy gizmos. For this recipe you will need:
A basic large pot
A 13×9 baking dish
A bowl (any bowl is cool)
Some nice extras to have:
A potato peeler (you can use a knife)
A potato masher (you can use a fork)
A strainer (you can use a spoon to just scoop the potatoes out of the boiling water)
A perfect stress-free recipe to include in your Thanksgiving side dish rotation! While this sweet potato casserole is simple you will want to follow a few steps to nail it every time.

How Do You Make Southern Sweet Potato Casserole?
-1-
First, you will want to peel and chop you sweet potatoes. Try and remove all of the skin you possibly can, this recipe is best with a smooth texture and the peels ruin that. Once you have peeled all your potatoes slice them into 4-6 large chunks each. The chunks do not need to be perfect, just make sure they are sliced so they will cook faster. Once they are sliced add your potatoes to a large pot of boiling water and cook covered until super done. I say super down because they should be extremely soft. I'm talking to the point where you barely touch them with a fork and it slides through. Once soft, drain the water from the cooked sweet potatoes.
-2-
Second, you will need to combine your ingredients. You can combine everything in a large bowl, or just toss everything into the baking dish to save you some clean-up. Let's face it, it is Thanksgiving and the dirty dishes are insane. Save yourself the work and just toss everything in the prepared baking dish.  Whichever you choose, combine everything together and mash and stir using fork or potato masher. You want the consistency to look smooth and velvety. Smooth out the sweet potato mixture until you have an even layer throughout the baking dish.
-3-
Finally, you will need to make the sweet pecan topping. To do this combine crushed pecans, melted butter, brown sugar and flour in a bowl and stir until everything is evenly coated. Place on top of the sweet potato mixture in an even layer and you are done! Ready to go into the oven! You will then bake for about 20 minutes until you can see the sides bubbling. This pecan topping is my family's favorite part! So don't skimp on it! Yes it is a bunch of sugar and butter but, that is what makes it wonderful!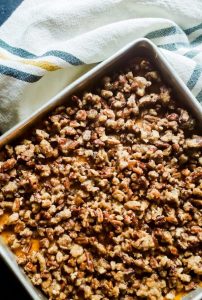 Tips From Grammy
My grandma has been making this southern sweet potato casserole since she was a little girl with her mom. Therefore, she has gotten really, really good at it. Every year my family and I look forward to having her sweet potato casserole while gathered around the Thanksgiving table. Although my grandma has passed the recipe down to my mom and I, we never can make it as perfect as my grandma does. She has that special touch that we will never have. Here are some things that my grandma does every time she makes this recipe.
-1-
First, my grandma really cooks her sweet potatoes. The first time I tried to make this recipe I was boiling the potatoes. I made a comment to my grandma that I thought they were done and for her to tell me the next step. She came over and put the lid back on and said, "No, those aren't soft enough yet." Since then I always make sure that my sweet potatoes are super soft. This makes the potatoes smooth, creamy and perfect. My grandma also likes to combine the cooked sweet potatoes and other ingredients while the potatoes are still hot. This makes the butter melt and the texture even creamier. If you wait until the potatoes have cooled the mix will not combine as smoothly.
-2-
Second, my grandma does not skimp on the sweet pecan topping. The pecan topping is my family's favorite part of this recipe. It fact my mom will steal pecan topping from other pieces and plop it on her own! It is super sweet, buttery and crunchy and the perfect compliment to the creamy sweet potato filling. My grandma uses extra topping on her sweet potatoes every year. So when you make this recipe don't skip on the topping, it is delicious. Also, do not add marshmallows. It is weird and we do not do that here.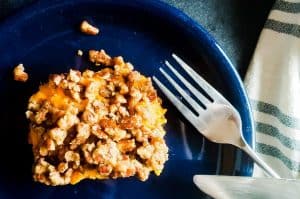 The Perfect Holiday Side
This southern sweet potato casserole makes the perfect Thanksgiving side dish. Every year I look at the table and see so many savory dishes, turkey, gravy, mashed potatoes, green beans, dinner rolls you name it. The majority of the dishes at most families Thanksgiving are savory comfort food. Which I am not complaining about, but this recipe stands out from the pack. It is the perfect combination of savory and sweet and feels like a cross between a side and a dessert. I think about the one dish I could not go without each Thanksgiving and this one is it. Even on years that my husband, son and I are not with our family and somewhere far away, I can make this recipe and feel like I and am there in a way.
Another bonus to this dish is that you can make it ahead of time! Thanksgiving can be stressful and crazy. One main reason for this is the shuffle of different dishes in and out of the oven and the endless amount of dishes. Making this dish ahead of time save you time and stress on the big day. If you make it ahead of time cook the potatoes, mix the filling and add it to your baking dish. Next, make your pecan topping and store it in a separate container. On Thanksgiving just add the topping and pop the southern sweet potato casserole in the oven for about 20 minuets and you are done! My grandma makes the recipe the night before every year and it turns out perfect.
A Recipe That Spans Generations
This recipe is extra special to me because it came from my Great Grandma Merritt. It is very special in my family and every year we talk about her when we celebrate Thanksgiving and eat her sweet potato casserole. When I told my grandma I was planning to share this recipe she was so excited. We chatted about her mom, how she got the recipe, the first time they had it and some small additions that have been made.
After we chatted she decided to go and look through some of her old recipes. When she was going through them she found her mom's original recipe in the mix. My grandma had no idea she still had this and may have never found it. I know that the recipe photo isn't in good lighting or taken as a good angle (thanks mom), but I really wanted to include it in the recipe. I like that I can always have it and look back at it when I feel sentimental.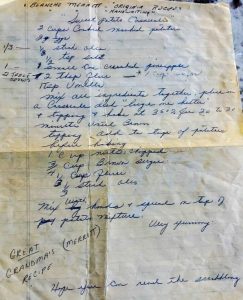 Why Make This Recipe?
Simple and Easy: Exactly what you need on a crazy Thanksgiving day
You can make it ahead of time
Brown Sugar and Butter
No special equipment
Tried, Tested and True Family Recipe
From my family to yours I hope you have a wonderful Thanksgiving! Enjoy!
Happy Eating!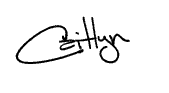 Looking To Complete Your Holiday Menu? Try this Herb Butter Roasted Turkey with Classic Pan Gravy recipe!
Shop This Recipe:

I make a commission for purchases made through the links on this page.
Southern Sweet Potato Casserole Recipe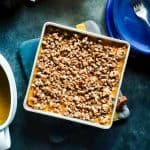 Print Recipe
Southern Sweet Potato Casserole
The perfect Thanksgiving side dish! An amazing combo of creamy sweet potatoes, and crunchy sweet pecan topping.
Ingredients
6

Large

Sweet Potatoes

1

8 Oz

Crushed Pineapple

2

Eggs

3

Tbsp

Unsalted Butter

Room Temperature

1/2

Tsp

Salt

2

Tbsp

All Purpose Flour

1/3

Cup

White Granulated Sugar

1

Tsp

Vanilla Extract
Pecan Topping
2

Cups

Chopped Pecans

1

Cup

Brown Sugar

2/3

Cups

All Purpose Flour

6

Tbsp

Unsalted Butter

Melted
Instructions
Preheat oven to 350 degrees. While the oven in preheating, bring a large pot of water to a boil.

Remove skin then chop sweet potatoes into large chunks and add to pot of boiling water. Cover and simmer until sweet potatoes are very soft and cooked through. About 15 minutes.

Drain cooked sweet potatoes and place in a large bowl. Add remaining ingredients and mash and stir together until smooth. Add to a 13x9 baking dish and prepare pecan topping.

Sprinkle Pecan Topping over the sweet potato mix. Place in oven on the center rack and cook for 20 minutes. Serve Warm and Enjoy!
Pecan Topping
Add all ingredients to a small bowl and stir to combine. Make sure the pecans are thoroughly coated with the brown sugar. Place on top of prepared sweet potato mix.
Notes
If making this dish ahead of time cook the sweet potatoes and combine with the rest of the ingredients. Then smooth into baking dish and cover in the fridge. You can also make the pecan topping ahead of time. Just store everything together and store in a small airtight container in the fridge. Remove from fridge, add pecan topping and bake for 20 minutes. My grandma makes this dish the night before every year and it comes out perfect.
Nutrition Facts
Southern Sweet Potato Casserole
Amount Per Serving
Calories 245
Calories from Fat 115
% Daily Value*
Total Fat 12.8g 20%
Cholesterol 50mg 17%
Sodium 118mg 5%
Potassium 381mg 11%
Total Carbohydrates 31.7g 11%
Protein 3.6g 7%
* Percent Daily Values are based on a 2000 calorie diet.
Nutrition
Calories:
245
kcal
|
Carbohydrates:
31.7
g
|
Protein:
3.6
g
|
Fat:
12.8
g
|
Saturated Fat:
5.8
g
|
Cholesterol:
50
mg
|
Sodium:
118
mg
|
Potassium:
381
mg
|
Fiber:
2.5
g
|
Sugar:
14.8
g
|
Calcium:
2
%
|
Iron:
5
%