Let me just start by saying that myself and my family are NOT vegans. We enjoy meat and cheese very often. That being said I do try and incorporate vegan and vegetarian meals on a daily basis for my family. There are tons of health benefits from a high vegetable and plant based diet. This Spicy Vegan Black Bean Soup is one of my favorite vegan dishes that I make for my family on a regular basis. I love how healthy, simple and fast this recipe is, and that it tastes good and makes you feel good. So before you turn your nose up to a vegan dish, GIVE IT A TRY! And if not there will be cookies next week.
How Do You Make Vegan Black Bean Soup?
Guys. It is so easy! Unfortunately, I feel like it is a common misconception that vegan food is over-complicated. This recipe is so far from that. The hardest thing about this recipe is chopping the vegetables. I like to believe that most of us can chop up some veggies and throw them in a pot. To make this vegan black bean soup you will only need a couple kitchen tools and about 30 minutes! This soup has so much flavor it is hard to believe that it is super healthy. Bonus is that you won't even miss the meat.
-1-
First, you will need to prepare your veggies. This is the hardest part of this recipe, so if you can make it though this step you are home-free. I believe in you. You can use any sharp knife you have to start rough chopping your onion, green pepper, and carrots. Don't worry about making them perfectly even or symmetrical or dicing them super tiny. I like to get mine small enough that they will soften up in the pot pretty quickly. But, not so small that I am chopping for days going bonkers. Aim for the size of your thumbnail. I know super specific unit of measurement there, but you get the idea.
Now when it comes to the Serrano chili pepper you want to get it tiny. I like to use about a teaspoon of Serrano pepper, but if you want this spicier than you can toss more in. If you are making this with kids in mind I would use only a small amount of chili or leave it out completely. Once you have everything chopped, toss them into a large pot with a little oil, salt and pepper and let them simmer away.
Next, once your veggies are pretty much cooked and soft, go ahead and add in your minced garlic and black beans. It is a good idea to add these at the end, because if you add them strait-away your garlic will be burnt and beans a mushy mess. Burnt garlic is the worst so don't get over-excited and add it in right away. Now that you have all your veggies soft you can add in everything else and let them get to know each other in the pot.
-2-
Finally, you will let your spicy vegan black bean soup simmer. Since all of the veggies are already soft and cooked through, you do not have to let this soup simmer for hours. Of course you could let it simmer longer to let the flavor develop more. I like to let this soup simmer for at least ten minutes. This soup in my mind is a fast, toss everything in and then eat kind of recipe. I make this often on weeknights when I have put dinner off till the last minute, and am trying to avoid frozen oven-food for dinner. Whether you simmered the soup for ten minutes or an hour your final step is to blend everything up.
Once your soup has simmered you will then blend it up. This gives the soup it's thicker texture and makes it so you don't feel like you are just eating a bunch of vegetables. You can use either a immersion or stand blender. Whichever you have or prefer will work. I like to pulse the soup in my stand mixer to get the soup to a thick and semi-smooth texture. Personally, I like to leave some chunks in mine, but you can make it to fit you and your family's personal texture preference. I like to blend the entire soup, but you can also take half the soup, blend it then stir it back in so you will still have some whole vegetables. Now you are ready to eat! Top with things like, avocado, fresh cilantro, a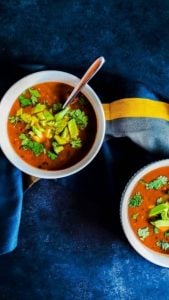 nd lime juice to give the soup a perfect finish.
Best 30 Minute Meal
This spicy vegan black bean soup recipe is not only great because it is simple, but because it is FAST. The fact that I can get a healthy meal out to my family without having to spend hours of prepping and cooking is huge. A lot of 30 minute meals get a bad rep because they cut steps that result in lack of flavor development. This recipe proves that an incredible dinner can be prepped, cooked and on the table in under 30 minutes. Good food doesn't have to take tons of time, effort or skill to accomplish.
Before becoming a mom a 30 minute meal didn't really mean much to me. I had the time and freedom to make food that took hours if I felt like it. Now, that is just not realistic all the time. Sure, because I love to cook and it is a passion of mine I take time to do it often. But when it hits 5pm on a crazy Wednesday I am so thankful for a great 30 minute meal. This soup has saved my sanity more than once!
My No Excuse Meal
I sometimes call this soup my, "No Excuse Meal." Some days I can lack drive, motivation or time to get dinner out. My brain will go to take-out or just pulling something out of the freezer and popping it in the oven. I quickly realize that those two options take nearly the same amount of time as this soup and are so much worse for our bodies. Therefore, whenever I walk to get that frozen pizza with a cardboard crust I think of this soup and know that there is a far better option. Not to mention tastier too!
Cooking can seem intimidating to a lot of people, so much so that they choose to not try it at all. This is a recipe to try and make if you are a newbie or a wizard in the kitchen. It takes no cooking knowledge or skill to pull this off. So skip the frost-bitten frozen burrito and impress your mother-in-law with this soup!



Oh So Healthy
To start, healthy food doesn't have to suck. It can taste like something other than dirt. Something also doesn't have to be smothered in sauce, fried, or loaded with sugar to leave that happy feeling in your tummy. Trust me, I love a buffalo chicken wing dredged in ranch as much as the next person, but I think we can all agree that life is best with balance. I apply that concept to my food as well. Healthy vegan soup on Monday and pasta covered in cheese on Wednesday. Balance. This spicy vegan black bean soup is packed with tons of vitamins and nutrients to fuel your body while satisfying your taste buds.
Black Beans
Tons of Fiber
Plant Based Protein
Potassium and Magnesium
Virtually Fat and Sodium Free
Black beans are an incredibly healthy plant based protein source. Along with protein they contain tons of fiber and a good source of potassium and magnesium. Better yet is they are extremely low in unhealthy fats and sodium. Black beans are also shown to aid in weight loss, bone health and strength, and can even help in cancer prevention. They are also great for diabetics and help control blood sugar levels. Added bonus to plant based protein? NO CHOLESTEROL.
Carrots
Carrots are rich in vitamin A and antioxidants along with fiber, low in fat and a good source of of vitamins and minerals. Carrots can help improve overall health along with supporting cardiovascular health, immune function, eye health and vision, and aid in disease prevention. Also, carrots are great for a diabetic diet and control blood sugar.
Green Bell Pepper
Just one green bell pepper contains more than 100% percent of an average adults daily Vitamin C needs. This helps with iron absorption in the body and reduces the risk of anemia (iron deficiency). Vitamin E helps support overall health, and can increase muscle and nerve health.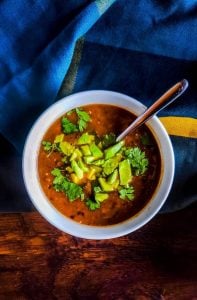 So Why Give This Spicy Vegan Black Bean Soup A Try?
Fast- Ready In Under 30 Minutes
Simple- If You Can Chop a Vegetable, You Can Make a Soup
Idiot Proof
Healthy- Protein, Iron, Fiber, Little Fat, Potassium AND Tons Vitamins
Vegan
DELICIOUS
Will Trick Your Friends and Family Into Thinking You Know What You Are Doing
Happy Eating!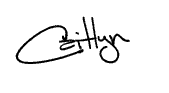 Looking for more fast dinner ideas? Try this Easy Margherita Pizza Recipe or Roasted Red Pepper Tomato Soup next!
Maybe a snack instead? Try this Morning Glory Muffins Recipe!
I make a commission for purchases made through the links on this page.
Vegan Black Bean Soup Recipe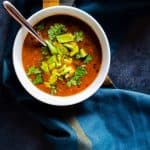 Print Recipe
Vegan Black Bean Soup
The perfect 30 minute meal! Simple, healthy and packed with flavor this Vegan Black Bean Soup will be your new go-to meatless Monday favorite!
Ingredients
1

Tbsp

Olive Oil

1

Yellow Onion

Chopped

1 1/2

Cups

Carrots

Chopped

1

Green Pepper

Chopped

1

Tsp

Serrano Chili Pepper

Finely Diced and Seeds Removed-Optional

2

Cloves

Garlic

Minced

1

Tsp

Cumin

1/2

Tsp

Smoked Paprika

1/4

Tsp

Oregano

1/4

Tsp

Red Pepper Flakes

Optional

2

15 Oz Cans

Black Beans

Rinsed

1

8 Oz Can

Tomato Sauce

2-3

Cups

Vegetable Broth*
Optional Toppings
Avocado

Diced

Lime Juice

Fresh Cilantro
Instructions
In a large pot add your olive oil, onion, carrots, green pepper and serrano chili pepper and cook over medium heat until vegetables are soft, stirring occasionally. About 7 minutes.

Add minced garlic and black beans and cook for another minute until garlic is fragrant.

Add all the remaining ingredients and bring to a boil. Reduce heat and cover for 10 minutes.

Remove from heat and using a stand or immersion blender, pulse until soup texture is smooth with some vegetable chunks remaining.

Serve warm with additional optional toppings. Store leftovers in an airtight container and refrigerate for up to 3 days. Enjoy!
Notes
*Start with 2 cups and you can always add more liquid if it seems too thick.  *If making for young children you can always leave out the pepper and spice!
Nutrition Facts
Vegan Black Bean Soup
Amount Per Serving
Calories 392
Calories from Fat 60
% Daily Value*
Total Fat 6.7g 10%
Cholesterol 0mg 0%
Sodium 489mg 20%
Potassium 1193mg 34%
Total Carbohydrates 65.1g 22%
Protein 21.4g 43%
* Percent Daily Values are based on a 2000 calorie diet.
Nutrition
Calories:
392
kcal
|
Carbohydrates:
65.1
g
|
Protein:
21.4
g
|
Fat:
6.7
g
|
Saturated Fat:
0.6
g
|
Cholesterol:
0
mg
|
Sodium:
489
mg
|
Potassium:
1193
mg
|
Fiber:
23
g
|
Sugar:
9.5
g
|
Calcium:
8
%
|
Iron:
33
%