This classic baked mostaccioli makes an appearance at nearly every family party we have. One would think we would get tired of eating it, but no it is so good I could eat it hourly. My grandma has been making this recipe for as long as I can remember. My mother even told me that she ate this pasta as a kid! I won't give away her age, but that's a long time. This recipe is simple enough to make and can work as a weeknight dinner, or as a side for any type of party. Even better is that this pasta can be kept warm in a crock pot to enjoy all day. This recipe has been a stable in my family for many years and I hope you love it as well!
How Do You Make Baked Mostaccioli?
Making mostaccioli is no harder than making spaghetti. And I think we can all agree that spaghetti is pretty dang easy! To make baked mostaccioli you will need to start with your sauce. Then you will brown the ground beef and Italian sausage and cook the pasta. Finally you will bring it all together to bake to cheesy and saucy perfection. This recipe is great because there are multiple short cuts that can make this recipe your new go-to weeknight pasta dish. This classic baked mostaccioli can also be made completely from scratch and simmer for hours just how my grandma makes it. Whether you are making the cheat sheet version, or grammy's there are some key steps that need to be taken for both.
-1-
First, you will need to make your sauce. For this classic baked mostaccioli recipe I love to use my Perfect Marinara Sauce. Making your own sauce can seem intimidating and time consuming. In reality it is very simple and only requires an extra 30 minutes. Personally, I like to make my sauce ahead of time. That way I can save on prep work in the evening and not have to sacrifice flavor. You can store the sauce in an airtight container or jar for up to five days in the refrigerator. Alternatively, it can also be frozen! I like to make a massive batch of my sauce then store it in freezer bags and pull one out whenever I need it.
If making your own sauce is not something you want to tackle, I understand. You can use store-bought pasta sauce for this recipe and it comes out wonderfully. I recommend using a simple marinara sauce with ingredients like garlic and basil. You will need two jars of pasta sauce for this recipe as well, so keep that in mind. This is to help avoid the pasta from getting too dry in the oven or crockpot. It also helps the pasta re-heat better for leftovers. Once you have your sauce, it is time to put it all together.
-2-
Second, you will need to combine your ingredients. Whether you are using homemade or store-bought sauce the rest of the recipe remains the same. Thoroughly cook your ground beef, and Italian sausage so no pink remains, then drain the excess grease. I like to add onion and garlic to the meats as they cook to develop more flavor. In the same pan you will will combine the sauce, cooked meat, and spices. Cover and let this simmer for as long as possible.
While the sauce is simmering I like to cook my pasta. This way I can allow the sauce to simmer and get the pasta done as the same time. This helps save time on the recipe by multitasking and combining a couple steps. For this classic baked mostaccioli recipe you will want to use mostaccioli noodles. Unfortunately, my local grocery store was out and I had to use rigatoni instead. This is a fine alternative, just use what you are able to find. Don't stress about not having the exact noodle. No matter, whatever noodle type you use make you slightly under-cook it. The pasta will continue to soften when baked and it with get soggy and fall apart if the noodles are over-cooked.
 -3-
Third, it is time to assemble your pasta and bake it. Once your noodles are cooked and sauce simmered it is time to put it all together. I like to dump everything in a large 13×9 baking dish and mix it that way. If your skillet with the sauce is large enough you could add your noodles to that and mix it that way. Whatever you prefer just make sure all the noodles are coated with sauce! I also like to add mozzarella cheese mixed into the pasta and sprinkled over the top. Again, you can do both, one or the other or neither! This is dependent on personal taste and what your family and friends prefer. If they are anything like mine then the more cheese the better. If you are adding cheese to the top cook the mostaccioli until the cheese is melty and bubbling!
That is it! You did it! This recipe is ready in about 40 minutes if using pre-made homemade marinara sauce or store bought sauce making this a wonderful weeknight dinner option!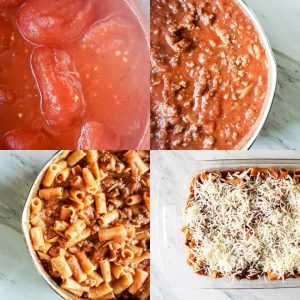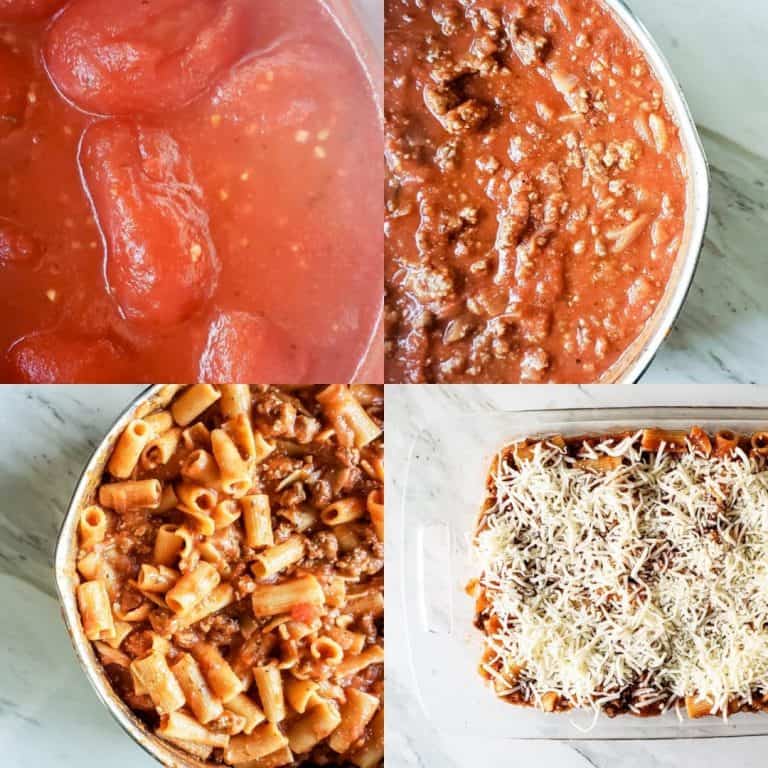 Tips and Tricks
First, don't skip the Italian sausage. You can use either mild or hot Italian sausage, just make sure it is not left out. I know with recipes the use a mixture of meats it can be tempting to pick one or the other. Do. Not. Do. That. Here. The Italian sausage is what makes mostaccioli, well mostaccioli. The flavor the meat gives sets this pasta apart from its cousins spaghetti, and lasagna. If you worry about wasting the leftover meat you can store it in the freezer and save it for another recipe. You could also cook all the meat at one time and add the extra meat to breakfast burritos or eggs for a morning meal the next day. To put into perspective of how important the Italian sausage is to this recipe, my grandmother would disown you if you left it out.
Second, don't skimp on the marinara sauce. I touched on this in the previous section, but would like to say it again because I really do not want you to have dried out mostaccioli. It is going to feel like you are using too much sauce. It is then that you know you are using the perfect amount. If you only use the equivalent of one jar of marinara sauce your pasta is going to be as dry as the Sahara at noon. Whenever you bake pasta or plan to store it in a crock pot, sauce it up. This hack has saved countless pasta dishes through the years. If you take away one thing from this, just remember, there is no such thing as too much sauce.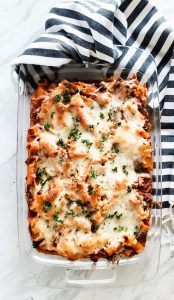 Classic Baked Mostaccioli For A Crowd
This classic baked mostaccioli recipe is versatile and can work as a weeknight meal and side dish at parties. At almost every family gathering, holiday party, or event this pasta is served. My grandma bakes it then places it in a crockpot on warm to be munched on all day. When she does this she also adds some extra marinara sauce (yes, even more sauce) to ensure that is does not dry out. Every time my grandma asks if there is a dish she can bring, or something she can make for a party we all give he the same answer: mostaccioli. My grandma will make a double batch of this recipe, and there is rarely any leftovers. It is that good.
This dish can also work great as a holiday party pasta dish. I know a lot of times people associate mac and cheese with the holidays, but this recipe can work just as well! Each year for Christmas Eve my family throws a big party. One of the topics most discussed beforehand is food and what everyone is bringing. For a long time my family had the classic holiday foods: turkey, ham, mac and cheese, greens beans. The usual stuff.
In recent years, we have begun to have more of a theme to our menus. One year we had all Mexican food, another year we all made different kinds of macaroni. This year I am going to push for either Asian and sushi (they probably won't go for this) or Italian. If we do Italian this year I am most defiantly making this classic baked mostaccioli! So instead of doing the same ole pasta dish this holiday season try something new out!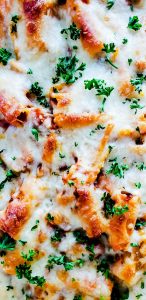 Grandma's Specialty
I love this recipe not only because it is delicious, but because it is my grandma's. As you may have come to gather from some of my other recipes, my grandma is an incredible cook and an inspiration to me. She is extremely humble, never brags and is always willing to share her food and recipes with anyone. Each time I tell her I am going to make one of her recipes she gets really happy and says something like, "you really were paying attention, huh?!" Even though I follow her recipe with little deviation I still can never made it as good as hers. She has that special touch that only she can give to her food.
Being able to have and share this recipe with my family and you is something I love. I like the feeling of getting to have a part of my grandma near me whenever I make one of her recipes. I also love the idea of more family's gathering together, laughing, making memories and sharing a meal together. This classic baked mostaccioli recipe has been that dish for us so many times and I truly hope it can be the dish you can eat over and over again for years to come!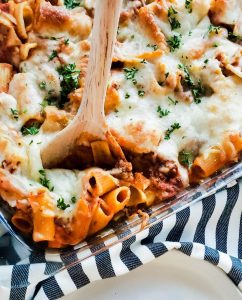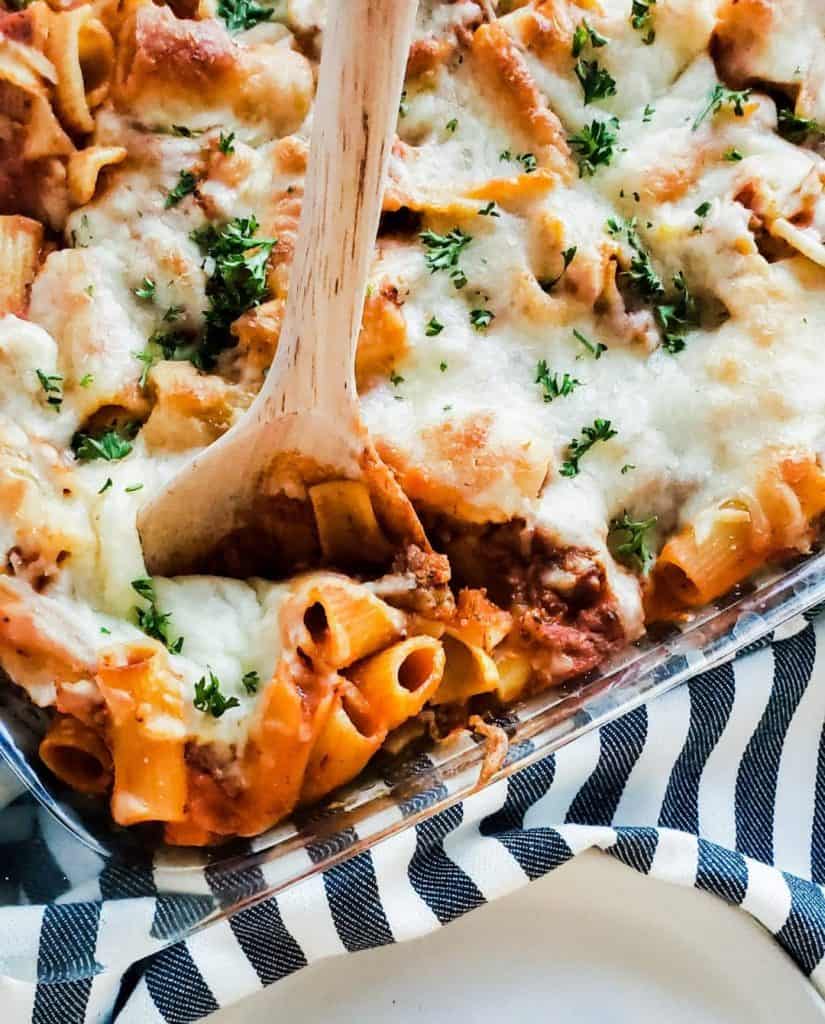 Happy Eating!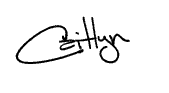 Looking For Another Hearty Dish? Try This Crockpot Chicken and Dumplings with Biscuits Next!
Feeling in the mood for Mexican instead of Italian? Try these Chicken Puffs Recipe: Enchilada Style!
Shop This Recipe:
I make a commission for purchases made through the links on this page.
Grandma's Classic Baked Mostaccioli Recipe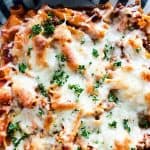 Print Recipe
Classic Baked Mostaccioli
The perfect weeknight family meal or holiday side dish! This versatile classic is a favorite in our home and is loved by everyone who tries it!
Ingredients
48

Oz

Perfect Marinara Sauce

or 2 jars of your favorite red pasta sauce

1/2

lb

Mild Italian Sausage

1/2

lb

Ground Beef

1

Yellow

Onion

Chopped

2

Tsp

Minced Garlic

1

Bay Leaf

1

Tsp

Italian Seasoning

1

Tsp

Basil

1

Cup

Grated Parmesan

3

Cups

Shredded Mozzarella

16

Oz

Dried Rigatoni or Mostaccioli Pasta
Instructions
Combine Italian sausage, ground beef and chopped onion in a large, deep skillet and mash it into smaller pieces. Cook over medium-low heat until the meat is fully cooled through and no pink remains. About 10 minutes. Add the minced garlic and cook another minute until fragrant. Drain grease and return meat to skillet.

Add Perfect Marinara Sauce, bay leaf, Italian seasoning, basil and grated Parmesan to the same skillet as the meat. Stir to combine and cover and bring to a simmer.

While the sauce is simmering, cook your dried pasta according to package instructions.

Preheat oven to 350 degrees. Combine meat sauce, cooked pasta and 2 cups of mozzarella cheese in a 13x9 baking dish and stir until combined. Top with the remaining mozzarella cheese and cook on the middle rack until cheese is melted. About 15 minutes.

Serve warm and enjoy! Store leftovers in an airtight container in the refrigerator for up to 4 days.
Notes
If you are making this dish as a side for a party, you can bake it ahead of time and add it to a crockpot on warm and enjoy all day. Just make sure you stir it well so the cheese doesn't get clumpy. 
Nutrition Facts
Classic Baked Mostaccioli
Amount Per Serving
Calories 648
Calories from Fat 189
% Daily Value*
Total Fat 21g 32%
Cholesterol 64mg 21%
Sodium 1300mg 54%
Potassium 1218mg 35%
Total Carbohydrates 81.9g 27%
Protein 30.8g 62%
* Percent Daily Values are based on a 2000 calorie diet.
Nutrition
Calories:
648
kcal
|
Carbohydrates:
81.9
g
|
Protein:
30.8
g
|
Fat:
21
g
|
Saturated Fat:
7
g
|
Cholesterol:
64
mg
|
Sodium:
1300
mg
|
Potassium:
1218
mg
|
Fiber:
9.2
g
|
Sugar:
26.5
g
|
Calcium:
11
%
|
Iron:
54
%